Week 47: 2014 Challenger Tour Finals
Location:
São Paulo, Brazil
Prize Money:
$220K
Surface:
Indoor Clay
Balls:
Site:
Esporte Clube Pinheiros, Rua Angelina Maffei Vita, 493, Jardim Europa, São Paulo
Starting Date:
November 17
2013 Champion (week 46):
Filippo Volandri (Italy)
Format:
The ATP Challenger Tour Finals is a tennis tournament played at the end of each year, involving the top seven players in that year's ATP Challenger Tour, plus an invited player from the tournament's host country.
Like the ATP World Tour Finals, the ATP Challenger Tour Finals is not a straightforward knock-out tournament. Eight players are divided into two groups of four, and play three round-robin matches each against the other three players in their group. From there, the two players with the best records in each group progress to the semifinals, with the winners meeting in the final to determine the champion.
Tournament website:
http://www.challengerfinals.com.br/
Facebook:
http://www.facebook.com/ATPChallengerTourFinals
Twitter:
https://twitter.com/@atpchfinals
Yesterday the information about the 2014 Challenger Tour Finals was finally added to the calendar
http://www.atpworldtour.com/~/media/0D0CD72849FA4550AF3A7B162EB95BBF.ashx
(thanks to Lukas15 for questions and info). I guess it's time to start discussing who is going to enter or even if the players are indeed interested to enter.
YTD Challenger Ranking is also recently available:
http://www.atpworldtour.com/Rankings/YTD-Challenger-Rankings.aspx
The first 20 players are:
1 Muller, Gilles (LUX) 647
2 Schwartzman, Diego (ARG) 452
3 Soeda, Go (JPN) 437
4 Bolelli, Simone (ITA) 418
5 Souza, Joao (BRA) 414
6 Haider-Maurer, Andreas (AUT) 406
7 Struff, Jan-Lennard (GER) 399
8 Rola, Blaz (SLO) 399
9 Cuevas, Pablo (URU) 397
10 Kavcic, Blaz (SLO) 386
11 Johnson, Steve (USA) 381
12 Dustov, Farrukh (UZB) 374
13 Estrella Burgos, Victor (DOM) 366
14 Ramos-Vinolas, Albert (ESP) 363
15 Beck, Andreas (GER) 360
16 Ito, Tatsuma (JPN) 358
17 Zeballos, Horacio (ARG) 356
18 Krajinovic, Filip (SRB) 348
19 Klahn, Bradley (USA) 347
20 Gonzalez, Maximo (ARG) 345
IMO there isn't much evidence that the ranking leader Muller will enter. Let's discuss. I hope after some discussions I could add a poll for most probable participants...
RR stage
Group A
Maximo GONZALEZ (ARG) [7] d. Victor ESTRELLA BURGOS (DOM) [3] 6-3 6-4
Simone BOLELLI (ITA) [1] d. Andreas HAIDER-MAURER (AUT) [5] 6-4 6-4
Victor ESTRELLA BURGOS (DOM) [3] d. Andreas HAIDER-MAURER (AUT) [5] 6-2 6-0
Simone BOLELLI (ITA) [1] d. Maximo GONZALEZ (ARG) [7] 6-4 5-7 7-6(3)
Andreas HAIDER-MAURER (AUT) [5] d. Maximo GONZALEZ (ARG) [7] 4-6 6-1 6-1
Victor ESTRELLA BURGOS (DOM) [3] d. Simone BOLELLI (ITA) [1] 6-4 6-2
Group B
Diego SCHWARTZMAN (ARG) [2] d. [WC] Guilherme CLEZAR (BRA) [8] 6-3 6-2
Blaz ROLA (SLO) [4] d. Joao SOUZA (BRA) [6] 6-3 6-4
[WC] Guilherme CLEZAR (BRA) [8] d. Joao SOUZA (BRA) [6] 7-6(4) 2-6 7-6(7)
Blaz ROLA (SLO) [4] d. Diego SCHWARTZMAN (ARG) [2] 6-4 2-6 6-3
Diego SCHWARTZMAN (ARG) [2] d. Joao SOUZA (BRA) [6] 3-6 7-6(2) 6-2
[WC] Guilherme CLEZAR (BRA) [8] d. Blaz ROLA (SLO) 6-4 6-3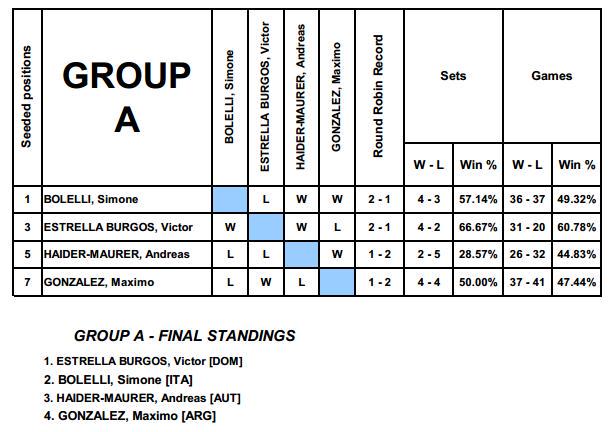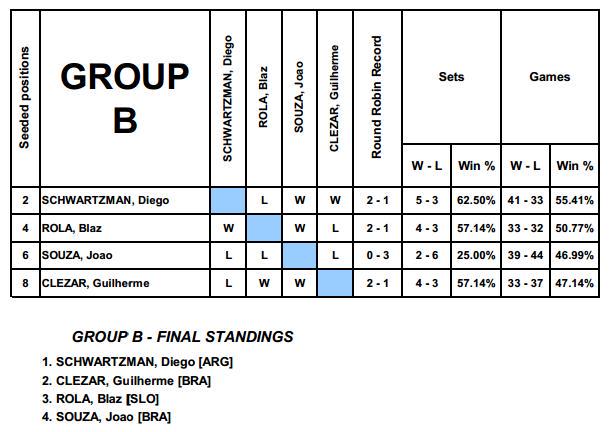 SFs
Diego SCHWARTZMAN (ARG) [2] d. Simone BOLELLI (ITA) [1] 7-5 6-4
[WC] Guilherme CLEZAR (BRA) [8] d. Victor ESTRELLA BURGOS (DOM) [3] 7-6(4) 6-7(0) 7-6(12)
FINAL
Diego SCHWARTZMAN (ARG) [2] d. [WC] Guilherme CLEZAR (BRA) [8] 6-2 6-3