I usually don't announce my Best Player Award until at least after Roland Garros, and it usually covers a period of at least 5-6 months, but 2014 allowed for an exception.
Stan Wawrinka,
aka
Stan the Man, Stanimal, Iron Stan,
is far and away my Best Player during 2014/2015. I'm sure some pundits will say wait until the end of the year to make such pronouncements. Wait? Wait for what? No matter how he or anyone else does the rest of the season, he has already made a tremendous impact on the game. Helped to overcome his well established weaknesses by the Coach of the Year,
Magnus Norman
, most of them having to do with mental strength and fitness, he has developed into the most formidable and dangerous player when he plays his best tennis.
His impact is clear. He has upset the status quo, the "Big 4" dominance. In 2014, he became the Swiss #1. He became #1 in the Race To London rankings. He is now 3rd in the 2015 race. He believes that if he plays his best tennis, he can beat anyone in the game. He has given so much hope to others and set the example for players like Marin Cilic to believe they can win. Many other non-"Big 4" players have said that Stan has given them the belief that if they play their best, that they too can beat the elite in the game. There is no doubt in my mind that other players like
Ferrer
and
Almagro
, and Fognini in 2015, have profited by Stan continuing to beat Rafa. Stan rebounded from the inevitable letdown of winning his first major to win his first Masters 1000 tournament, and just days ago, has won his second major, this time on clay at prestigious Roland Garros. Does any player want to see the Stanimal playing at his electrifying best in their part of the draw?
Wawrinka with Coach of the Year Magnus Norman (far right), and team
Stan's serve has become a real weapon for him in the clutch, his backhand a legend in his own time. His fearsome forehand is better than ever. His does not fear to approach the net like many players of today with his good volleying skills. But his area of real improvement has been in his ability to alter his tactics as a match develops and arrive at the correct solution with calmness, and not be as susceptible to the negativity with which he has long been associated.
Perhaps the most important element now is that most of the top players fear his improved strength and fortitude, which appears to have the power to frustrate and force even the mightiest players to extend themselves past their physical limits to cope with him.

As an admirer of the great Rafael Nadal and many of the other players he beat at the Australian Open, there are no asterisks to Stan's victory. The mainstream media got it wrong. He didn't beat an injured Nadal. Nadal with his fading hand blister had just finished beating Federer. It was Stan's outstanding play that sadly almost literally 'broke the back' of Nadal, and then Stan was able to finish him off. Or to put it another way, if Stan had not played so well, it is likely that he would have been unable to hurt Rafa as much as he did.
Wawrinka 'Cripples' Nadal to win Australian Open

Wawrinka 'Exhausts' Djokovic in Australian Open QF
Berdych falls to Wawrinka in Australian Open SF
Andy Murray, OBE, had back surgery following last year's US Open QF loss to Stan Wawrinka. He hasn't faced him since.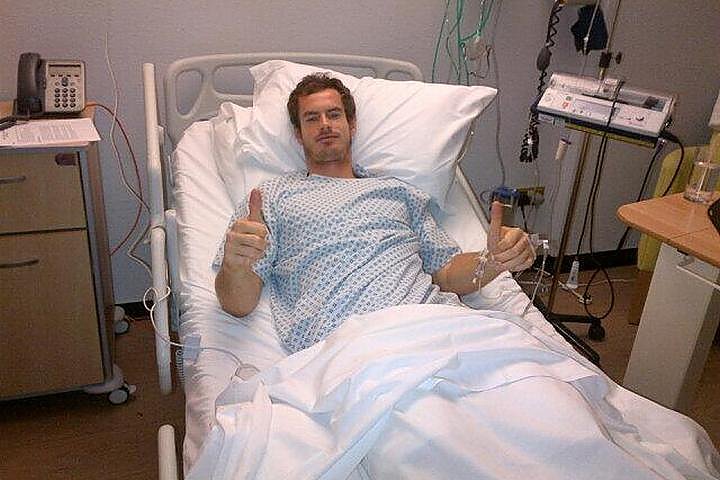 The possible exception to the above disconsolate elite is Roger Federer, who is a good friend, Davis Cup teammate, and is very happy to see Stan reach this level. Roger has done whatever he can to lift and encourage Stan. They have a mutual goal to win the Davis Cup. A strong and confident Wawrinka along side Federer will no doubt increase their chances.
Stan Wawrinka wins Monte Carlo title in all Swiss final
Davis Cup Heart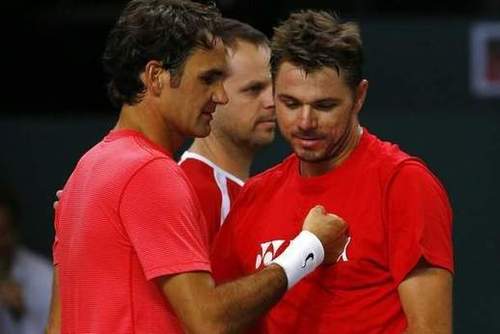 I'm still in your shadow Roger... ...I know, Stan.
Swiss Sportsman of the Year
All aboard!
Congratulations to Mr. Stan Wawrinka, the Masterclass Best Player During 2014/2015!

Edited:
This now applies to 2015 as well. So he's only 3rd in the race this year. So what? Does it matter?
Stan has proven to the world that when he decides to play his best, he has no equal the last 2 years running.
In 2014, he took down the 2013 computer #1 and #2 players, exhausting Djokovic and injuring Nadal's back with his heavy hitting in 2014. Then in 2015 Stan has taken down computer #2 aging Federer, and the computer #1 and "invincible" odds on favorite to win Roland Garros, Novak Djokovic, breaking his streak of wins like he was breaking sticks for fun. He is Best Player during the year for the second straight year. He has no further need to prove himself, and can now rest on his laurels and need not do anything else the rest of the year, unless he feels like it. See my last post for updated pics & story.
Respectfully,
masterclass