Tennis Tipping – World Team Cup 2008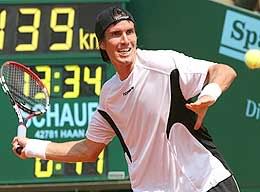 What is Tennis Tipping WTC?
The best 8 nations of 2006 (combined singles ranking of the best two players of each country) are eligible to play this competition. Teams are divided in 2 groups of 4 in a round robin format. Every team plays against all three of the other teams in its group.
Champions of each group qualify to the tournament final.

Finalist selection:
1. Ties won.
2. Matches won.
3. Points won (correct picks).
4. H2H


Note:

- In case of a tie, a tie-breaker will decide who moves on to the next round.
New tie-break method: http://www.menstennisforums.com/show...37&postcount=1

- In case a player (i.e. the actual ATP Player) retires in a match, this match will be counted as long as one point has been played. If players are replaced by a lucky loser after the start of Tennis Tipping, these matches will be cancelled.
How to Sign-Up:
Captains must send their team nominations until Monday the week before tournaments start (2, 3 or 4 players).
How to send in picks:
Picks can be sent in as soon as the draws are ready. Remember, you pick a winner in every match! Picks should be sent by PM, so that your opponent does not know your picks. Picks should be titled: [TT: WTC or Dusseldorf or ARAG or World Team Cup or TT day #]. Picks can be sent in anytime until the beginning of play each day.


Singles matches for singles and doubles matches for doubles.
PRECAUTIONARY MEASURE
If the board goes down as has happened before, send your picks to
[email protected]