Pick-A-Winner (PAW) #57 | SHENZHEN 2018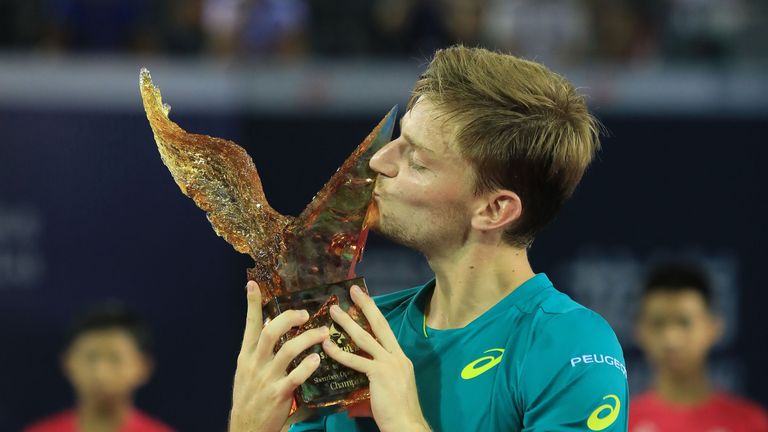 David Goffin: Mens Singles Winner Shenzhen Open 2017
​
Welcome to Pick-A-Winner (PAW), the Predictions game!​
Playing is simple: over the course of the tournament choose any
13
matches in the Main Draw and post who you think will win them. The scoring points besides each fixture represent the points you score if the corresponding player wins. Whoever has the most points at the end of the tournament is the winner.
If this is the first time you're playing or you're not familiar with the rules of the game, here's a link:
Official PAW Rules updated 2017
Commitments and Wildcards​
In order to play in this tournament you have to commit in this thread.
Simply write 'IN' so the manager can enter you into their spreadsheet.
The deadline closes when the first Main Draw match starts.
After the deadline closes, you have to ask for a Wildcard.
No commitment means your picks are
invalid
up until you ask for a Wildcard.
2018: Every player is allowed 5 Wildcards in the year to use if they want to enter a tournament after the deadline has passed. Just say you are using one of your Wildcards, and then start making your picks.
Posting your picks​
Please post your picks in the following format:
PAW## Player A (winner) over Player B (loser)
## number of pick in ascending order (01 to 13)
Please use the official last names of players, not nicknames.
A valid pick must include the names of both players (winner first) and the word 'over'.
Before posting picks, check that the matches haven't started yet. A pick that is posted after a match started is invalid and may be replaced. I will use website
www.xscores.com
to verify that pics were posted before the start of the match.
In case a match doesn't take place due to withdrawal or change of the draw, the pick is invalid and may be replaced. If a player retires or defaulted after the match has started (even if one point was played), the pick is valid.
Changing your picks​
If you want to amend a previous pick (cancel or change), quote the original post and add a new message.
Don't edit the post and never delete it!
Don't forget, you're limited to
13 picks
throughout the whole tournament.
Note: Tie break rules
In case several players have the same number of points, the following rules will be used to determine their ranking:
1. The greater number of correct picks. If there is still a tie then:
2. The lesser number of incorrect picks. If there is still a tie then:
3. The greater points of a single pick. If there is still a tie then the greater second-best pick, and so on.
4. If there is still a tie then players will stay tied.
Tournament Website:
ATP?????
Time in Shenzhen:
https://www.timeanddate.com/worldclock/china/shenzhen
Please remember...
Picks format:
It should be "PAWXX Player1 over Player2", where XX goes from 01, 02, 03, ..., 11, 12, 13.
-> You should not have just one number: PAW1, or PAW2, etc. you have to put two numbers after PAW, so the correct way is PAW01, or PAW02, etc.
-> You should not put a ":" after PAWXX, so don't write "PAWXX: Player1 over Player2" ... the correct way to post it is "PAWXX Player1 over Player2".
-> The players are named by their last name. Please use the name that is in CAPITALS in the points tables (especially Spanish names). If there is a strange occurrence like brothers playing against each other (Mischa and Sasha), the Manager will make an announcement how to pick for that match.
Why I'm advising you?
The reason is that I'm using the Evita's templates to manage this tournament and it needs to be a consistent format. It gets very difficult for managers to have to change hundreds of picks in a tournament by spelling mistakes and incorrect format. Thank you for your help! :dance:
Previous Winners:
2018: Winner: @slazlo (Runner-up: @pazo77) (manager: jervisjames)
2017: PAW event not played - not enough entries (manager:
@jrm
)
2016: Winner:
@Transcender
(Runner-up:
@spilice
) (manager: jervisjames)
2015: Winner:
@Björki
(Runner-up:
@kondrashov
) (manager: @purtov)
2014: Winner:
@Cheeky Chick
(Runner-up:
@Yoav
) (manager:
@supertom
)
Inaugural event in 2014