Pick-A-Winner (PAW) #45 Farmers Classic 2012​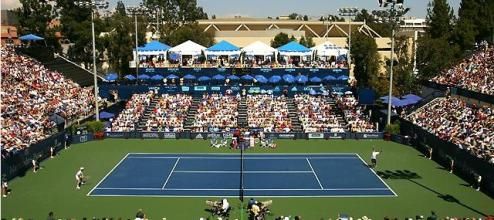 Previous Winners​
2011: W kingroger RU Magdalena Ry
2010: W gulzhan RU nemanjam​
Playing is simple: over the course of the tournament choose any
13
matches in the Main Draw and post who you think will win them.
July Commitment thread
- the deadline for commitments is
July 22nd, 2012, midnight local time (9amCET, July 23rd; 7amGMT, July 23rd)
If you haven't posted a commitment until midnight (local tournament time) on July 22nd, you can ask for a wildcard beginning at 12:01 am (local time) on the next day. The number of WCs is limited to 5 per tournament. Any pick(s) posted without having a WC or early commitment is not valid until a WC is requested.
The Official PAW Rules
2012 Entry Ranking
PAW Champions Race 2012
Tournament Official Site
Time in Los Angeles, USA
Note: Tie break rules
In case several players have the same number of points, the following rules will be used to determine their ranking:
1. The greater number of correct picks. If there is still a tie then:
2. The greater points of a single pick. If there is still a tie then the greater second-best pick, and so on. No pick will be considered better than 0 pts.
3. If there is still a tie then players will stay tied.
If you want to amend a previous pick (cancel or change), quote the original post and add a new message to this thread.

Don't edit the post and never delete it!


If MTF is down (or slow) post your PAWS on alternative forum - http://www.pawforum.ovh.org
Good Luck to Everybody!
Aenea
Ranking Points (World Tour 250)
Code:
1st ---- 200 ..... 9th ---- 45 ...... 17th --- 14 ...... 25th --- 7 
2nd ---- 140 ..... 10th --- 41 ...... 18th --- 13 ...... 26th --- 6 
3rd ---- 115 ..... 11th --- 36 ...... 19th --- 12 ...... 27th --- 5 
4th ---- 90 ...... 12th --- 32 ...... 20th --- 11 ...... 28th --- 4 
5th ---- 80 ...... 13th --- 28 ...... 21st --- 10 ...... 29th --- 3 
6th ---- 70 ...... 14th --- 23 ...... 22nd --- 9 ....... 30th --- 2 
7th ---- 60 ...... 15th --- 19 ...... 23rd --- 8 ....... 31st --- 1 
8th ---- 50 ...... 16th --- 15 ...... 24th --- 8 ....... 32nd --- 1