Discussion Starter
·
#1
·
Not very exciting. It's a 4 hours drive from my place and we stopped in Tucson for gas and lunch. Arrived in Willcox, AZ at almost 3pm and since it's Sunday, there's absolutely NOTHING to do. The whole town slept :tape: We took Brutus with us and let's say I hate it but hubby loves it :shrug: I already packed his dog food but forgot to take them with us. You know, not use to take the dog for a more-than-a-day trip with us. The motel we stayed is next to a mall with Safeway (big supermarket chain in Western North America) so we bought some dog food and treats. Then we drove around town and basically finished in about 15 minutes :lol: The restaurant recommended by AAA closed on Sunday so we ended up in Pizza Hut although the food is not too bad. Next morning, we went to Chirichahua National Monument. That area was occupied by Apache Indians in the wild wide west stories and famous with it's rock formation like this.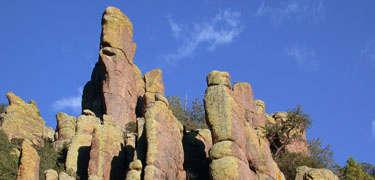 Since all the better trails don't allow dog, we didn't walk any
and stayed for less than 4 hours including had a picnic lunch there.
Then we drove back to Scottsdale. :shrug:
And this one is a panorama pic I created from the pics hubby took.