Discussion Starter
•
#1
•
In the absence of anyone in my life who would be proud of me for having finally achieved something difficult on a completely meaningless internet tennis game, i've come here to tell you all of my achievement.
For years i've played this game called 'stick cricket' (Google it, it'll be the first result) and a few months ago I saw a link to 'stick tennis'...obviously what with me being into tennis I thought i'd try it out so I decided to have a go on the 'world domination' game. Basically there's 16 matches you need to win, becoming more difficult as you go on.
Let me just say to the game's credit - it's incredibly simple to learn, it's really addictive and it represents the differences between the surfaces in a reasonably accurate way.
Anyway, back to the point... It was a very proud day when I finally beat Lendl, saving two match points in the final set:
The guy was so owner... you have to be totally on top of your game for every shot to beat him, if you're not in the right position he hits a winner every time.
The final match is against Sampras, and as you can see I had a couple of heartbreaking losses:
...before I finally got the better of him, engaging in a cheeky Andy Murray style fist pump at the moment I sealed the victory: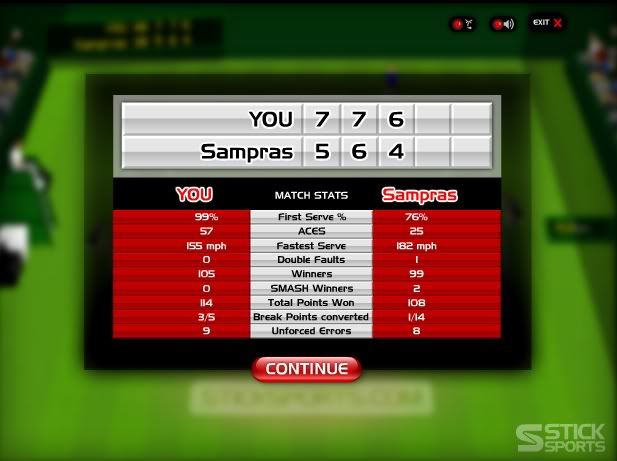 A very proud day indeed
:wavey: :yippee: :cheerleader:
I recommend the game to anyone btw:
Stick Tennis world domination
(the first few are easy, but it does get insanely difficult towards the end...)