Ok, although i have never seen him playing, i think i should create a thread !
He is 20 and he started 2007 as the 604th player in the world
Now, in april 2008 he is about to reach top 100 !
Supreme privilege, he already has his picture on ATPtennis.com.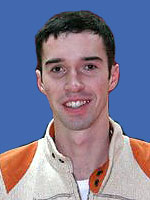 In 2007 he won two small challengers in Saransk (Russia) and Samarkand (Uzbekistan), one could think it was just because of easy draws, but he is confirming.
In 2008, he was a semi finalist in Wolsburg and a winner in Barletta. He beat players like Petzschner, Vemic, Hajek, Galvani, Koellerer, Daniel, Gimeno-Traver, Devilder, Pashanski ans this week in Barcelona, Nieminen and Cuevas !!!
If someone has any information about the way he plays, let us know here :wavey: