Name:
Sony Ericsson Open
Category: ATP World Tour Masters 1000
Place: Miami, U.S.A.
Date: 21.03.2012-01.04.2012
Draw Size: S-96 D-32
Surface: Hard
Prize Money: $ 3,973,050
Past Winners:
2011 Novak Djokovic
2010 Andy Roddick
2009 Andy Murray
2008 Nikolay Davydenko
2007 Novak Djokovic
2006
Roger Federer
2005
Roger Federer
2004 Andy Roddick
2003 Andre Agassi
2002 Andre Agassi
2001 Andre Agassi
2000 Pete Sampras
2012 Main Draw:
http://www.atpworldtour.com/posting/2012/403/mds.pdf

Roger's potential path to the final:
R2: Ryan Harrison
R3: Andy Roddick/Gilles Muller
R4: Gael Monfils/ Juan Monaco
QF: Nicholas Almagro/ Mardy Fish
SF: Novak Djokovic/ Juan Martin Delpotro/ David Ferrer
F: Rafael Nadal/ Andy Murray
Unlike IW, Roger has a relatively easy way to the semis on paper. Harrison in the first match isnt the dream draw, but otherwise, sounds okay. :drive:
Can Roger keep up his winning streak which is now at 15? :rocker2: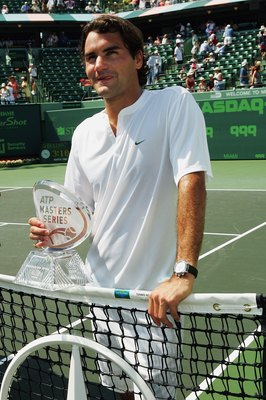 Good luck Rog, Hopp!
:cheerleader:
(Hope I dont mess up the Thread opener's luck streak and Doris' trust here
)