·
Your visions will happen
Discussion Starter
•
#1
•
@florentine
Very good article in a French magazine about Federer, a great recap so far and look ahead to the future

FEDERER, IS "FINISHED":
THE NEVER-ENDING STORY
By
Mathieu Canac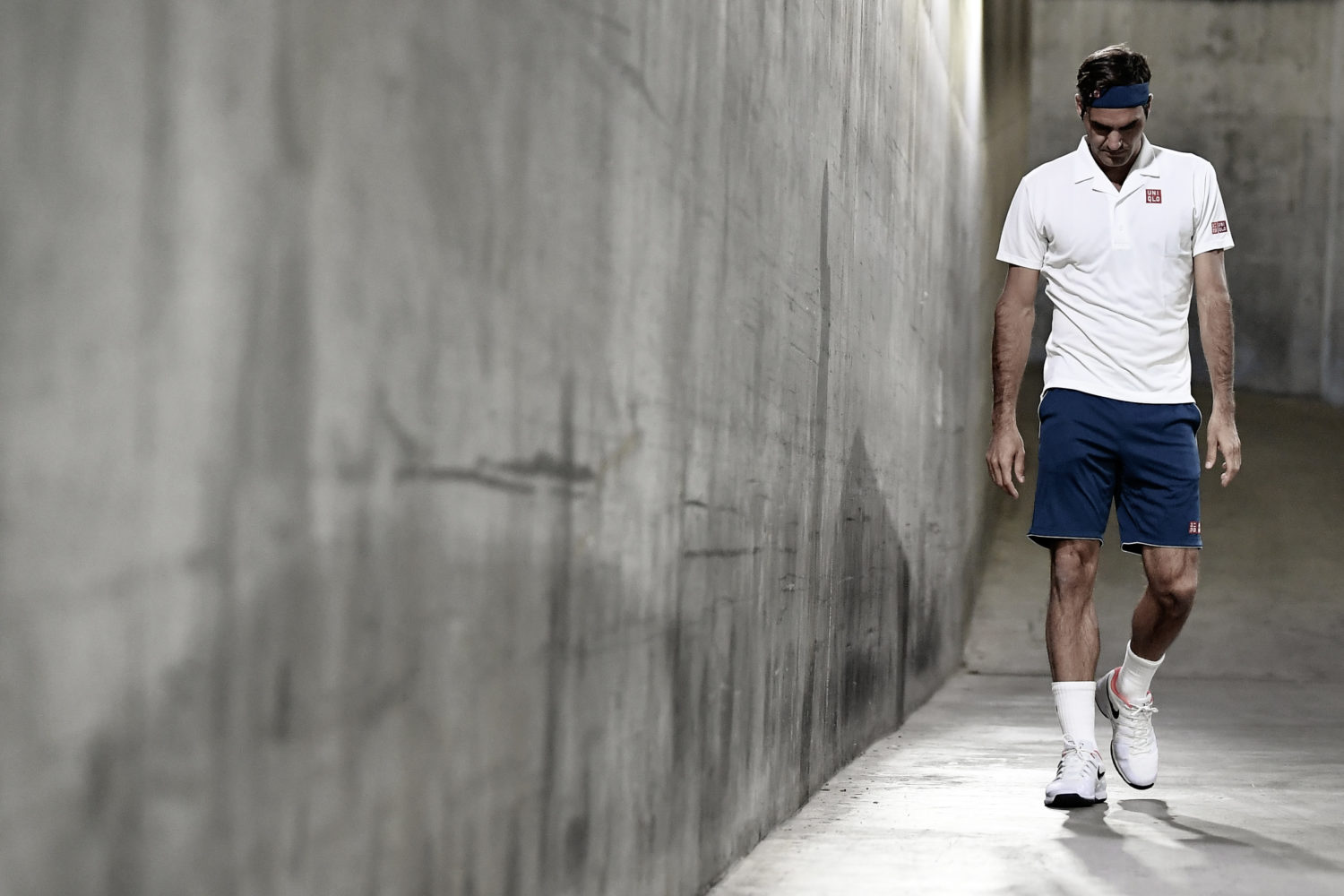 © Pierre Alechinsky
Right knee injured, Roger Federer had to undergo surgery in February 2020. For an arthroscopy. Then a second, a few months later, synonymous with the end of the season. The legitimate question is everywhere: can he really return to his best level in 2021, at 40? For years, he has been pushing the limits of the time that he is still given at the highest level, bouncing on the announcements of his decline.
He doesn't hit hard, but he always ends up winning. With wear and tear, he marks the bodies of his opponents until they are exhausted. Some try to challenge him, to counter his strikes by taking products and the scalpel, but whatever: he remains unperturbed. Behind his
poker face
, he knows it, no one can escape him. Tireless metronome, the passing of time is relentless. Yet one man seems to be resisting its effects: Roger Federer. For several years, the bugger has stood up to him by defeating the most pessimistic predictions. Those which announce "the end". Its end. As if he was really the thaumaturgical being described by David Foster Wallace. " 
Federer is one of those rare supernatural athletes who appear to be exempt, at least in part, from certain physical laws 
, "writes the American in an article - 
Roger Federer as Religious Experience
 - published by the
New York Times
.
" 
You can compare him to Michael Jordan, not only able to jump inhumanly high but also to stay suspended in the air a hair longer than gravity allows, and to Mohammed Ali, who could actually 'float' in the ring for release two or three direct in the space of an instant normally too short to place more than one,
continues the author of
the Infinite Comedy. There are probably half a dozen other examples since 1960, and Federer is one of them. A guy you could call genius, mutant, or avatar.
[…]
At Wimbledon in particular, dressed in the requisite white attire, he looks like what might (I think) be a creature whose body is flesh and, in a way, light.
. But not everyone has the same vision as this late pen virtuoso. As early as 2009, some flipped the switch. For them, the star no longer shines.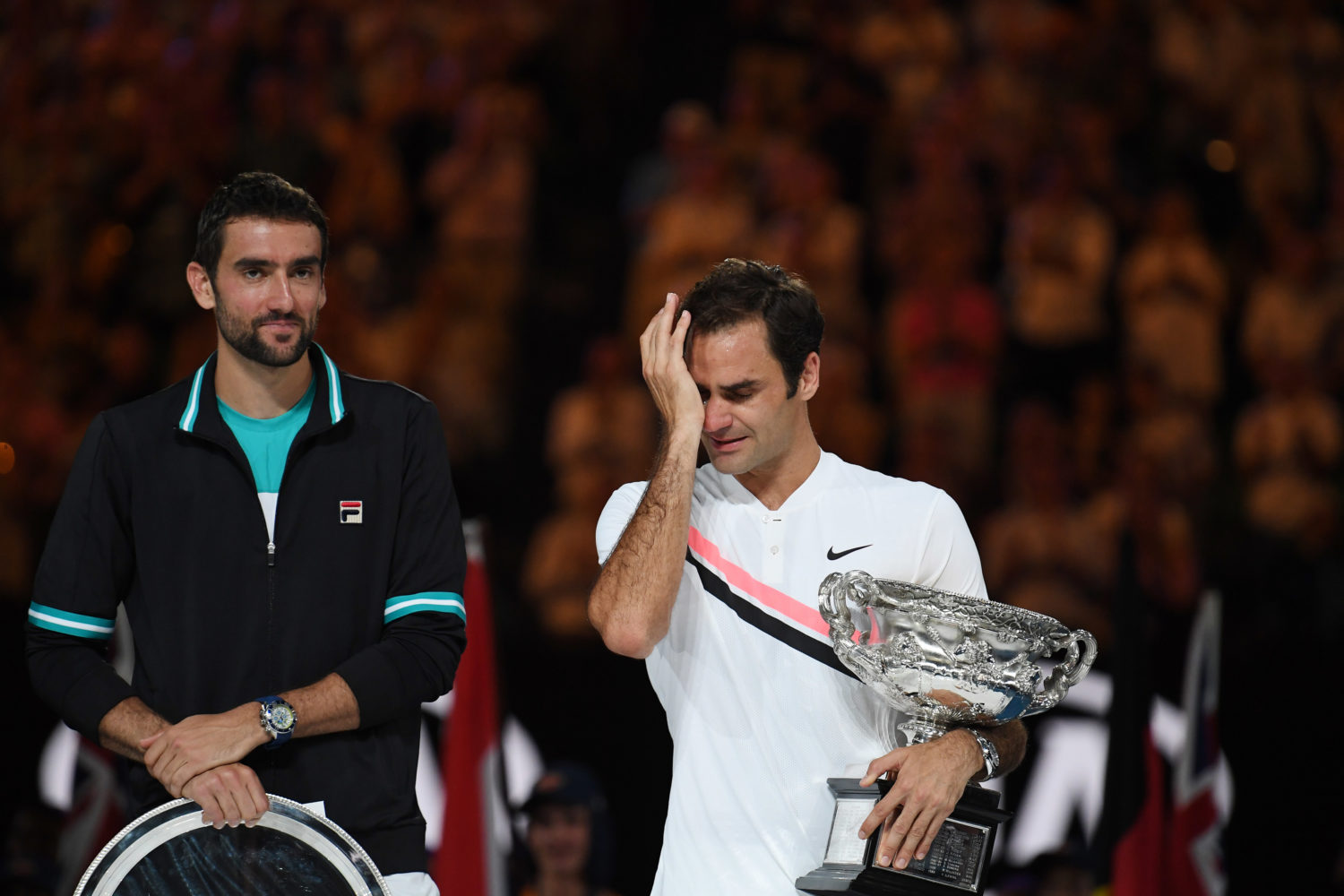 © Ray Giubilo
" 
He must stop, take a break  "
On its scale - everything is relative - the Helvète, soon 28 years old, is then in a difficult period. No more trophies to eat. At the dawn of the clay court season, his last title dates back to October 2008. At his home in Basel. If he continues the results despite everything very good - semi-finals, finals - this shortage is unimaginable for many observers. " 
He loses against Nadal
(in the final of the Australian Open 2009)
, but also against other players
(James Blake, Gilles Simon, Andy Murray, Novak Djokovic…), notes Henri Leconte on the Canal + set.
We weren't used to seeing him lose so easily and, at times, play so badly. We have the impression that he gives up, sometimes, when the game escapes him.
 " 
This phenomenon of wear is there because it has now been more than ten years that it is on the circuit 
", adds a journalist. Final judge, David Douillet pronounces the sentence: " 
We clearly feel that he no longer wants. He must stop, take a break. 
"
But Federer dodges ippon's attempt. He continues the fight. Although beaten by his compatriot Stan Wawrinka in his second round in Monte-Carlo, he ended up finding the right holds to send the competition to the mat. In Madrid, he rediscovers the taste for success by eating Rafael Nadal. Second and last victory to date against the Spanish "surlifteur" on this surface. And as the appetite comes with eating, he then savored his first Roland-Garros. It extends even to devour the feast Wimbledon and recover the cap n o  1 worldwide. The icing on the cake, he passes in front of Pete Sampras to become, then, the only chef with fifteen stars in Grand Slam. " 
What's written on your t-shirt?" 
», Asks a journalist at a press conference after the epic victory - 5/7 7/6 7/6 3/6 16/14 - against Andy Roddick. " 
That there is no finish line. It is far from over. 
When you think he's sated, Roger the glutton shows that he still has some in the gut.
" 
If Roger wants to return to the Big 4 , he has to learn two-handed backhand  "
Two months later, the man " 
who never sweats
 »Comes close to the Petit Slam. Beaten by Juan Martín del Potro at the US Open, he succeeded in a 2009 exercise close to perfection in Major: four finals. He even played a fifth in a row by seizing the crown of the Australian Open 2010. But the emergence of Nadal, Djokovic and Murray - trio with regicidal designs - will shake the empire. During the following campaigns, Federer conquers "only" Wimbledon 2012. Worse, the following year, while he is in 36 consecutive quarter-finals in Grand Slam, he lost his territory in the second round by falling in front Sergiy Stakhovsky. Obscure necromancer equipped with a racket as a witchcraft stick, the Ukrainian resuscitates that day a body that was believed to be definitively dead and buried: the effectiveness of the almost systematic steal service.
" 
The one-handed backhand is anachronistic, ineffective against the lift and, since this week, against the serve-volley
, then analyzes the always tanned Nick Bollettieri.
If Roger wants to return to the
Big 4
, he has no choice but to learn the two-handed backhand. 
"Do now being a" vulgar "5 th in the ATP rankings, his fallen majesty has another plan: to give bighead his racket. From a sieve of 580
cm², his Wilson Pro Staff goes to 625
cm². The test lasts two tournaments. Decreased by a back injury, he lost against Federico Delbonis on the Hamburg ocher and Daniel Brands, on entry, on that of Gstaad. If he resumed his old scepter from the North American tour, concluded by a new disillusionment with Tommy Robredo in the round of 16 of the US Open, the idea did not leave him. During the offseason, he works with his new expanded tool. Stroke of genius.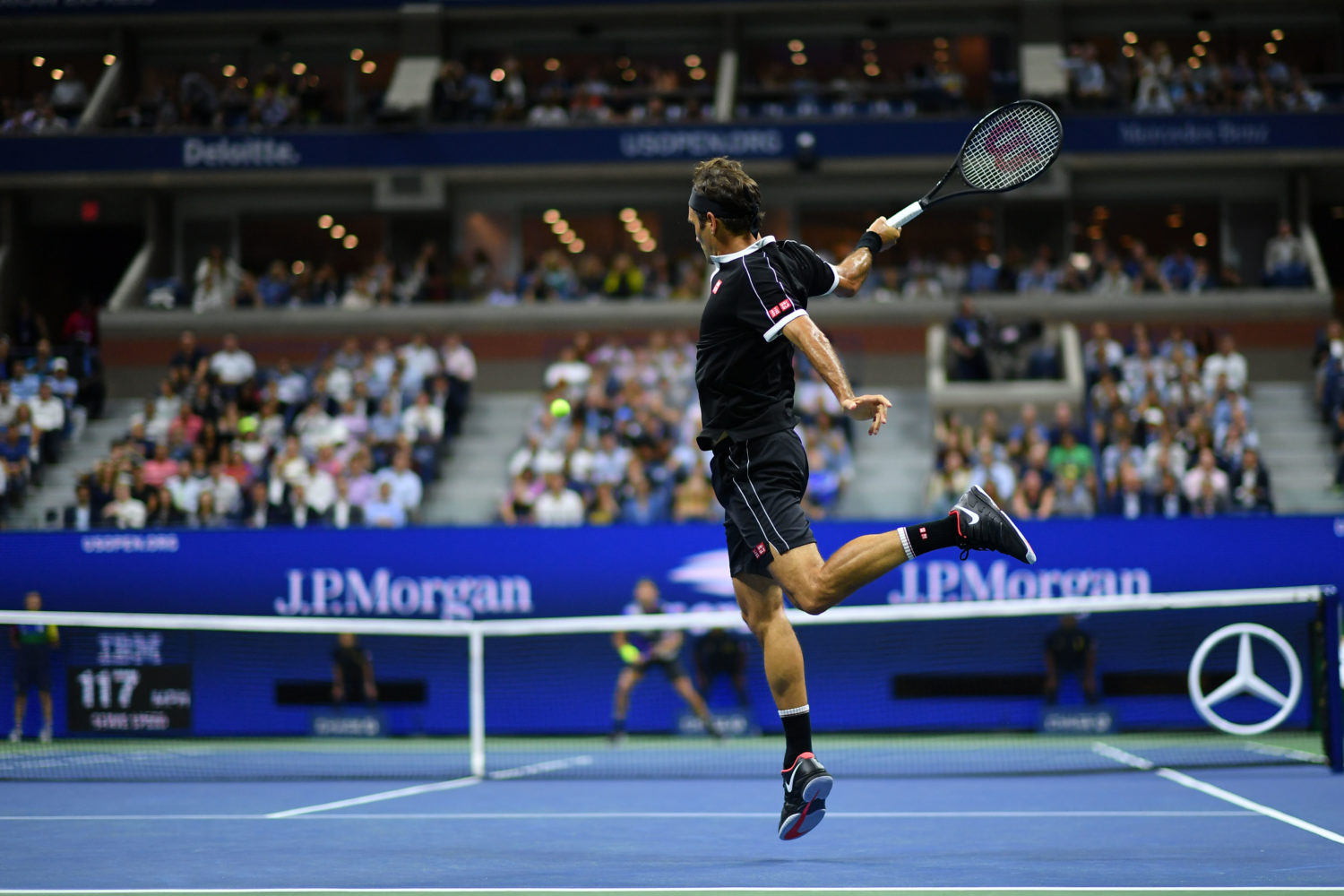 © Antoine Couvercelle
His racket takes the big head
At that time, and for some time now, the native of Basel tends to "wood" when the match is prolonged. " 
During the semi-final of Roland-Garros 2009 (victory of Federer 3/6 7/6 2/6 6/1 6/4 in 3:29), I realized that with fatigue he began to strike with the frame
 ", remembers Juan Martín for
ESPN Argentina
in June 2020. Over time, the phenomenon is accentuated. " 
It's much easier to play with my current racquet on a daily basis
," confirms Federer in an exclusive interview  1 .
With that of 580 cm²
,
I had to be perfectly placed at each bale so as not to make a slice.
[…]
The racket is the extension of the arm, you really have to be in harmony with it. 
But no string instrument, however powerful, can produce a recital on its own. "The Maestro" knows it, he must also change his game.
At the same time, he starts to work with Stefan Edberg. The goal is to be more aggressive. Come to the net more often to shorten the exchanges. Based on statistics compiled by Mark Hodgkinson for
CNN
, the percentage of serves-volleys performed by Federer at Wimbledon from 2006 to 2012 is at best 9% of points played (and 12% in 2013, but this year is less significant as he only played two games there due to its early release). Add to that the net catches being traded, and you have a Balois once again capable of climbing the stairs of glory. Until the penultimate step. In 2014 and 2015, he played three Grand Slam finals: two at Wimbledon, one at the US Open. Three losses. Then, in 2016, it is the "drama". Beaten by Milos Raonic in the semi-finals of "Wim '", the public's darling gives a second blow to the noggin of his fans two weeks later.
" 
I thought it was the end for him  "
While the image of the idol spread out on the ground after a passing by the Canadian with a facies as expressive as a log still haunts their nights, Federer announces the end of his season. Hit in the left knee, he plans his return for the 2017 Australian Open. For many, it is the coup de grace. He is done ". Who would be able to return to the highest level in the year of their 36th springs after such a long period without competition? " 
Roger limped off the court and didn't play for six months
," recalls John McEnroe in March 2020 at a press conference to promote the Laver Cup.
At the time, I thought it was the end for him
.
" He is not the only one. The big dark clouds which cover the future of "Papy Roger" are raining opinions of this type. Regardless, the principal concerned is not looking over him. He looks ahead. When training resumed at the end of the season, he worked hard, judiciously, under the leadership of Ivan Ljubičić.
Successor of Edberg since 2016 to support Severin Lüthi, the Croatian continues the work started with the Swede. By insisting on the reverse. Well seen. Seeming to come out of a makeover, Federer is no longer content to "dance" on the court. He steals. With deceptive ease, which would almost make you forget the colossal job hidden behind the aerial entrechats. " 
It's like when you do ballet
, compares Pierre Paganini, his physical trainer, in the documentary
Strokes of Genius
devoted to the anthology final of Wimbledon 2008.
We do not see the work, but we know that these people are 'train very hard to express grace, harmony. 
Sacred in Melbourne, he continued with the Indian Wells - Miami double, each time pushing Nadal out of his way. " 
I think all the work done in November and December paid off
," he explains after his victory - 6/2 6/3 - against the Spaniard in the round of 16 of the California Masters 1000.
In the past, I used to do a lot more slices. The larger head size also makes it easier for me to return a backhand and helps me be more aggressive during the rally with this stroke. 
"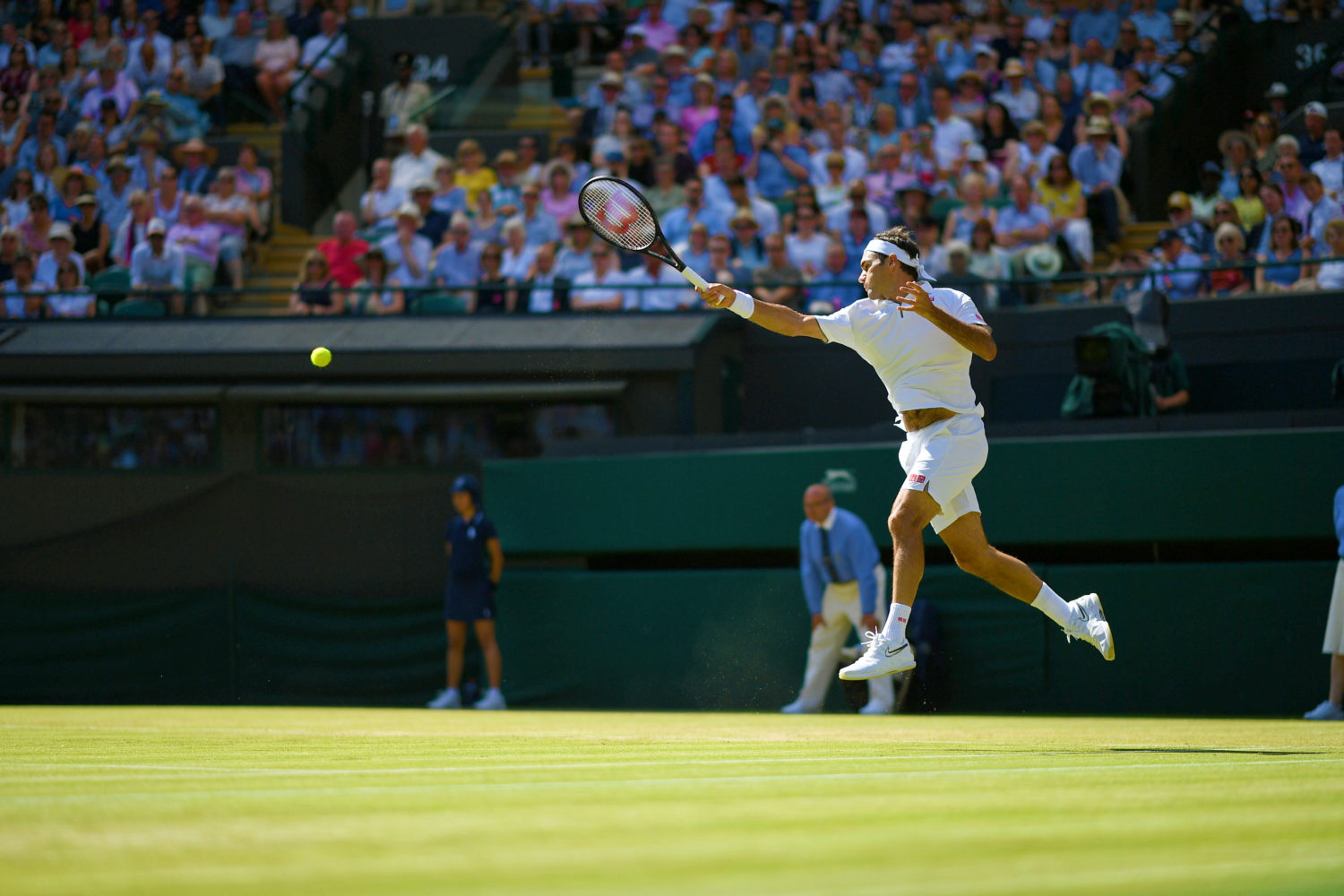 © Antoine Couvercelle
From 2004, he plans his longevity
His new sickle totally tamed, he continues his harvest. She is majestic. After an 8 th Wimbledon, he won a 20 th Grand Slam title in Australia. A few weeks later, in Rotterdam, it even becomes the oldest n o  1 world history. To push back time, " 
the creature 
" described by David Foster Wallace, " 
whose body is flesh and, in a certain way, light
 ", has been preparing its human part for a long time. " 
I started dreaming and hoping that I could play for so long shortly after taking the lead in the ATP rankings (for the first time) in 2004,
Federer confided in November 2019 in an interview with the Argentinian daily
La Nación
.
I spoke with Pierre Paganini, my physical trainer with whom I still work, and I said to him: "I would like to face several generations. Let's put in place a program that will allow me to do this. " "
Strategy that pays off
.
" 
We set up a program, and here it is: fifteen years later, I am still able to compete with the best," he
adds.
I managed to enter strange territory where few have gone. You wonder how you got there, because those who played to such an age before you haven't managed to stay on top. Or they were playing in another era, like Jimmy Connors and Ken Rosewall. It seems unreal to me. 
The body may well be developed, the leader is the mind. If he doesn't follow suit, it's impossible to stay motivated to continue looking for lice on the heads of the new generation
.
" 
We must try to keep the flame alive,
he explains in the interview he gave us.
I have played some tournaments twenty times in a row, I have played Wimbledon twenty times
(twenty-one times, editor's note)
and each time, you have to make it always so special.
 "
"Maybe it's time he stopped"
" 
As if it was the first, second or third time again
," he continues.
You really have to keep the flame alive to win every point, every game, every game and more. I need a very good team around me to help me give that little extra - 1%, 10%, whatever it is - that makes the difference and bring the necessary energy for the next one match. Even when it's a second round, that doesn't mean I don't need to be motivated to play it. It is these little things, natural at the start of your career, that you have to know how to maintain as you age.
 "Forced, by two arthroscopies of the right knee, to draw a line on a 2020 season written in dotted lines because of the Covid-19, Federer must return in early 2021. With two objectives: to have fun, again, and to win. And if he launches it is because he feels capable of it. " 
'Rodge' always needs to feel the opening of a possibility, of a path, of a solution
 ", explains Pierre Paganini in
Strokes of Genius
. But for many, this time for sure is the season too many. Jesus himself has only one resurrection.
" 
It might be time for him to stop
," said Nicola Pietrangeli, former double winner of Roland Garros, at
Agenzia Giornalistica Italia
in June 2020.
I'm afraid he won't be able to run as before. What bothers me is that those who beat him will say they beat the champion and not a Federer with a half-mast knee.
 There are many who say so. Or think so. His fans fear him: it smells the famous "season of too many". We know the chorus. It has been sung for ages. But the point here is not to throw stones at the hapless prophets. Including those of the past like David Douillet or Nick Bollettieri. Everyone can make mistakes. Even Zizou had bad matches. The question is moreover legitimate: can Federer still do it? When he returns, he will be in his 40th birthday. Getting back to your best level at this "canonical" age, after a blank season, is a huge challenge. Benjamin Button also ended up being overtaken by time. But with Roger Federer, you better be wise. Even saint. Like Thomas. Wait to see to believe. Because at the end of the tunnel, he accustomed us to shining the light.
1. Roger Federer's quotes are taken from an exclusive interview to appear in 2021 in a Wilson x Courts special.
Bit much slurping of Federer imo, especially the part about how this year may be one too many as even Jesus had only 1 resurrection, implying Federer is only on the level of Jesus, not above