Edit:
He's now representing Sweden .
.
Dragos Nicolae Madaras
, nicknamed : "Dodi" :
17
years old , #62 in Juniors just
made a Futures Final in the $10k Sweden F3
Clay Tournament in Bastad at only his 2nd Seniors tournament participation
(last week he qualified for $10k Sweden F2)
Until the final , he beat a local WC player, then #539 , #529 and #1446 .
http://www.itftennis.com/procircuit/tournaments/men's-tournament/info.aspx?tournamentid=1100034452
. The final will be tomorrow.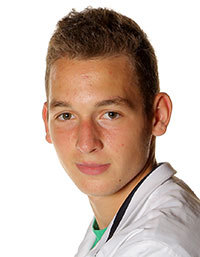 He's the first Romanian youngster, after *Patrick Ciorcila
(*for whom tennis is not the most important thing, at least for now
)
to make this step.
Age Started Tennis: 7
Coach
Name:
Mattias Arvidsson
(coached Johanna Larsson, Polona Hercog etc.)
Favourite Surface: Clay
Born and Raised in Deva, Romania . Resident in Helsingborg, Sweden . Speaks : Romanian, English, Swedish.
Very early to say more, but he looks promising to say the least.
Opinions ?
.