Discussion Starter
·
#1
·
Just posting some of my excerpts from my first day in Cincinnati in 2007 from my blog on am.com.
Day One
"I got to Mark's side and no one was really there. He was talking with Nesty and Nestor looked to maybe be in slight pain on his shoulder or neck. Mark turned around and immediatley looked at me and said, "Hey Matt! How are you doing bud? I have been waiting for you to show up." Big smile*

I said, "I am good. Glad to see you out here." I then watched him and then a man approached me and said he recognized my picture from the site I run so that was good! He said he liked the job I was doing and that Mark is lucky to have me. We talked for a bit and watched Mark for an hour or so. Booty was a couple courts across hitting with Querrey halfway into Mark's practice but I couldn't leave Mark! When Mark finished, he came over and said, "Hi Matt! Hope you are doing good. Thanks for the site. It is great. Now you needed me to sign some stuff for it." I replied, "Yeah, I want to run some contests. I have a lot of stuff though, including gifts so feel free to meet other fans needs." I got my stuff out and ready and then it was all fun from then on! Mark looked at everything I had and signed 10 or so items. I told him I would have him do the rest the next time since I didn't want to keep him long. I then gave him his gifts and he loved them! He really liked the coloring book I made for Graham and he said Graham loves coloring at the moment! I got my picture with him at the end and then saw Booty was leaving!!!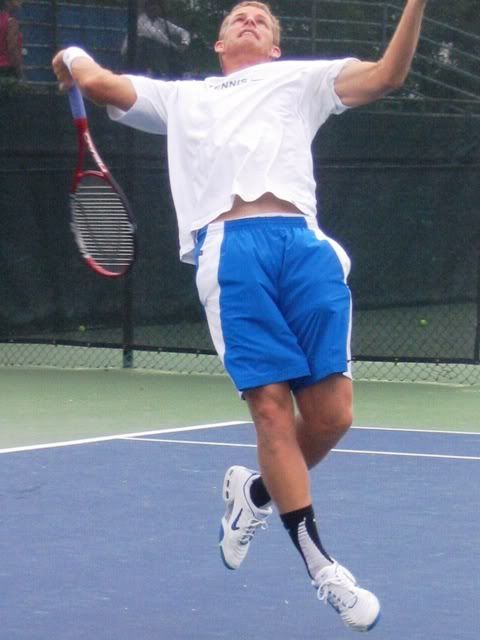 The guy politely said he would watch my stuff so I ran Booty down. I yelled "BOOTY!" and he turned around and said, "Hey Matt!" AHHHHH, he recognized me!
I said I wanted you to have the card me and your fans made for you. He was absolutely giddy. He loved it soooooo much!!! He was showing it off and said look inside, the fans wrote these to me. He took a picture with me and the card and then I had him sign my "doubles yes, ATP no" shirt. I said goodluck in doubles and that I would try and be there but that I had to go to Andy's match right now. He said thanks for the support and said hope to see you there!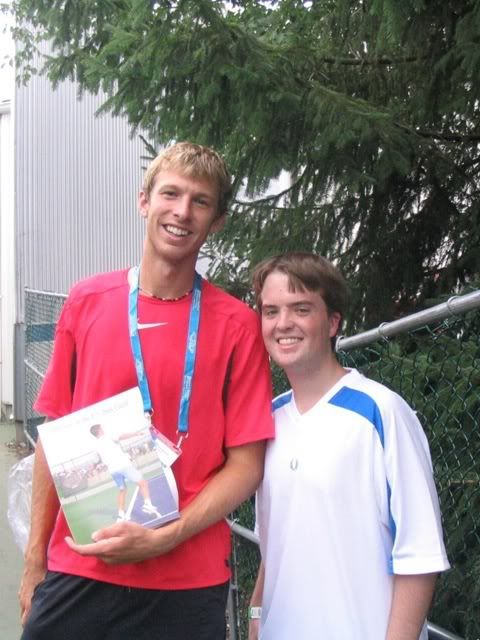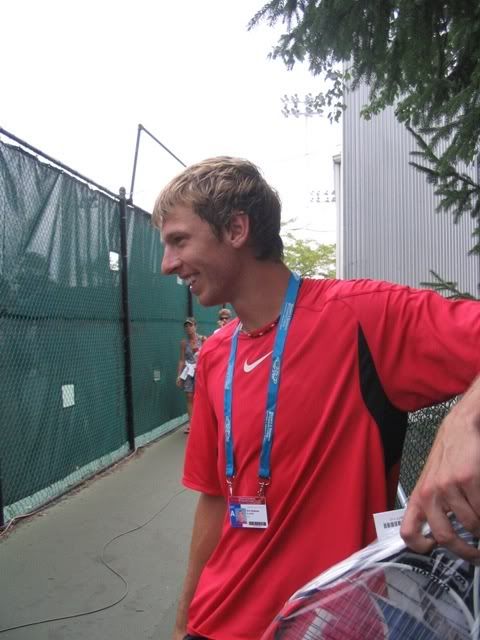 So I got to the player entrance and Fabienne called my cell. I told her where I was. She came out and said Andy was ready to meet with me!!! We got ready to go down the stairs and the security guy said I needed a badge. She said she was with the ATP and that I was meeting with Andy. He said that I was not allowed down
I even pulled out my emails with Judy and the names of the ATP people. Pete came and asked what the problem was. He asked the tournament director to come down to the player entrance. He explained who I was to the tournament director and he approved of me going down!!! YAY!!! I was so excited!! So I got into the hallway and opened my backpack to get the book and suddenly Andy came around the corner!!!!!

AHHHHHHHHHHHHHHHHH!

He introduced himself and we had quite a conversation. I can't believe he was able to talk with me and still smile, laugh and have a good time! It was definitely my best experience ever at a tournament andf was the highlight of my summer!! I mean 10 minutes of having an everyday conversation without being nervous or treating Andy like I was some crazed fan. I held my own and enjoyed every minute of it!
Here is a 2nd picture he took with me so you guys get to see something different.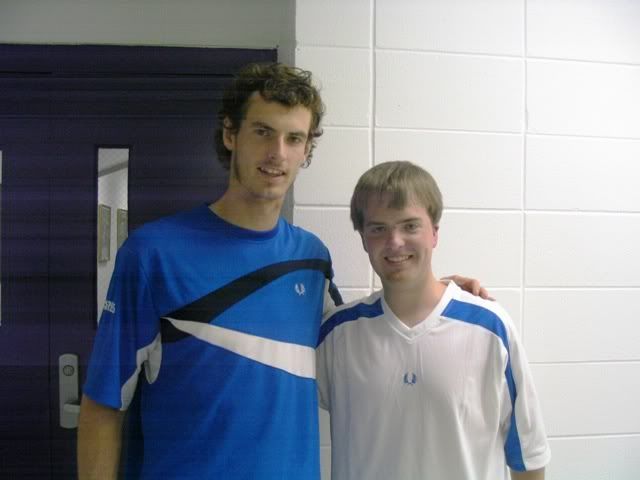 Then something amazing happened. Only 3 of us were there and Novak came back to the grounds!!!

I yelled, "NOVAK!!!!" Suddenly a bunch of kids ran over as I gave his quiet entrance away, oh dear! :lol: He took a picture with me first, took a couple more pictures/signed a few autographs and went in before the delayed rush of autographed seekers got there!