Hi all
I decided to look at how the games of the big 4 evolved throughout their careers. I consider three variables:
-
% service games won
(published by ATP)
-
probability to win the point directly off the first serve
(I estimate this one myself, you can read the details here
http://www.menstennisforums.com/showthread.php?t=198683&highlight=
.
Basically, this is the probability that the serve will win the point directly without going into a rally. Although not perfect, this is a cleaner measure of the serve quality compared to the % of service games won which is also a function of the ground game)
-
% return games won
(published by ATP)
I only look at hardcourt stats since this surface is playing evenly from year to year unlike grass and clay (see surface analysis here:
http://www.menstennisforums.com/showthread.php?t=198652&highlight=
. Also, there are many matches on hard every year and so the numbers are more meaningful. I only consider years where a player played at least 10 matches on hard.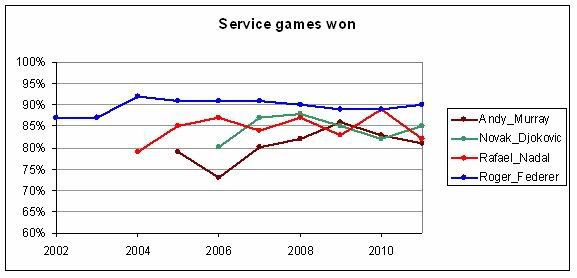 ------------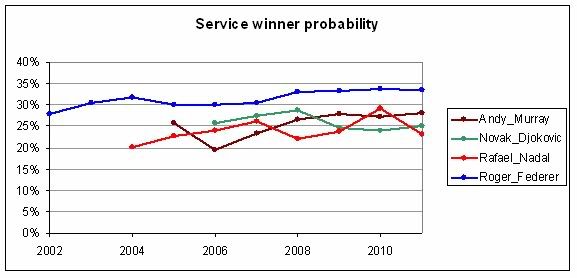 ------------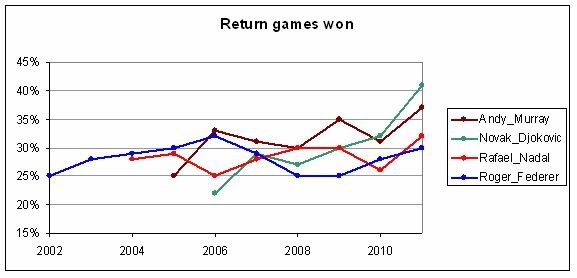 Conclusions:
Federer
The pure quality of Federer's serve has been constantly improving. However, he's been winning fewer service games lately because his ground game has declined since 2007.
Federer's return game has obviously gone down in 2008-2010 but it's been better in 2011 (probably reflects his end-of-the-year run on indoor courts).
Nadal
Nadal had a great spike in service quality in 2010 when he won the US Open. Interestingly, in the same year he had a low on return games won. In 2011 he improved the return but the serve has declined.
Djokovic
Djokovic's serve was very poor in 2010 (all those double faults). He improved it in 2011 but no where near to his 2008 level. Overall, he remains a worse server than Murray but wins about the same % of service games because he is better at rallying.
Djokovic's return game is the biggest improvement of all. It's safe to say that his game was based around the serve in 2008 and now it's the return that wins him matches.
Murray
Murray has been improving his serve since 2006. However, his ground game in the last two years has been subpar. His return game is up and down but he remains consistently better in this stat (on hard courts of course) than Nadal and much better than Federer.
In these posts, I am not trying to bash or eulogize any player. I just think that the recently released data ( http://www.atpworldtour.com/Rankings/Top-Matchfacts.aspx ) is very interesting and can provide useful insights into the players' games. Here are my other posts using this data:
Serve stat comparison
Ground game comparison