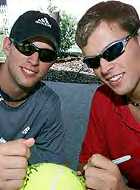 USO:
Raymond and Bryan Reign as Mixed Doubles Champions
by Laura Andriani
Friday, September 6, 2002
If the mixed doubles final was any indication of how Friday's matches were going to turn out, then tennis fans were definitely going to get their money's worth. The first match to take place on Arthur Ashe Stadium featured No. 2 seeds Lisa Raymond and Mike Bryan vs. Katarina Srebotnik and Bob Bryan (Mike's twin brother). The 80-minute long match would test not only the physical endurance of each player, but their indispensable knowledge of doubles strategy as well. All four players proved themselves, standing their ground with unique strengths.
Bob Bryan would continuously wow the crowd with his crushing serves while Srebotnik anticipated her opponents' imminent shots with a keen sense of doubles tactics. On the other side of the court, doubles veteran Raymond confirmed her status as a volleying maven with soft hands and quick feet. Mike showed his versatility by mixing up shots with varying speeds and spins. All four players held their respective serves in the first set, and at 5-6, Srebotnik served and volleyed, smacking one at Raymond's feet to force a tiebreaker.
The rallies continued to be tight, with neither team ever gaining more than a one point lead. Finally, at 10-9, Bob returned a serve wide, giving Mike and Raymond the set.
Playing with one set under their belts did not seem to make Mike and Lisa's second set any easier. Katarina and Bob continued to play strong, matching Lisa and Mike in each game. Bob and Katarina made 74% of their first serves, but Mike and Lisa answered by winning 89% of their first service points.
Neck and neck, the Bryan twins battled against each other with vicious overheads while Raymond and Srebotnik snatched winners off of skilled drop volleys and crisp passing shots.
At 5-5, Srebotnik served a slice-heavy serve that was returned long, giving her and Bob a one game break. Mike held his serve in the next game however, beckoning and second tiebreaker. Lisa and Mike quickly took the 6-0 lead.
Unable to regain control of the tiebreaker, Bob and Katarina made one more attempt at salvation before Lisa and Mike won the final point, making them the 2002 US Open mixed doubles champions.