Hey Guys!
Here's a Little Background info on myself!
Ty Dilello (CAN)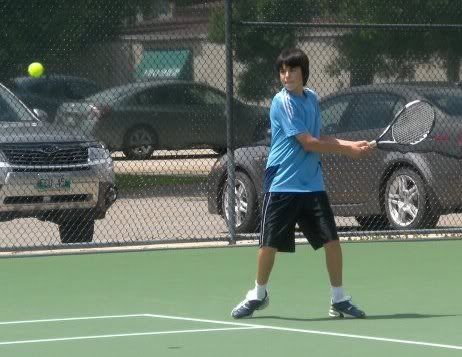 Birthdate: August 2nd 1993 Started Playing Tennis: Age 10
Birthplace: Winnipeg, MB Residence: Winnipeg, MB
Height: 5"8 (170 CM) Weight: 118 Lbs (52 Kg)
Career Win-Loss - 46-44 (Junior Singles), 1-16 (Junior Doubles), 11-7 (Mens Singles), 1-2 (Mens Doubles)
Combined - 57-51 (Singles), 2-18 (Doubles)
Plays: Left-Handed (Two-Handed Backhand)
Career High Ranking: 6th U16 Boys (Oct 6th 2008)
Career Main Draw Titles: 1 (1 Finals Appearance)
Career Consolation Titles: 4 (4 Finals Appearance) (1 Final Cancelled)
Past Coaches: Stephen Dubieinski, Ross Kennedy Current Coaches: Mario Trstenjak, Jared Connell
Home Club: Taylor Tennis Club (10 Indoor Hard Courts, 6 Outdoor Clay Courts) Fun Fact: Serves Left Handed, Then Plays Right Handed
Career Highlights
2006: Advanced to first career QF at the Big Sand Junior Classic in the U14 Boys category...falling to number 1 seed Saul Shrom 6/1 6/2
2007: Made his first and only Main Draw Finals Appearance at the LM Architectural Group Clay Open losing to #1 seed Yale Selchen 6/3 6/2
2008: Advanced to U18 QF at Big Sand Junior Classic winning two rounds before losing to top seed Sean Bailey 6/0 6/0
Advanced to U16 and U18 Quarter Finals at the Tuxedo Junior Open...in the U16's he played number 1 seed Igal Mostkov and lost 6/3 6/1,
and in the U18's Ty took on another Top seed Sean Bailey and worked hard to get a game in a 6/0 6/1 loss.
Ty was a Quarter Finalist in the U16 Boys Event at the Manitoba Junior Open...at the LM Architectural Group Clay Open Ty Was a Semi-Finalist
in the U16 Event, in the 3rd Place Match Ty performed the greatest comeback in his career when he came back from a 2/6 2/5 deficet and saved 4 match points
to win 2/6 7/5 14/12 over Alex Minuk. Ty also won the U18 Boys Consolation Finals in the same tournament. Ty won the U18 Consolation Event and was a finalist
in the U16 Consolation Event at the Sargent Park Junior Cup. He also competed in his first Mens Open event that year...the Manitoba Indoor Mens Tennis
Championship (losing in the opening round). In September Ty was asked and did tryout for the 2009 Canada Summer Games in P.E.I. Ty put up a great fight
but fell short of one of the 6 coveted spots. Ty finished the year ranked 6th in Manitoba for U16 Boys... a Career Best !!!
In the Winnipeg Indoor Open...Ty was a quarterfinalist in the Mens 4.5 Singles event...and in the Mens Open Singles event...Ty made the round of 16 before falling to his coach Jared Connell who was also the #3 seed 6/1 6/1...but Ty would bounce back in the consols and won 4 straight matches to win his first mens title!!!
2009: In the Big Sand Junior Classic, Ty reached the quarterfinals in the U16 and U18 Boys categories and also reached the consolation final in the U18 even defeating long time foe Trevor Hollins in the process.
In the World of Water junior tournament, Ty defeated Trevor Hollins in a barn-burning 3 setter. Also he got 2 games off junior powerhouse Chad LaCap.
At the LM Archatectual Junior Open, Ty won his first ever title defeating Eagan Peters in a tight 7/5 7/6 (2) final.
Personal
Full name is Ty Michael Dilello...began playing tennis at age 10...Parents Tony and Colleen are divorced...Tony is retired Cop...and Colleen is retired also...admired Frederic Niemeyer, Robin Soderling, and Gilles Muller growing up...Considers best shot is his two-handed backhand down the line...Prefers Clay his favorite surface...
Career Goals In Tennis
- Play in the Tennis Canada Junior Nationals
- Play in the Manitoba Open
- Play in a Futures Qualifying Event
- Play in Futures Main Draw
- Get an ATP Point