Seeing Is Believing
By PAUL MACPHERSON
Published: August 22, 2008
America's little-known Battistone brothers may just be the most unusual pro duo the game has seen.
It looks like volleyball with a tennis racquet. With due respect to Fabrice Santoro, Brian Battistone's amazing jump serve is perhaps the most unusual shot in pro tennis. Starting with the racquet in his left hand, Brian uses his right hand to throw up a high toss, switches his racquet to his right hand and then leaps two feet into the air and inside the court to club a serve that has been clocked as fast as 139 mph. When the serve finds its spot in the corner of the service box – as it regularly does – it is simply unplayable.
But that's not the most unique part of the game of Brian Battistone, or that of his brother, Dann, who play with twin-handled racquets, dubbed 'The Natural,' designed by Los Angeles racquet developer Lionel Burt to allow players to use one or two hands for forehands, backhands and volleys. The brothers are perfect spokesmen for the racquet, which retails for $200. After their ATP-level debut in Newport in July, they sold seven racquets after the match to fans who had watched them play. In their second ATP start in Indianapolis, up to 100 fans gathered to watch them practice, touch the racquet and ask questions. At New Haven in the week before the US Open they were interviewed by a local TV crew.
"It intrigues the fans," Dann says. "Everywhere we've gone the two-handled racquet is a natural attraction for them."
Brian, who grew up with a single-handed forehand and double-handed backhand, has been playing with the racquet fulltime for the past two years. By chance the inventor of the racquet saw Brian experimenting with unconventional strokes with a standard racquet in Los Angeles, and over time convinced him to make the switch. "I wasn't too sure about it at first but I stayed in contact with the inventor and eventually I decided to give it a shot," Brian says.
"You can do anything you can do with a conventional racquet, but you get more reach, better leverage with one hand behind the other instead of on top of the other and added variety for all your shots. Added disguise, power... go down the list and we feel there is an ergonomic advantage to every shot. I've found nothing that you lose."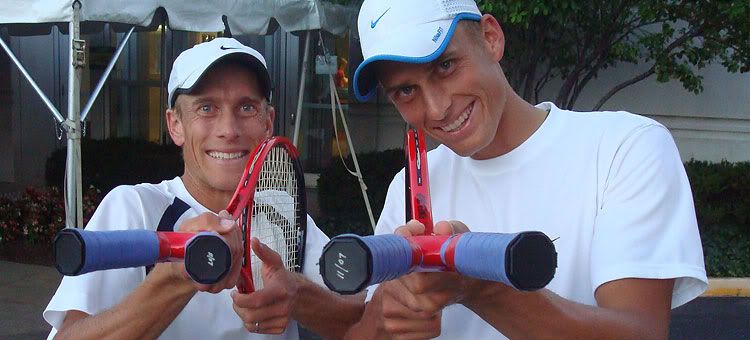 But not everyone has embraced the racquet. Some tennis purists don't care for it, with one lampooning it as a divining rod and an 'atrocity.' "There have been some coaches and parents and girlfriends who have had some not-so-nice things to say when we walk out with the racquets," Brian says. "I start to hear, 'What's the matter, you can't play with a normal racquet? What is this - a joke?'"
Dann even admits that when Brian first showed him the racquet, "It appeared to me that it might be illegal... I said: 'I don't think I can play with this.' But I soon found that it allows you to do much more than a conventional racquet does."
Seeking confirmation that the racquet conformed to the Rules of Tennis, the brothers sent 'The Natural' to the International Tennis Federation, which issued a certificate of legality that the brothers carry with them to settle potential disputes. Dann recalls that at the Calabasas Challenger last year, longtime USTA Supervisor Mike Loo did a double take just before the brothers walked out to play. "Right before our match Mike said: 'Do you have proof that this is legal.' I was thinking, I wonder if I brought the certificate. So I had to run in... I had it saved on my computer, so I had to pull it up for him."
"It had been a challenge for Brian at the Futures level," Dann adds. "A lot of the umpires and referees have said 'Hey, you can't play with that racquet.' And then you have his jump serve too. It's like this guy is playing the wrong sport."
When it comes to Brian's jump serve, seeing is believing. He explains how it came about: "I was just trying new ideas on the practice court. I was trying to get more lift and explosive movement into the court. Growing up we had played basketball and volleyball. I thought if I can't get the same amount of spring into the air with my conventional motion, why not try it like a volleyball serve? I jump as high as I can and as far forward as I can to get the best possible angle. My main objective is to get a better angle and higher bounce to bring the guys off the court."
Dann, 31, and Brian, 29, who both served two-year Mormon missions in Brazil and speak to each other in Portuguese to remain fluent in their second language, have cut their doubles ranking by almost 1000 places to around 270 in the space of one year since resuming their careers after extended breaks.
In early August the Las Vegas-based Battistones reached the final of the Binghamton Challenger – beating World No. 14 Lukas Dlouhy and partner Tomas Zib in the semis – that followed a semifinal showing at the Tunica Challenger and three appearances in Futures finals this season. But they are yet to crack their first win at ATP-level, most recently falling 6-3, 7-5 to Italians Simone Bolelli and Andreas Seppi in New Haven.