| | |
| --- | --- |
| 10K Futures Qualifier | 10-17-2008 09:38 PM |
---
Re: Madrid QF: Fyrstenberg/Matkowski def Nestor/Zimonjic 6-3, 3-6, 11-9

Yes, awesome win!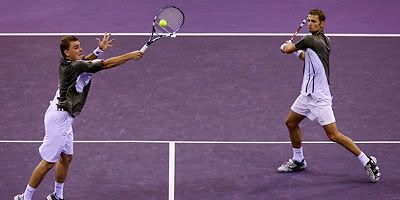 Poles Upset Nestor & Zimonjic For Semifinal Berth
Seventh-seeded Poles Marcin Matkowski and Mariusz Fyrstenberg (pictured) boosted their chances of qualifying for Tennis Masters Cup Shanghai, after beating No. 2 seeds and Wimbledon champions Daniel Nestor and Nenad Zimonjic 6-3, 3-6, 11-9 (Match TB) in 73 minutes at the Mutua Madrilena Masters Madrid on Friday. The Poles, who started the week at No. 9 in the Stanford ATP Doubles Race, struck 10 aces, won 31 of 38 points on first serve and saved five of six break points. This year's Warsaw titlists improved to 31-23 on the season while Nestor and Zimonjic, who have won four titles from seven finals this season, dropped to a 42-15 match record.
Fyrstenberg and Matkowski will look to reach their first ATP Masters Series final since last year's Madrid tournament against No. 8 seeds Jeff Coetzee and Wesley Moodie. The South African duo recorded a 7-6(5), 6-3 win over Spanish team Pablo Andujar and Marcel Granollers in 71 minutes. Coetzee and Moodie, who have captured the Estoril title (d. J. Murray-Ullyett) and finished runner-up in Doha (l. to Kohlschreiber-Skoch) this year, improved to 25-12 on the season. The pair is currently No. 7 in the ATP 2008 Race.
On a rough day for the top-seeded teams, No. 1 seeds Bob and Mike Bryan suffered a second consecutive loss to Jonas Bjorkman and Kevin Ullyett, who last week claimed their first title of the year in Stockholm. Bjorkman and Ullyett, who defeated the Bryans in the Wimbledon semifinals despite not breaking serve, today claimed four service breaks in a 6-4, 6-4 win. In the semifinals they play Mahesh Bhupathi and Mark Knowles.
Fourth seeds Bhupathi and Knowles continued their quest for a Tennis Masters Cup Shanghai berth after the fourth-placed duo in the Stanford ATP Doubles Race knocked out sixth seeds Simon Aspelin and Julian Knowle 6-3, 7-5 in 76 minutes. The Indian-Bahamian team has captured two titles at Memphis (d. Ratiwatana-Ratiwatana) and Dubai (d. Damm-Vizner) from six ATP final appearances this year.