Banned!
Join Date: Feb 2008
Location: The Nearest 10K Futures Event
Posts: 3,170
Paris: Nadal/monaco D. Mahut/mathieu 6-2, 6-4.
---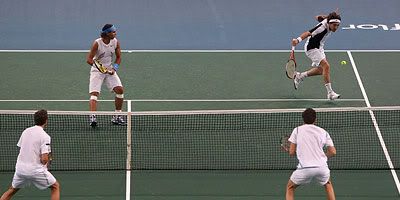 Nadal & Monaco Pass First Test In Paris
Rafael Nadal and Juan Monaco, who are competing together for the first time since July 2005 at Bastad (l. to Acasuso-Prieto in SFs), knocked out French wild cards Nicolas Mahut and Paul-Henri Mathieu with a 6-2, 6-4 win in 61 minutes. Nadal and Monaco won 35 of 46 service points and converted three of four break point opportunities.
The pair will next meet No. 3 seeds Mahesh Bhupathi and Mark Knowles, who became the 21st player in ATP history (since 1973) to win 50 career titles in a winning campaign with his Indian partner. Bhupathi and Knowles has already qualified for Tennis Masters Cup Shanghai in November.
Full Analysis Of Race To Qualify For Tennis Masters Cup Shanghai
David Nalbandian, the defending singles champion, and his Argentine compatriot Lucas Arnold Ker overcame another French wild cards Josselin Ouanna and Jo-Wilfried Tsonga 6-2, 7-5 in 72 minutes. The pair has reached one ATP final at 2003 Buenos Aires (l. to Hood-Prieto) and has a 13-10 career record since making their team debut in 2002 on Davis Cup duty versus Russia.
Former champions Arnaud Clement and Michael Llodra defeated Robert Lindstedt and Robin Soderling 7-6(5), 5-7, 10-8 (Match TB) in one hour and 39 minutes for a place in the second round. The Frenchmen, who captured the 2006 title (d. Santoro-Zimonjic), have enjoyed success in 2008 by winning the Metz title (l. to Fyrstenberg-Matkowski) and reaching the Australian Open final (l. to Erlich-Ram).
Registered User
Join Date: Jan 2007
Posts: 23,392
Re: Paris: Nadal/monaco D. Mahut/mathieu 6-2, 6-4.
---
what a team
They are my third choice to win this tournament
Marcelo/André and Bruno/Ram come first