Re: USO Qualleez Pix Day 11: Rare Footage of Willy Putting on a Shirt!
---
The machado match was one of my faves so far, he was having so much fun and playing so well and the crowd went totally crazy for him, poor Verdasco was just frustrated as hell and nobody was loving him, especially not the ballgirl cuz he cut up his knee and kept wiping the blood with his towel and chucking it in her face, I wish I had got a picture of her face, she was so completely disgusted. But when it was over and Machado picked up his bag to leave the crowd went totally apeshit and he stopped and came back and signed autographs and took pictures and tossed out his sweatbands like he was Novak Djokovic himself. I think he was just totally drained after winning the 4th set tb and verdasco just pounced on him. But man aside from losing it was a great day for him.
Re: USO Qualleez Pix Day 12: Lopez-Slash-Verdasco
---
MULLETHAWK
RISING
What is this thing?
How does it remain erect throughout several hours of highly competitive world class professional tennis?
And what the hell is it doing to poor Florence?
Today's pix are mostly from the match between Old World Lefties vs. New World Righties. If you do not like looking at pictures of Florence, or Verdasco, or Willy, I urge you do not look at these pix. It will only upset you.
Plus:
Vemic & Soares
Ehrlich Reynolds & Ram
Simon & Del Potro (aerial view)
Cameo Appearance by:
Willy's doubles partner
BONUS:
CAPTION CONTEST (not really a contest cuz there are no prizes, and no winner)

(or any other picture from this match...)
Beware the mullethawk!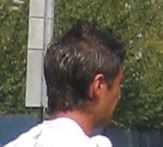 Thanks for visiting!