Re: News of the Querrey
---
I'm glad he won in doubles
.
---
Heart of a Champion.
Re: News of the Querrey
---
He beat Simon 7-5, 6-3
!
---
Heart of a Champion.
Re: News of the Querrey
---
So Sam won 4 of 6 matches here
---
Mardy Fish!
Brian Baker - Steve Johnson - Lleyton Hewitt - Carlos Berlocq - Tommy Haas - Ivo Karlovic - Richard Gasquet - Kevin Anderson - David Ferrer - Michael Russell - Fabio Fognini - Dustin Brown - Somdev Devvarman
Re: News of the Querrey
---
As of the August 31 rankings list, Sam is now the second-highest ranked American, having just moved past Blake. I believe he also has fewer points to defend than Blake or Fish for the remainder of the season, so odds are he'll finish at #2. Great job Sam and keep moving up those rankings. Top 16 seed for the Australian Open would be awesome.
Re: News of the Querrey
---
Sam is playing in Bangkok $608,500 ATP 250 this week!!
He is
3 seed
, so he will have a bye first round.
He will play Andreas Beck or a qualifier the 2nd round.
Let's go Sammy!!
http://www.atpworldtour.com/posting/2009/1720/mds.pdf
---
TT 2017 ROLAND GARROS CHAMPION, w/ chowdahead25

Miami Finals
COLLEGE TENNIS SUB-FORUM
BAGHDATIS | FEDERER | DANCEVIC | GASQUET | DOCTOR IVO
JOHN | KRAJICEK | RUSSELL | BAKES | GINEPRI | SAM | STEVO |MARDY | SMEE
JBlock and Kendo Forever
Re: News of the Querrey
---
http://espn.go.com/sports/tennis/blo...-creating-buzz
Sam and John show creating a buzz
May, 10, 2010
It isn't exactly "American Idol" yet, but this Sam and John show is demonstrating that it has legs, plays well to all different audiences and brings something a bit new to what most people have come to expect of prime-time tennis.
Sam Querrey and John Isner played the final in Memphis a few months back, on an indoor hard court. Querrey won the entertaining shootout 6-3 in the third, after the men split tiebreaker sets. At No. 31, Querrey was ranked six places below Isner. It was a ray of hope for Americans who were growing restless, what with no successors to veterans Andy Roddick and James Blake on the horizon.
Some critics scoffed at this presumed order of succession. Querrey and Isner, with their big service-based games and bodies more seemingly suited to NCAA basketball (Querrey is 6-foot-6, Isner 6-9), are nothing like the compact, fleet aggressive baseliners at the top of the contemporary game.
But Sunday, Querrey and Isner met in a final again, and this time it was on red European clay, in Belgrade, Serbia. It was the first meeting of American male players in a clay-court final since Andre Agassi and Jim Courier clashed for the French Open title in 1991. Querrey won again -- this time he wiped away a second-set match point (with Isner serving at 5-3), survived the ensuing tiebreaker and nosed ahead in the third to win 6-4.
A few weeks ago, Isner told me that the two men, who are great buddies and doubles partners, have a deal. They go out to dinner after they play, and the winner has to pick up the check. As frustrating as the early stage in this budding rivalry may be for Isner (he now trails 1-2), at least he's getting a couple of free meals out of it.
That Isner and Querrey made the clay-court final is great news on the home front. It confirms something each of them might have told you, and you might have met with skepticism. They not only can play on clay, they actually enjoy it. That's counter-intuitive, given how much more suited their respective games seem for hard courts.
We had an inkling of this, though, back during the Davis Cup tie played in the same Serbian city against a squad led by Novak Djokovic. The U.S. was, for the first time since the dawn of the new millennium, without the singles services of Roddick and Blake. Although Isner and Querrey were both beaten in the singles on the first day of play, the U.S. doubles squad (with Isner subbing for ill Mike Bryan) kept the tie alive for Day 3. Isner gave Djokovic all he could handle before succumbing in fives sets to end the tie. It was a solid performance for the U.S., given that Isner is a Davis Cup rookie and Querrey was playing in just his second tie.
Sunday's Belgrade final also suggested that the friendship between the two players makes both men better. They're competitive, sure, but this is a textbook case of a rising tide lifting all -- or at least both -- boats. They feed off each other's success and want to keep pace with each other. Whether the friendship can stand the familiar strains of competition remains to be seen, but they can remain close without necessarily texting each other multiple times each day, as they've been doing.
That it's lonely at the top is a truism, but truth be told, it's also lonely in the middle and sometimes horribly lonely at the bottom. Tennis is, among other things, the lonely game. The friendship these guys enjoy must help alleviate some of that loneliness, and it will continue to do so even if they need to pull back a bit, as one-time bosom buddies Courier and Pete Sampras did after they emerged as rivals for the top ranking.
These guys are a different from those aforementioned icons, though. The game is different, too. And so is the mentality of today's players. For one thing, Querrey and Isner like to play doubles, although that might change if either or both enjoy enormous singles success. For now, though, one of their goals as a team is to make the elite eight doubles field at the 2010 year-end ATP Tour championships. They've worked out their schedules with that taken into account.
So we're looking at a slightly different breed of cat here. It's silly to compare Isner and Querrey to their illustrious forerunners, Sampras, Courier, Agassi and Michael Chang. Querrey and Isner aren't competing at that level yet. But they're also of a different generation with a different mindset. Just look at the ongoing love fest between bitter on-court rivals Roger Federer and Rafael Nadal.
So far, the friendship between Querrey and Isner has had only upside, and why shouldn't it stay that way? Both of these guys know a good thing when they see it, and that's what they see when they look at each other, across the net or across a dinner table.
---
Congrats to Andy Roddick, 2017 Hall of Fame!
"I beat him the last time. He's lucky I retired."
— Andy Roddick on RF
Mugs Tennis Forums
Can't be bothered anymore
Join Date: Aug 2006
Age: 42
Posts: 23,023
Re: News of the Querrey
---
The Last Time... With Sam Querrey
DEUCE
by Paul Macpherson
On 3 August, during the Legg Mason Tennis Classic, Sam Querrey, Bob and Mike Bryan met U.S. President Barack Obama at the White House in Washington.
Sam Querrey, a four-time winner on the ATP World Tour this year, talks about the last time…
I bought tennis balls or rented a tennis court?
About a year ago in San Diego. I had to get a clay court at Barnes Tennis Centre and I had to pay my eight dollar fee and buy balls there.
Last time I queued for tickets?
I buy tickets for events all the time but I don't necessarily line up. I scalped tickets at a Dave Matthews Band concert about five years ago. My buddy and I were walking around outside trying to scalp 'em.
I lost something important?
Right now I can't find my passport. Maybe I left it at home.
I missed a flight?
That probably hasn't happened for about three years; it was when I was flying from Colorado to Wichita, Kansas, for an exhibition.
I cooked for myself?
A couple of years ago… I never cook; I usually just pour a bowl of cereal or go out for every meal.
I shared a hotel room with another player?
I have friends staying with me all the time but another player… about four years ago when I was a Davis Cup practice partner. I think it was Tim Smyczek in Palm Springs in 2006.
Being recognised help me?
Last night [in Washington, D.C.] I was trying to get a table at an Italian restaurant and the guy was a big tennis fan. He got me, my mum and her friends in.
I visited a country for the first time?
Serbia in 2009.

I was asked to sign something unusual?
I signed someone's forehead after the LA Open last week.
I asked someone for their autograph?
Kobe Bryan at the Olympics in 2008. He signed a piece of paper for me.
I met someone famous?
I met the Barack Obama at the White House during a Quick Start clinic for kids. That was a thrill.
I had a bad hotel experience?
At a hotel in Rome it was supposed to be a king bed but it was really two small beds pushed together and I kept falling through the middle of the two beds.
Source:
http://www.atpworldtour.com/News/DEU...Last-Time.aspx
Re: News of the Querrey
---
Querrey, Harrison to play World TeamTennis
Quote:
California native Sam Querrey will play World TeamTennis for the Sacramento Capitals on July 16, 18, 19, 20, and 22. The Capitals' roster also includes Mardy Fish, Mark Knowles, Coco Vandeweghe, Yasmin Schnack and Asia Muhammad. Querrey had previously played for the Washington Kastles. "Adding Sam to our team gives us a huge advantage in the second week of the season," said Ramey Osborne, Capitals Managing General Partner. "He is a very talented American player with a big smile and a big serve who has played tennis at the highest level of the game."
Re: News of the Querrey
---
Great to hear that he is motivated
Re: News of the Querrey
---
Quote:
Sam Querrey is engaged (via @MardyFish)!!
Congratulations!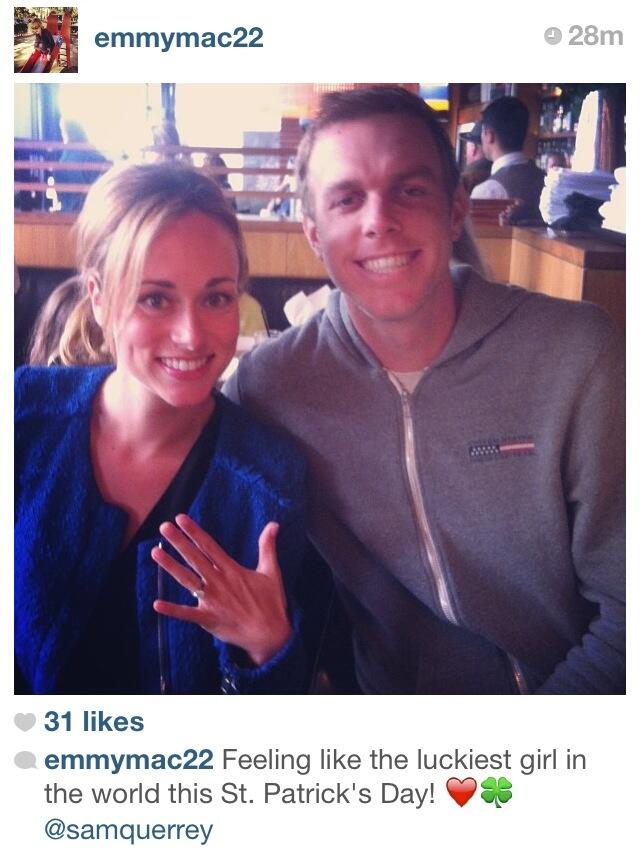 Re: News of the Querrey
---
Congrats Sam