Registered User
Join Date: Jun 2017
Location: Tallassee, AL
Age: 29
Posts: 3
Beginner Seeking Advice
---
I'm a lifelong competitor and played numerous amateur sports throughout my life, however I'm as green as can be when it comes to tennis. Never actually thought I'd pick up the sport until about 3 weeks ago when my brother-in-law mentioned trying it out as a means of good cardio exercise. Picked up a cheap Head racquet and some Dunlop balls and hit the local courts (a blessing to have a public court in a town as small as ours.) Quite honestly I haven't been able to put them down! I work a full time job and have a family, but I would absolutely love to get to the skill level required to one day play in local tournaments. This next part will draw plenty of criticism, so bear with me. I don't have the means (capital OR downtime) to get a paid coach right away, so I'm defaulted to the non-ideal practice of watching instructional videos and tv matches to get me through. Now, being athletically trained, my footwork and quickness are what I consider my strengths in the beginning. I've improved on my forehand and serving strokes, and I'm working on a backhand stroke. What I'm having trouble with is being able to consistently control the ball from one stroke to the next ("moonballing") in particular. I know it's probably a combination of my inexperience and my cheap beginner's racquet. I plan on upgrading my equipment when the time comes, but for now I will have to work with what I have. When a partner isn't available I practice on a practice wall at the courts. I know I expressed a lot in one post, but I'm looking for any advice that's available. I really want to steadily improve as I have fallen in love with the game! Any and all feedback is welcome and encouraged.
Re: Beginner Seeking Advice
---
Just keep hitting the ball. You can't go around it. You need to feel the ball familiar enough to be able to control it.
Another thing is make sure you go into the right position before you hit it. Beginners tend to rush it but you have to take it slow in order to control it.
---
Quote:
Originally Posted by Roger Federer after winning Wimbledon 2017
I guess again it's just belief, achieve such heights. I wasn't sure if I was going to be here again after last year. I've had some tough finals. I always believed I could come back here again. I kept believing and dreaming and here I am today.
---
Last edited by clearwaters; 07-25-2017 at

10:36 PM

.
Re: Beginner Seeking Advice
---
Public court? That's so awesome to have, never in a thousand years you'll see something like that in my country. Where are you from?
As Clear said, just hit the ball. It'll eventually come around. I could give you a couple of tips though.
* Check your racquet. If the handle and the head are not the same 'structure', meaning they're attached together, you should consider an upgrade ASAP. Used pro racquets from previous seasons (03'-07') are disgustingly cheap and it will mean a world of difference.
* Youtube videos. It may sound cheap, but there are some great tutorial videos that will lay out the basics for you. You can practice motions/balance at home and then practice in court.
* Stiff wrist-elbow-shoulder-waist is a nono. Don't be afraid to lose that wrist! I can't stress that enough. It might make you more insecure, but it's the way to go. After a couple of hundred strokes your swing will get better and better and lots of balls that would otherwise go wide or long will start landing in court.
Looking forward to hear from you in the future. Keep at it!
---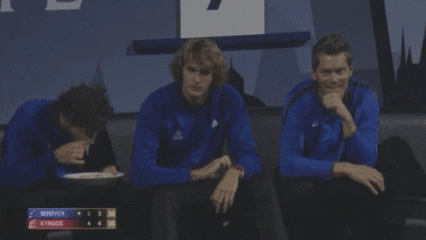 - Got any questions, thoughts or just want to know what Dominic is eating? Send me a message -
Re: Beginner Seeking Advice
---
Hit on a wall if you can, that's how everyone got better for cheap
Registered User
Join Date: Sep 2017
Posts: 1
Re: Beginner Seeking Advice
---
My best way to learn was my friend who play very well. I was always challenging him even if i couldn't win. These games gave me a lot of experience.