USA d. Slovakia 5-0
---
DAVIS CUP BY BNP PARIBAS WORLD GROUP PLAY-OFF: SLOVAKIA v USA [ September 12 ]:
http://www.asapsports.com/show_event...SLOVAKIA+v+USA
DAVIS CUP BY BNP PARIBAS WORLD GROUP PLAY-OFF: SLOVAKIA v USA [ September 13 ]:
http://www.asapsports.com/show_event...SLOVAKIA+v+USA
Clean sweep has USA thinking positively:
http://www.daviscup.com/en/news/184623.aspx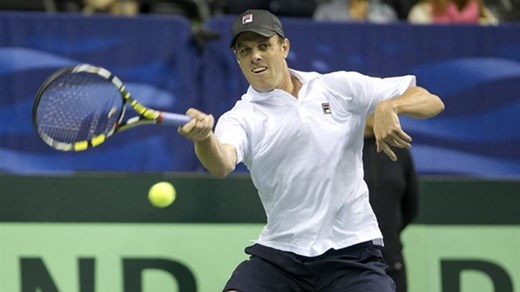 Quote:
CHICAGO, UNITED STATES: It was all over but for the nuts and bolts of the actual scoreline when the USA took to the court against Slovakia in Davis Cup World Group playoff action at the Sears Centre Arena in Hoffman Estates, Illinois on Sunday.
The USA produced a sterling 5-0 clean sweep over Slovakia. Encouragingly, it marks the first time they have managed a shutout since beating Switzerland, in Switzerland, in the first round in 2012 and, of course, that same Swiss side now stand one win away from its first Davis Cup title triumph.
USA captain Jim Courier made it clear to his players that this tie was all about positioning for next year and now it has achieved its objective and is happily ensconced in the 2015 World Group.
"As we've been saying since the beginning of the week we feel like we're already one round into next year," Courier said. "We have momentum and we'll be looking to carry that forward six months from now when we're playing again."
On Saturday, the fate of the tie had been decided with the Bryan brothers delivering the tie-clinching doubles point in a stunning straight-sets victory. On Friday, John Isner and Sam Querrey had successfully brought in their singles points without dropping a set either.
Playing clean-up duty on Sunday, Isner defeated Lukas Lacko 63 60 before Querrey beat a very feisty Norbert Gombos 64 46 64 to close out the weekend.
From the time they won the very first Davis Cup match in 1900 the USA'= has been accustomed to being a dominant force in the largest international sporting competition in the world. And only once since the World Group format began — in 1988 - has the USA played below World Group level.
In all, the USA owns a record 32 Davis Cup titles, but recent times have not delivered frequent success. In the past 20 years, the USA has only won the Davis Cup trophy twice — in 1995 and 2007 - beating Russia in the final both times.
The World Group draw will be made this coming week and the USA knows exactly what its hoping for from it.
"We love playing in the US," Mike Bryan said. "We love the fan support. We play best when we have the energy and the fans behind us. We look forward to getting back to the World Group."
For Isner, who is still awaiting the experience of being a Davis Cup champion, the competition is an allure for its difference to the normal tour events.
"For me, I think it's the atmosphere - if's very different from a normal tennis match," Isner said. "Whether you're on the road and you have most of the crowd against you, or you're at home and have a lot of the crowd for you, it's very special.
"You're not playing for yourself, you're playing for your teammates and for your country, which is the highest honour, in my opinion. For me, I played some of my best tennis ever in Davis Cup."
Slovkian Davis Cup captain Miloslav Mecir, celebrating his 20th year as his country's Davis Cup captain, was pragmatic about the weekend.
"Of course, I cannot be satisfied with 0-5, but there were three very good matches when we really had our chances," he said. "The first day both matches were probably decided in first set tiebreakers and we had big chances. I know we'd need a big surprise to win this weekend."
Read more at
http://www.daviscup.com/en/news/1846...fjykvd4ThSC.99
2015 Draw
---
Rematch with Great Britian.
World Group Draw (2015)
First round (6-8 March)
Germany [c] v France [s]
Great Britain [c] v USA [s]
Czech Republic [s] [c] v Australia
Kazakhstan [c][*] v Italy [s]
Argentina [s] [c] v Brazil
Serbia [s] [c] v Croatia
Canada [s] [c] v Japan
Belgium [c] v Switzerland [s]
Read more at
http://www.daviscup.com/en/news/1871...Zwc6Q2ihAVF.99
Re: Team USA - Davis Cup
---
Britain chooses Glasgow for Davis Cup tie vs US:
http://www.si.com/tennis/2014/11/03/...cup-britain-us
Quote:
LONDON (AP) Andy Murray will return to his native Scotland for Britain's Davis Cup match against the United States next year.

The Lawn Tennis Association on Monday selected the Emirates Arena in Glasgow to host the March 6-8 World Group first-round tie.

Murray played in a lower-tier Davis Cup tie in Glasgow in 2011 against Luxembourg.

He says ''this is a World Group tie so it's a massive deal'' and ''I'm looking forward to be able to play in front of a home crowd.''

It will be Britain's first Davis Cup match since Murray came out in favor of Scottish independence. Voters rejected independence in a referendum in September.

Murray led Britain to a 3-1 win over the U.S. in the first round of the Davis Cup in San Diego this year.
Re: Team USA - Davis Cup
---
Quote:
US Davis Cup Fans @USDavisCupFans · 2h 2 hours ago

Jim Courier reports on @TennisChannel that Steve Johnson will replace Sam Querrey as No. 2 US player after the Aussie Open
..
Re: Team USA - Davis Cup
---
Nominations for next week's tie against Uzbekistan: Johnson, Querrey, Sock, Young. Practice partners: Michael Mmoh and Taylor Fritz.
Re: Team USA - Davis Cup
---
Some pictures from the team dinner.
Re: Team USA - Davis Cup
---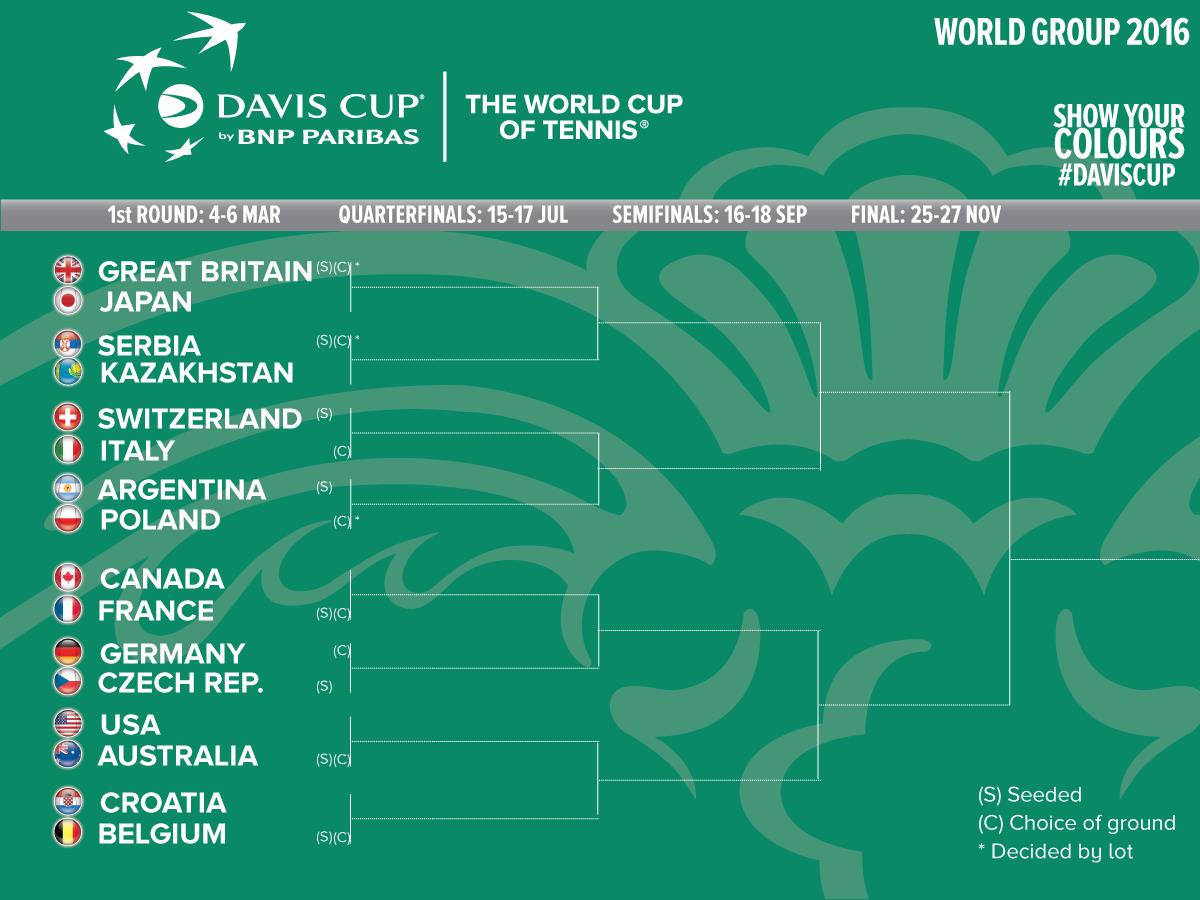 Re: Team USA - Davis Cup
---
Love Mike and Bob but they have been struggling this year, would have preferred Querrey and Johnson or even Ram.