Re: Jonas Bjorkman retires..
---
Quote:
ATP PLAYER NEWS

June 23, 2008
Former World No. 4 Bjorkman to Retire This Season

Jonas Bjorkman today announced that, at the age of 36, he is to retire from the ATP circuit this season.

The popular Swede will contest Wimbledon for the final time, beginning against Arnaud Clement in the singles first round on Tuesday, and also hopes to compete in the Olympic Games in Beijing, with his final schedule not yet determined.

Bjorkman has enjoyed a glittering career in both singles and doubles. On November 3, 1997 he reached a career high of No. 4 in the South African Airways ATP Rankings, that same year winning three ATP titles, including the Stockholm title (d. Siemerink) in front of his home crowd, which he cites as one of his greatest memories.

Bjorkman's career has spanned 17 years and some of his finest moments have come in recent years. At the age of 34, the right-hander reached the 2006 Wimbledon semifinals, where he fell to World No. 1 Roger Federer, who went on to claim his fourth title at the All England Club.

In doubles, Bjorkman has enjoyed huge success, highlighted by reaching the No. 1 spot in the Stanford ATP Doubles Rankings on July, 9 2001 and capturing nine Grand Slam doubles titles, including three successive titles at Wimbledon (2002-04 w/Woodbridge), where he will partner Kevin Ullyett in his final appearance this season.

Jonas Bjorkman (l) and Todd Woodbridge, 2003 Wimbledon Doubles ChampionsAs Sweden's longest serving Davis Cup representative, Bjorkman had the honor of winning the coveted title three times in 1994 against Russia, in 1997 against the USA and in 1998, defeating Italy in the final.

On announcing his retirement, Bjorkman had the following message for tennis fans worldwide:

Dear Tennis Friend,

I've been reflecting on my professional career and I have decided that this will be my last Wimbledon. At the age of 36 I now feel it is time to begin the next chapter of my life, being at home with my family and pursuing other interests.

I am very proud with what I have achieved as a professional tennis player, and I want to express a very warm and special "thank you" to all of you that have supported me through the years, all of you that I have been working with, and all of you that have contributed in making my dreams come true.

Winning Davis Cup, reaching number 4 in the world in singles, number 1 in doubles, earning nine career Grand Slam doubles titles, playing the Jonas Bjorkman (l), 1997 Davis Cup Champion with SwedenWimbledon semi final at the age of 34, and, last but not least, winning the Stockholm Open in front of my home crowd are just some of my finest memories.

I have been blessed with a long and successful career and I look forward to another great experience here at Wimbledon, for my last time as a competitor. I also look forward to the rest of my 2008 season, which hopefully will include the Olympic Games in Beijing. It would be the most incredible way to finish my career if I could win a medal for Sweden.

It has been a fantastic journey starting with my first satellites in 1990 and my debut on the ATP Tour in 1993, a journey that has given me unforgettable moments, great victories, amazing experiences, so much knowledge and wonderful friendships on and off the court. I will treasure this all my life.

It is with great joy that I look forward to the next phase of my life, including packing my children's school bags rather than my own tennis bags…

All the best,
Jonas Bjorkman
Reading such a letter written by Jonas to the fans makes it even more clear what a great person he is
I almost got tears in my eyes reading this
I can already say that tennis will loose a wonderful and fair sportsman in Jonas
---
Tommy Robredo
David Ferrer
Pere Riba
Fernando Verdasco
Pico Monaco ~ Edu Schwank ~ Stan Wawrinka ~ Dani Gimeno ~ David Marrero ~ Marc Lopez ~ Marco Chiudinelli ~ Marcel Granollers
I miss you on tour, Nors, Bjösse, Simon & Pim Pim
Re: Jonas Bjorkman retires..
---
its not unexpected but it still sucks to read.
i am almost positive any day now we're gonna get one from tojo too, and now that pim pim is gone... ahh its so sad :cry:
---
Grigor Dimitrov | Jarkko Nieminen | Stan Wawrinka
Simon Aspelin | Jonas Bjorkman | Thomas Enqvist | Thomas Johansson | Magnus Norman | Robin Soderling
Re: Jonas Bjorkman retires..
---
http://msn.foxsports.com/tennis/stor...ire-in-October
Quote:
WIMBLEDON, England (AP) - Swedish star Jonas Bjorkman will retire in October, ending a career in which he reached a No. 4 ranking and won nine Grand Slam doubles titles, including three straight at Wimbledon.

Bjorkman announced his decision just hours before play began Monday at Wimbledon, where he won doubles titles from 2002-04 and reached the singles semifinals — at age 34 — in 2006.

After trips to the Beijing Olympics and the U.S. Open in August, the Swede plans to bid farewell to tennis on home soil at the Stockholm Open.

"Wimbledon has a special place in my heart and I knew it was the right time to do it here," Bjorkman told The Associated Press. "I feel I'm at the stage where maybe I don't have a desire.

"Maybe I've lost the competitive edge a bit. When it comes to after matches it didn't hurt as much. ... It should be a hurting when you lose."

Bjorkman reached a career-high No. 4 in singles and No. 1 in doubles. He played his first Grand Slam tournament at the 1993 U.S. Open and twice reached the semifinals at majors: at the U.S. Open in 1997 and at Wimbledon in '06, when he took only four games from eventual champion Roger Federer.

"The semifinal two years ago is something I will always remember," he said as he walked through the All England Club. "I didn't really expect it at the age of 34, but I enjoyed it more because you're much more relaxed as you get older."

Bjorkman begins his 15th Wimbledon campaign on Tuesday in a singles match against Frenchman Arnaud Clement.

"I've been hitting the ball and had good preparation, but I have tough opposition in Clement," Bjorkman said.

He likes his chances better in doubles.

In the first round, he and Kevin Ullyett face Australians Paul Hanley and Todd Perry.

"Doubles is a potential," he said. "And I'll do everything I can to hopefully get another trophy."

After that, Bjorkman, who also played on Sweden's Davis Cup winning teams of 1994, '97 and '98, wants to spend more time with his children — Max, 5, and 5-month-old Bianca.

"It's time to be a full-time dad and spend time with the family," he said. "Half of my life has been a professional player so it's a good stage in my career to call it quits."
Re: Jonas Bjorkman retires..
---
Affection for Wimbledon unlike anything else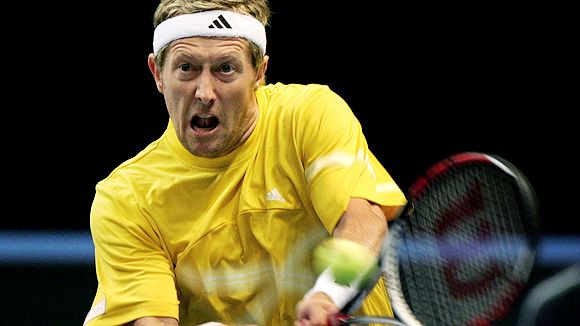 http://sports.espn.go.com/sports/ten...ory?id=3458345
WIMBLEDON, England -- There's something about this Emerald City of tennis that makes players spiff up and act more formally than they would anywhere else, as if they had made a long, arduous voyage to get an audience with the wizard.
Whether former champions or journeymen, for the most part, they love to show up, they hate to leave and they are loath to skip the festivities. Over the years, how many times have you heard a player say, "I'm not 100 percent, but I had to be here?" Amelie Mauresmo, to whom this title meant so much in 2006, played and won her first-round match on Monday with tape bracing a badly strained thigh muscle. If it were any other tournament, she would have stayed home.
Players don't always know when they're making a final appearance at the All-England Club, but when they can, many do what people do when they care about a workplace -- they give notice, and they say goodbye. They make room for the sentiment that has no place during daily competition.
Martina Navratilova plucked a few blades of grass from Centre Court as she exited in 1994. Boris Becker confided his retirement plans to a startled Pete Sampras over the net in 1997 before he told the world. The venue had such a hold on both of those vanquished champions that they broke their vows and returned, but those gestures will always be remembered.
That affection was on display again this Opening Day, and it will continue Tuesday. Dominik Hrbaty startled Roger Federer by sitting down next to him on the final changeover of their match; the Slovak, hampered by elbow surgery, thought it might be his last few minutes on the magical grass, and he wanted to say a few private words to his old buddy.
France's Fabrice Santoro publicly pleaded with the powers that be to schedule his singles match on Centre Court, where he'd previously only played doubles. It was the last-meal menu request from a guy who's devoured life on the tour for 20 years, and his wish will be fulfilled thanks to the divine hand of the draw that paired him with homeboy Andy Murray.
So it was somehow not surprising Monday when reporters received an e-mailed message from 36-year-old Jonas Bjorkman, one of the classiest acts on the ATP circuit these last 16 seasons.
"Dear Tennis Friend,'' it began. "I've been reflecting on my professional career and I have decided that this will be my last Wimbledon.''
Bjorkman thanked supporters for helping him achieve several milestones, including a Davis Cup title, a stint in the top 10 and nine Grand Slam doubles championships.
"I have been blessed with a long and successful career and I look forward to another great experience here at Wimbledon, for my last time as a competitor,'' he continued. And finally: "It is with great joy that I look forward to the next phase of my life, including packing my children's school bags rather than my own tennis bags.''
As Andre Agassi did two years ago, Bjorkman chose this particular moment in mid-season to declare his intentions. He's not quitting right away -- in fact, he hope to win a medal at the upcoming Beijing Olympics -- but this is the proper place to hold the official wake, attended by a ritual-minded crowd that loves the intimate grounds as much as he does. The party can come later, in his home country perhaps, the way Agassi celebrated with a love feast in Flushing Meadows.
"This has always been the tournament,'' said Bjorkman, who lost 4-6, 7-6 (4), 6-4, 7-6 (4) to another veteran and doubles specialist, Arnaud Clement of France, on Tuesday. "Not only because I like playing on grass. It's the tradition, the atmosphere. It is a special place.'' The Swede's final appearance will be in the doubles draw with partner Kevin Ullyett of Zimbabwe.
Bjorkman has his priorities straight -- namely, his wife, Petra, his 5-year-old son Max and baby daughter Bianca, born last January. Max has gotten increasingly antsy during his father's road trips. The couple set up a webcam to help communication, but it only made things harder. Recently, Max began singing a song of his own composition. "I love my Dad so much I could die,'' the lyrics went, and Bjorkman's mild blue eyes get a little glassy when he repeats them.
There's also a tennis magazine venture, and some as yet undefined role in trying to boost the sport in Sweden. Bjorkman won't be distant from the game. So he isn't ambivalent about this passage even though he -- like most elite athletes -- still harbors the belief he can win on the right day. After all, he reached the semifinals here just two years ago.
Smart guy that he is, Bjorkman sought advice from two contemporaries, Todd Martin and Tim Henman. "You just know,'' they told him when he asked how they made the decision to bow out. The feeling inhabited him this spring during the clay-court season. Bjorkman knows he's old for a tennis player, but more importantly, he's old-school, and announcing his departure here felt exactly right.
There are museums and reference books and Web sites where you can scan a list of Wimbledon champions. When Bjorkman packed his gear after his last singles match, signed a few autographs and walked off Court 11 without fanfare, he added his name to a much longer but invisible roster of players who felt honored to be there, and made a gesture to return the favor.
http://www.foxsports.com.au/story/0,...-23210,00.html
Quote:
"It has been a fantastic journey starting with my first satellites in 1990 and my debut on the ATP Tour in 1993, a journey that has given me unforgettable moments, great victories, amazing experiences, so much knowledge and wonderful friendships on and off the court," Bjorkman said.
Nicest tennis player ever. Nicest guy, full stop.
[I may or may not post a heap of articles here. Will try to find the ones that are different/most touching]
Re: Jonas Bjorkman retires..
---
www.wimbledon.org
J. Bjorkman Interview - 24 June
Tuesday, 24 June 2008
Arnaud Clement def. Jonas Bjorkman 4-6, 7-6 (7-4), 6-4, 7-6 (7-4)
Q. In your great career, what was the sweetest moment?
JONAS BJORKMAN: Well, it's always tough to pick one. But when I saw the Davis Cup final on TV, 1984, that sort of became a big dream for me to become part of the Swedish Davis Cup team. And to add on and win it three times, it's something very special I think, because it's something we're very proud of back home in Sweden.
Q. And what was it like for the Swedes to bring down a team that was led by Connors and McEnroe?
JONAS BJORKMAN: Well, it was huge at the time because the interest of tennis was massive. We had so many great players coming up. I mean, it's like almost what the French and the Argentines are having now. There were so many Swedes in the top hundred. We could pick and choose any surface, and we still had a fantastic team in Davis Cup. The interest of tennis back home, you know, picked up amazingly. It was probably the most popular sport at the time.
Q. Yourself excluded, who do you think the best doubles player in history of the game has been?
JONAS BJORKMAN: Oh, it's a tough call because I was not part of some of the great doubles players in the past. You know, I've just seen a couple on TV. I think John McEnroe, I heard a lot that he was an excellent doubles player. I actually heard Anders Jarryd was an excellent doubles player. The guy said, if he put the ball back he took care of the rest. Those are two guys that are really good. But if you look to the records, you've got to give it to Todd Woodbridge. He's got all the records for doubles. It's not easy to pick one.
Q. If you could change one thing in the game of tennis, aside from scheduling, what would you choose?
JONAS BJORKMAN: I would try to have one ball going into each slam, because I think that's hurting a lot of players. We sometimes change four weeks in a row, we have different balls. So I think have one going into Indian Wells, Key Biscayne. Have the Roland Garros ball go on the whole clay court. Same one, the Wimbledon ball for the grass and the same for US Open and the same for the indoors.
That, I think, would be the best for everyone. Physically it's so hard these days. If you can avoid to change that every week for the players, I think that will help a lot of shoulders and a lot of arms. And then hopefully I think we need to maybe change the speed a little bit just so we can have some more different styles of players. I think we're missing that a little bit.
Q. How would you compare today's player in 2008 with the best players when you came on tour? How has the game changed?
JONAS BJORKMAN: It's so different. Everything is so different: strings, the material of the racquets, the speed of the courts, how a tennis player is built these days. When I came up, there was not too many who was going into the gym, and these days you see them like this (packed). It's much more physically. Everyone is working harder. They've been taking it to a different what do you say improving it even more from the past than I started.
Q. When did you actually make your mind up? Is it something you thought about a long time ago and you just wanted to save the announcement for Wimbledon, or just the last couple days or weeks?
JONAS BJORKMAN: No, I've felt already after the long trip in U.S. that it's getting tougher to do the traveling and the packing. And then during the clay I started to get the feeling that this is it. I'm happy with it. I was more or less committed with that decision in Paris. I got a good relationship with the Swedish media. We always talk closely. I said I will make up my mind. I said last year that I will make up my mind during the grass court. For me it felt good to do it before Wimby, and then I can focus on trying to do well. Obviously I was hoping to do much better than first round, but it's something that has been progressing the last couple months.
Q. In reading your statement, there don't seem to be any hard and fast plans. What sort of ideas do you have?
JONAS BJORKMAN: To continue playing or what to do after? Afterwards?
Q. Yes.
JONAS BJORKMAN: No, obviously I will spend a lot of time with the family and friends. Probably be involved one way or the other in Swedish tennis. We all got the passion on trying to get Swedish tennis back on track. We got a lot of good guys, Enqvist, Kulti, Tillstrom, Norman, who is really trying now to do their best. Hopefully I will be helping out as well.
Q. Are you still doing the magazine?
JONAS BJORKMAN: I am the chief editor for the tennis magazine, so I will continue that and maybe even do some more.
Q. The toughest single stroke? What is the toughest shot you've faced?
JONAS BJORKMAN: Toughest shot? Wow. I would probably say something with Kafelnikov's game because I was 0 11 against him, so I was pretty pleased when he retired (smiling).
Q. Was he the best from the baseline?
JONAS BJORKMAN: I don't know. That was not a good matchup for me. I tried everything and it didn't work.
Q. People talk about the change of the grass. You played all the way through whatever change there might have been. Do you prefer it now or did you prefer it then?
JONAS BJORKMAN: Obviously I preferred it before. You know, I'm not serve volleying much these days because it's impossible almost. And, of course, it's a mix of all the players are much better, much stronger in the corners. But it's also because the grass doesn't allow you, the balls don't allow to you come in any more. You don't benefit out of a good volley like you did in the past. 10 years ago you had some incredible draws in Wimbledon, and these days you don't. You might have you can pick maybe six, seven not to be bad to those guys but you can see that is a great draw to have in Wimbledon. But it's not as it was before.
Q. Greatest player of all time?
JONAS BJORKMAN: Federer.
Q. Convincingly over Pete?
JONAS BJORKMAN: Yeah. I played them both. You know, Roger doesn't have the records yet, but I think he will get the records. But just the feeling to be out there when he's playing his best, compared to Pete, I think there's no doubt.
Q. What are you going to play between now and the Olympics?
JONAS BJORKMAN: Yeah, I'm going to play Bastad and then head over to Toronto and Cincinnati, then have a nice trip over to Beijing hopefully.
Q. How are your imitations going?
JONAS BJORKMAN: I'm letting the youngsters taking over a little bit. They're not doing it as good, I would say. No, it's much harder I think to do the youngsters these days. 10, 15 years ago you had different styles of players, and you don't really have that these days. Now it's pure power and not the same technical difference from guys, I think.
Q. Is McEnroe your best one?
JONAS BJORKMAN: That's one of my better ones, yeah.
---
EISERN
UNION

Bryans || Djokovic || Paire || Rojer || Tecau || Pospisil || Chiudinelli || Verdasco || Simon || Seppi || Leo Mayer

Björkman || Arthurs || Edberg || Nalbandian || Hanley || Rafter
T.Johansson || M.Norman || Aspelin || O. Rochus || Söderling


Re: Jonas Bjorkman retires..
---
Sad news.
Hope he does well in the Olympics if he gets a WC
---
Seb GROSJEAN
Arnaud CLEMENT, Andy MURRAY, Robin SÖDERLING
Mansour BAHRAMI & Henri LECONTE
http://www.facebook.com/group.php?gid=63620249828