Pete's Influence On Others.
---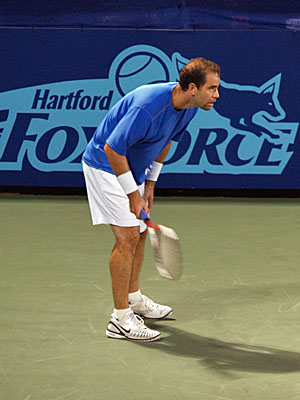 Caught between Pete and Boris
[ 28 Dec, 2006 2005hrs ISTTIMES NEWS NETWORK ]

A chance encounter with these two tennis sensations made Prakash, Vijay Amritraj's son, take up the game.
It was a brush with tennis legends Pete Sampras and Boris Becker 13 years ago that convinced Prakash Amritraj — then just 10 years old — that he wanted to follow the footsteps of his father, Vijay Amritraj.
He says, "I always travelled with my father when he was out on tours. One day at Wimbledon, I found myself sitting between the two big tennis stars, Pete Sampras and Boris Becker. At that moment, I decided to take up tennis professionally."
It was not a difficult decision, after all Vijay Amritraj's son has tennis in his genes. But father and son share more than just notes on tennis.
As Prakash says, "I can talk to him about every single thing, including girls. He knew about my first girlfriend. I would call my dad my best friend."
His other good friend is Sania Mirza. "Sania is a good friend of mine and a very sweet girl. We go back a long way, from the time we practised in junior championship. With all the media hype, attention and pressures I think that she is managing really well."So do these two friends hang out together?
"We chat often but we don't get time to meet. But when we do, we usually go out for a cup of coffee."
Prakash is a complete movie buff. "If I was not playing tennis, I would have become an actor. I am a huge fan of Priyanka Chopra. In fact, I would love to take her out for a date if she is ready."
---
Last edited by angiel; 12-28-2006 at

11:33 PM

.
Re: Pete's Influence On Others.
---
Sports.



Men's basketball: Donovan keeps Florida hungry

Web Posted: 03/22/2007 02:43 AM CDT

Mark Long
Associated Press

GAINESVILLE, Fla. — He has been "Officer Bill," a history professor, a tour guide, a father figure and even a friend.
He has been way more than just a coach.




Billy Donovan has been a master motivator for top-seeded Florida, inspiring players with championship rings, famous dads and NBA futures to play hard, stay focused, follow his "live-in-the-moment" catch-phase and possibly become the first team in 15 years to successfully defend its title.

He has kept the Gators hungry and humble while dealing with off-the-chart expectations, outside influences and the constant pressure of trying to make history.

"Sometimes when you hear the word motivation, people think it's a rah-rah speech every day," Donovan said. "I think there's different ways to motivate people and to inspire people. I would say that I spend every single day trying to do that."

Florida (31-5), which plays fifth-seeded Butler (29-6) on Friday in the NCAA Midwest Regional semifinals in St. Louis, has won 14-straight postseason games and cut down five sets of nets in the past 11 months.

Aside from having five talented, unselfish and experienced starters, a big key has been Donovan's motivational tactics.

He has invited big-name sports celebrities to speak to the Gators — a list that includes NBA legend Jerry West, New England Patriots coach Bill Belichick and St. Louis Cardinals manager Tony La Russa.

He has shown clips from movies and sporting events in hopes of providing inspiration. He has told stories about all-time greats such as Muhammad Ali, Michael Jordan, Pete Sampras and Tiger Woods.

None of the players expect to forget Donovan's most surprising approach this season.

He showed up in the locker room wearing a police officer's uniform minutes before a January game at Auburn. Donovan swears he just wore a hat, but players remember a jacket, badge, baton and handcuffs.

Regardless, the message was clear: Donovan wanted the Gators to be like police breaking up a party. The team responded with a 91-66 victory.

Last week in New Orleans, he organized a tour through parts of the city that were destroyed by Hurricane Katrina.

In 2000, Donovan made the players watch "Saving Private Ryan" during a three-hour bus trip to Normandy Beach as part of a preseason exhibition visit to Europe.

"I don't know if it was necessarily anything motivational, but I thought it was something they needed to understand about history," Donovan said.

Has all the motivational stuff worked?

"He's the kind of coach that makes you want to run through a wall, turn around and fix it, then run through it again," forward Chris Richard said.
Registered User
Join Date: Aug 2004
Location: Nirvana
Posts: 7,266
Re: Pete's Influence On Others.
---
Ok.
Does someone actually visit this forum
I can understand why you start all the threads and reply to yourself
---
There an only be One Nadal

Quote:
Nadal, Roddick, Tsonga, Del Potro & Safin
Quote:
Pele was the black Rooney
Quote:
Originally Posted by George W Bush
"We must always remember that all human beings begin life as a feces. A Feces is a living being in the eyes of God, who has endowed that feces with all of the rights and God-given blessings of any other human being."
Re: Pete's Influence On Others.
---
Quote:
Ok.
Does someone actually visit this forum
I can understand why you start all the threads and reply to yourself
You are so dumb
, why dont you look a the visitor column and see if anyone has visited here, and what are you, not a visitor???
Re: Pete's Influence On Others.
---
Pro Tennis: Chance meeting with Sampras motivated Ysern

By LISA RIDDLE
lisa.riddle@scripps.com
May 5, 2007

VERO BEACH — France's Pierrick Ysern had an early encounter with Pete Sampras that helped inspire his tennis.

Ysern's father, Gilbert, was the head referee for the French Open for 13 years during the 1980s and '90s. That meant he had a major role in running the Grand Slam event. He scheduled matches and made final calls on rain-outs and officiating disputes. Often, famous players visited his office.



Pierrick, at age 8, was sitting at his dad's desk at Roland Garros when he saw Sampras suddenly standing before him and asking where his dad was.
"It was pretty fun that day," Ysern said.

It was a special memory for him, and Ysern hopes he'll have another special memory today, at age 22, when he faces Notre Dame graduate Stephen Bass in the semifinals of the Grand Harbor Saab of Vero Beach Tennis Classic.

Ysern is the only seeded player to have advanced to today's semifinals. He is the event's No. 4 seed and ranks No. 530 in the world.

He used slice shots and some heavy backspin Friday to beat American Nathan Thompson, 6-2, 3-6, 6-2.

In victory, Ysern cycled through his extensive collection of Lacoste clothing. He is one of the lucky few on the USTA Futures circuit with a sponsor. Ysern said his father's connections helped him get a sponsorship with Lacoste for the past eight years. It is only for clothing, however. Flights and accommodations still are Ysern's responsibility.

Ysern splits time between his native Paris and Miami, where he trains with Ronald Jenkins, who was an assistant coach at the University of San Diego while Ysern played there. His choice to keep a residence in Paris was easy.

"There are a lot of clubs in Paris. Every top player lives in Paris and plays in Paris," he said.

Ysern has been playing mostly in Futures-level tournaments for a year following his graduation from San Diego, where he received a degree in business. His best finish was advancing to the final of a Futures tournament in February in Mexico.

His immediate goal is to end the summer ranked high enough to compete in Challenger-level matches, which is the next step up from Futures.

Ysern's father, who no longer is a referee at the French Open, now helps run the Tour de France.



NEILLY ADVANCES

Timothy Neilly, who bested a field of 31 players in a qualifying tournament last week to earn a wild-card spot in the main draw, advanced to the semifinals Friday by beating Australian Adam Kennedy 7-5, 6-4.

Neilly, 19, a native of the Bahamas, is in his fifth consecutive year playing at Grand Harbor. Two years ago, he reached the quarterfinals. Last year, he lost to eventual tournament winner Ryan Sweeting in the qualifying rounds.

Neilly lives in Deerfield Beach, which is between his two training bases in Delray Beach and Miami. His goal is the make the top 300 by the end of the year. He currently is ranked No. 1,098 in the world. He will play Serbia's Vladimir Obradovic in the semifinals today, set to begin at 11 a.m.
Re: Pete's Influence On Others.
---
Warming up Sampras
BU tennis player comes full circle with hero

J.A. Rice, BostonNOW Correspondant

--------------------------------------------------------------------------------

--------------------------------------------------------------------------------

When he first saw Pete Sampras play live at the US Open, Charles Weinstein was a wide-eyed, 6-year-old hooked on a hero. The next time he saw "Pistol Pete" in person, the Boston University sophomore stood across the net from his idol, warming up Sampras for his first pro match in five years.

"I was just like, 'Don't screw up, keep the ball in play, don't embarrass yourself,'" Weinstein, who plays number-two-singles for the BU Terriers, said before Sampras' historical match against the mouthy, 48-year-old John McEnroe at Agganis Arena on Saturday night.

"I had to take five steps back from my usual spot," Weinstein said. "His ball is so flat, so deep. He hits the ball a foot away from the baseline so consistently."

Twenty minutes before Sampras beat Petr Korda, 6-1, 6-2, in the opening round of the Champions Cup on Thursday, Weinstein had racket in hand. He waited in the bowels of the arena before someone said, "Pete needs someone to hit with."

"Hi, I'm Pete," the 35-year-old said in the typical, unassuming style he used to win 14 Grand Slams - including seven at Wimbledon - and an upcoming induction into the International Tennis Hall of Fame this summer in Newport, R.I.

"I'm not one to give unsolicited advice," Sampras said after defeating McEnroe, 6-3, 6-4, on Saturday night, advancing to the final, where he beat Todd Martin. "I like to lead by example. I'm not gonna tell the young guys what to do. If they ask, great, but I'm not one to sit down and give advice - it's not my personality."

Not much more needed to be said for the New Rochelle, N.Y. native, who transferred from Binghamton University this year; hitting with Sampras made the move worthwhile.

"This is exactly why I wanted to be in a city," said Weinstein, who after growing up 20 minutes outside of New York City couldn't stand going to school upstate. "The events, concerts, everything."

BU Assistant Coach, Rich Maloney, who used to work for a racket company, said his players don't always understand how networking now will payoff later.

Besides hitting with the pros - including with Jim Courier, the organizer of the senior tour, as well as Mats Wilander, Pat Cash and Wayne Ferreira - the BU players have done everything from string rackets, paint the umpire's board and run out for sandwiches at Quizno's. Martin even helped freshman Jeff Chudacoff take the slice off his backhand.

"I was fortunate to meet guys and when they come to town I see them again," Maloney said. "Charles can say he's the guy who warmed up Pete Sampras for his first pro match in five years."

Before Thursday, Sampras's last match was a win against his career-long nemesis, Andre Agassi, which also happened to be his fifth and final U.S. Open championship. Weinstein was 14.

"It was a dream come true, he's always been my favorite player of all time," he said. "When he retired I never thought I'd see him play again."

Published on Fri, May 11, 2007
Re: Pete's Influence On Others.
---
Bartoli inspired by Sampras to beat Dementieva
Sat Jun 2, 2007 2:31 AM IST




By Pritha Sarkar

PARIS (Reuters) - Marion Bartoli took a leaf out of Pete Sampras's book to record her best showing at a grand slam tournament on Friday.

Local hope Bartoli reached the fourth round of the French Open for the first time after upstaging former finalist Elena Dementieva 6-2 6-4.

"At the beginning of this year, my level was not what I expected it to be. So I followed Pete Sampras's example because he was never one of the favourites on clay," said the 22-year-old, who counts hard courts as her favourite surface.

"But one year, he managed to win against guys like (Sergi) Bruguera and get into the semi-final. So I thought, if he could do it, and if he could defeat claycourters, I should similarly try and prepare for clay and see what the results are.

"I practised sliding, drop shots, I ran for two hours in the morning, and I played up to four to five hours per day on clay courts to improve my performance. And today, it paid off."

Sampras captured a record 14 grand slam titles during his distinguished career but never conquered his claycourt demons during 13 visits to Roland Garros.

His run to the semi-finals in 1996 proved to be his best effort in Paris, and his failure in France prevented him from completing his collection of major crowns.

Bartoli's decision to follow the American's lead gave her the confidence to pick apart Dementieva's fragile serve.

The 13th seed, runner-up to fellow Russian Anastasia Myskina in 2004, never looked comfortable during the 68-minute contest and slid out after scooping a forehand into the net.

Bartoli will next face fourth seed Jelena Jankovic for a place in the quarter-finals.



© Reuters 2007. All Rights Reserved.