Peekaboo Sampras.
---
Re: Peekaboo Sampras.
---
Nasce o segundo filho de Pete Sampras
04/08/2005 - 11h32
Los Angeles (EUA)
- O norte-americano Pete Sampras abandonou as quadras no final de 2002, depois de derrotar o compatriota Andre Agassi e conquistar o US Open. Longe do tênis, as alegrias na sua vida mudaram de natureza, mas não cessaram. O ex-profissional volta agora suas atenções ao filho caçula, Ryan Nikolaos, que nasceu em Los Angeles na sexta-feira.
Sampras é casado com a atriz Bridgette Wilson desde 2000. Há dois anos, comemoraram a chegada ao mundo de Christian, o irmão mais velho de Ryan. Segundo informou a revista People na terça-feira, tanto a mãe quanto o novo filho, que pesou 2kg83 na data do nascimento, passam bem.
O norte-americano, de 33 anos, é o recordista de títulos de Grand Slam em todos os tempos. Só em Wimbledon, fez a festa em sete edições. Em Nova York venceu cinco vezes e na Austrália, duas. O grande tabu da carreira do ex-número 1 foi Roland Garros, onde nunca levantou o troféu.
Re: Peekaboo Sampras.
---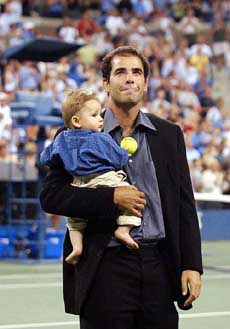 Pete Sampras takes a final lap around Arthur Ashe Stadium with his son Christian Charles after he announced his retirement from tennis on Monday. — AP/PTI photo
Emotional Sampras bids adieu
New York, August 26
For one final time Pete Sampras held a Centre Court crowd spellbound as he finally walked away from the sport which turned him into one of America's all-time greats.
Blinding banks of camera flashes bathed the Flushing Meadows centre court yesterday in a suitably surreal light as more than 20,000 fans bade an emotional farewell to the man who won more Grand Slams than anyone else in history.
That same Centre Court had been the scene of his first Grand Slam triumph 13 years ago and it was also the stage for his 14th and final one last year.
Perhaps only Wimbledon's magical turf which Sampras ruled for the best part of a decade would have provided a more fitting backdrop for his departure from tennis.
But Sampras saved his farewell for his own people on his home arena.
"Wow, this is the last time I'm going to be here. It is hard to say goodbye but I know it is time," he told the Centre Court crowd, tears glistening in his eyes.
"I am going to miss playing here. I love playing in New York, in front of you guys but I know in my heart it is time to say goodbye," he added as calls of `we love you Pete' rang out around the arena.
Twelve months ago Sampras took apart his great rival Andre Agassi for a final time in a championship match which encapsulated Sampras's style and his mastery of the serve-and-volley game.
He had not played competitively since that landmark match and the 32-year-old's decision to turn his back on professional tennis came as no surprise.
Still, though, the formal stamp on his decision to retire marked an emotional and poignant end of an era.
Since winning his first major title here in 1990, Sampras has ruled the world of tennis with a style and modesty seldom seen on the sporting stage.
His collection of grand slam crowns tell only part of the Sampras story and his career of records and milestones which make the $ 43 million of prize money amassed seem a mere footnote to his success.
Much more than the seven Wimbledon crowns, five US Opens titles and two Australian Open titles he won, the manner of his victories and the memories and legacy he leaves behind will last in the memory.
Never one for histrionics or on-court emotion, Sampras's mask slipped only briefly during his career.
But on those few occasions it did, the world was treated to a fascinating insight into the mind of one of the most dominant sportsmen of all time.
Behind the laid back and gentlemanly demeanour, Sampras was tigerishly competitive and ravenous for success.
The evening he clinched his seventh Wimbledon crown in 2000 brought rare tears to his eyes as he held the trophy aloft in the dank London dusk on a Centre Court sparkling with flashlights.
It was the evening he etched his name into the record books, matching a 19th century record for Wimbledon men's singles titles and clinching a record 13th Grand Slam crown. —
Reuters
Re: Peekaboo Sampras.
---
2003 - THE YEAR THAT WAS.
Pete Sampras with son Christian after a ceremony honouring his retirement during the US Open on August 25 at the USTA National Tennis Center, Flushing Meadows Corona Park, New York.
Photo: Al Bello/Getty Images
SPORT
Goodbye Pete
It was only fitting that Pete Sampras formalised his retirement from tennis at the scene of arguably his two greatest and most unexpected triumphs. If stepping on to Wimbledon's centre court was akin to playing on his own front lawn, then Arthur Ashe Stadium at Flushing Meadows could have been Sampras' backyard. He had a virtual mortgage on both. Seven Wimbledon titles and five US Open crowns from eight finals appearances in New York, plus two successes at the Australian Open, made Sampras the most prolific Grand Slam singles winner in history, with 14 titles in all.
His first major came at the 1990 US Open when, as a scrawny, baby-faced 19 years and 28 days young man, he became the youngest US Open champion of all time, one of the many records he still holds.
His final -- and his most unforgettable -- major also came at the US Open in the last match of his incomparable career when, against all odds, he ended a 27-month title drought with victory in the 2002 final over his great rival Andre Agassi.
Text: Ivan Crasto
Re: Peekaboo Sampras.
---
September 01, 2005
Introducing Ryan Nikolaos Sampras
Tennis star and actress
Pete
and
Bridgette Wilson-Sampras
also sat down with People for their Oh Baby column this week to discuss their second son
Ryan
, born on July 29th. Highlights include:
-This pregnancy happened a bit sooner than they planned
-"I had a goal before I got pregnant again of hitting normal weight...then I got pregnant again and I was like, 'Well, there goes that!."
She was only 6 pounds heavier than normal though!
-First son
Christian
was a big help during pregnancy-every morning he would ask mom if she needed cocoa butter, and rub it on her stomach!
-Daddy Pete cut the cord, and Bridgette said he also is a great diaper changer-when he has to be.
"He'll quietly try to do the hand off to me before I can tell [the baby's diaper is dirty], which I think is hilarious."
-Is there a third Sampras child in the future?
"Never say never...but two is just perfect for now!"
says Bridgette.
---
Last edited by angiel; 03-22-2006 at

11:23 PM

.