Registered User
Join Date: Nov 2005
Posts: 405
Beautiful story: Younès El Aynaoui
---
I never stoped believieng in Younès' abilities to come back. Remember he made it to Top 50 in 1993 then lost his tennis to become 200 or 250. Started a first comeback in the summer of 1995 and became 46 after his final loss in Doha in January 1996 against Korda. Then injured badly his ankle the following week in Jakarta in the final against Schalken. Then completely disappeared and became 600 in the world. Then the unbelievable story began: missed nearly from 1996 to June 1998 !!!! when he started a second huge comeback winning a lot of challengers on clay and becoming the great Younès we all know from 1999 to 2003 with a best entry ranking of 14 in 2000 and 2003 and a leading position in the race after his win in Doha in 2002!!! Then the tremendous performances of two 1/4 finals in grand slams in 2003 in the Aus Open and the Us Open and the fabulous and heroic match against Roddick. We all remember Younès's match point at 12-11 in the 5th and finally the win of Roddick 21-19!!!!! Then another serious injury after his 1/2 finals at TMS Madrid in October throwing him back to number 600 in the world !!!!! This time Younès is 33 and nearly 34 years old, did almost nothing during 2 years in 2004 and 2005 except a huge surprise in TMS Montreal beating F.Lopez in round 1 and a very promising 1/2 final in the challenger of Ukraine in November 2005 beating Hanescu in straight sets in the 1/4. Well I sincerely think this is another formidable comeback starting at the start of 2006. Younes is 228 and just played a great match to beat Sebastien Grosjean in round 1 in Doha. He's 34 and still gives it all. Congratulations Younès. Nobody came back 3 times except maybe Agassi (I'm not sure: I think he came back only 2 times!!!). I hope Younès will have a great year with decent performances. Remember 48 at the end of 1993 then 250 then 46 in the start of 1996 then 600 then 14 in 2000 and 2003, then 600 in 2005 and now 228. I am delighted Younès.
Registered User
Join Date: Apr 2005
Age: 35
Posts: 296
Re: Beautiful story: Younès El Aynaoui
---
Younes is a fighter and his "never say die attitude" has won me over. He will be back in the top 50 by years end.
-LIFETIME MEMBER-
Join Date: Aug 2004
Location: In the bottom left corner of my computer..
Posts: 6,554
Re: Beautiful story: Younès El Aynaoui
---
Quote:
Originally posted by pete25
I hope Younès will have a great year with decent performances.
Nice post.
I hope he does well. I really like him.
---
Allez

Roger
Seat #19 on the Federer Express
Re: Beautiful story: Younès El Aynaoui
---
Younes
---
The King Roger Federer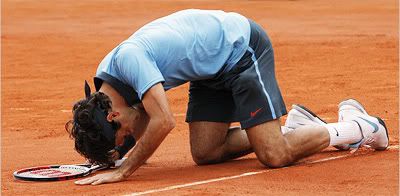 Pain is only temporary but victory is forever
Registered User
Join Date: Dec 2004
Age: 27
Posts: 1,128
Re: Beautiful story: Younès El Aynaoui
---
That's awesome, congratulations, I'm really happy and really proud of you
---
David Goffin | Stanislas Wawrinka
Dominic Thiem | Alexander Zverev
Ryan Harrison | Henri Laaksonen | Edouard Roger-Vasselin
Ernests Gulbis | Nicolas Mahut | Fabio Fognini | Pierre-Hugues Herbert