Re: Le Gosier - Miami 2011
---
i hope he wasn't fighting if he still feels the injury
Quote:
He fought hard, which is a good sign. Unfortunately, he's simply not in the shape to beat any decent players. Hopefully these weeks off coming up help him recover fitness and he can just relax a bit.
i would say, he's not in the shape to beat any half decent player! lol
Re: Le Gosier - Miami 2011
---
Quote:
He will, but I meant top 100 position for the majors. Right after RG is Wimbledon, which is probably his best chance to do something big at a major. He needs to situate himself well for the best possible chances there. All in all, I hope he gets healthy.
To be in the MD of Wimbledon is a tough goal he would need to do an great start on clay which is unlikely to happen. He's still playing because those big events but that's tougher year after year. Yes most important he's to be healthy and trying to take some pleasure on court like in challenger tour but for that we've to wait the end of clay
Anyway i don't see him come back on future or challenger qualies if the ranking continues to go down.
Quote:
Coming off the biggest win of his career with an upset of Andy Murray at the BNP Paribas Open, Donald Young was back to the business of qualifying for another major event. Against the wily veteran in Arnaud Clement, Young was out of sorts out the gate, dropping the first 10 points of the match with a listless performance and cantankerous disposition. But the young American who has seemed burdened by big expectations shook off a lopsided first set and turned the match around. "I didn't play my game in the first set. I started to keep more balls in play and kept fighting," said Young. He took pace off his shots, forcing Clement to create his own pace, and that change in tactics forced the Frenchman to make more errors. "If I keep playing my game, the way I played in the last two sets, I can get through." He'll have to fight past Frank Dancevic of Canada who can produce good tennis on North American hardcourts
A pic from yesterday, he looks tired and with that zoom hopefully the ear is clean
http://craighickmanontennis.blogspot.com/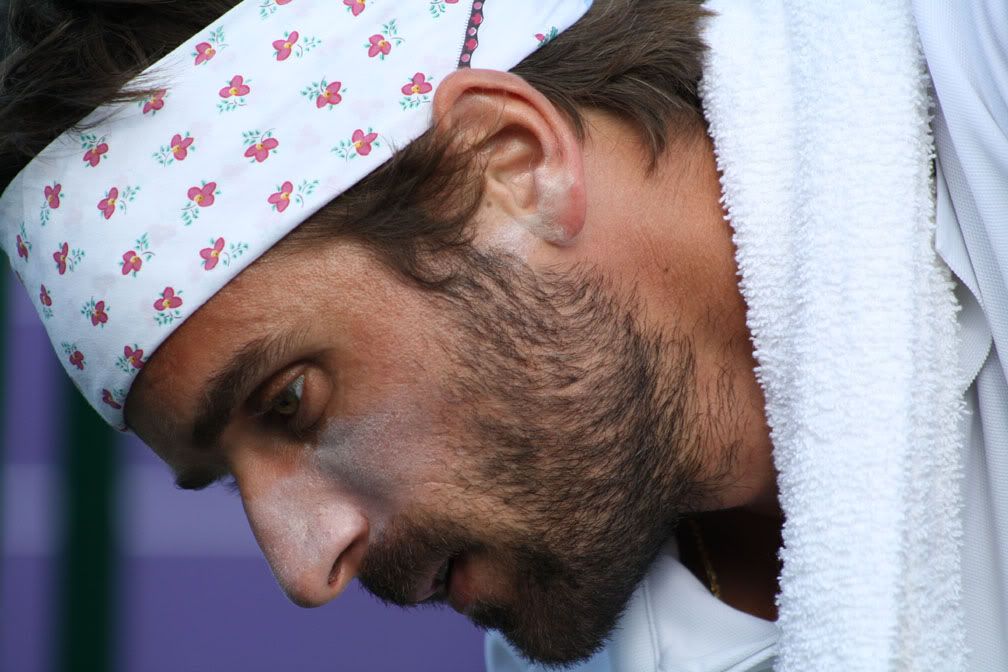 ---
Last edited by soulage; 03-22-2011 at

12:33 PM

.
Re: Le Gosier - Miami 2011
---
I always love that sunscreen aka white war color
---
Re: Le Gosier - Miami 2011
---
He entered Athens on outdoor Hardcourt instead of MC qualies. So it remains one harcourt tournament and let him 3 weeks to look after the shoulder except between the Valenciennes tournament on clay of course