's-Hertogenbosch
---
robredo vs. muller
wawrinka vs. burgsmuller
qua vs. llodra
vanek vs. mathieu

uebel LL vs. kucera
schalken vs. phau
garcia-lopez vs. qua
philippoussis vs. rochus

pavel vs. bjorkman
qua vs. benneteau
arthurs vs. sluiter
sanguinetti vs. ancic

soderling vs. haehnel
lisnard vs. kohlschreiber
hernych vs. van scheppingen
qua vs. coria
Re: 's-Hertogenbosch
---
Vamos Tommy y Mario!
---
The King Roger Federer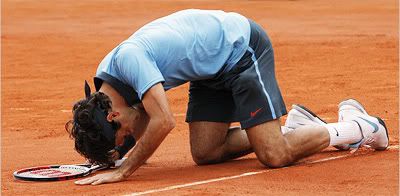 Pain is only temporary but victory is forever
Re: 's-Hertogenbosch
---
TENIS : EXITOSO DEBUT DEL UNICO ARGENTINO QUE JUEGA ESTA SEMANA SOBRE CESPED

Coria arrancó derecho

El santafesino avanza en Holanda, donde el año pasado llegó a la final. Desde el lunes estará en Wimbledon.





--------------------------------------------------------------------------------
DEN BOSCH, HOLANDA . DPA



A una semana del comienzo de Wimbledon, Guillermo Coria es el único argentino que esta semana se le animó al césped. Y de cara al tercer Grand Slam del año, al Mago no le fue mal en su debut en 's-Hertogenbosch (323.250 euros): ayer venció en su debut al alemán Lars Uebel (288º en el ranking mundial) por 6-3 y 6-1.

Recién con este triunfo, Coria (2º) quedó con una marca favorable en esta superficie, ya que ahora acumula 6 victorias contra 5 derrotas. El próximo oponente del santafesino será el checo Jan Hernych, que eliminó al holandés Dennis van Scheppingen por 7-6 (9-7) y 6-4 y a quien el pupilo de Josep Perlas venció este año en la Copa Davis, aunque sobre polvo de ladrillo.

El año pasado, Coria llegó a la final de este certamen holandés, en la que fue, como profesional, su mejor actuación en pasto. En este mismo piso jugó en Queen's 2004 —la primera ronda la tuvo libre y cayó en la segunda— y en Wimbledon, donde recién en la temporada pasada ganó un partido (al sudafricano Wesley Moodie) ya que antes había perdido en su debut en 2001 y 2003. Vale recordar que en juveniles, Coria conquistó el título de dobles en Wimbledon, junto a David Nalbandian, en 1999.
---
Marat Safin:
Mr. Unpredictable
Andy Roddick:
The rocket man
**Ceci**
Re: 's-Hertogenbosch
---
Vamos Tommy!!!!
---
"La vida puede ser maravillosa" Andrés Montes
Re: 's-Hertogenbosch
---
Vamos, Tommy!!!
---
Hopp Rogi! Go Gonzo! Allez Gasquet!
Más vale maña que fuerza
-- proverbio español
"
Pero, con todos mis respetos para Rafa, Federer tiene más talento.
" - Marat Safin
"
Pero para mí el mejor es Roger Federer.
/ For me, the best is Roger Federer." - D. Nalbandian
"He's the best sportsman, I think, in the world. He has a lot of humble." - Rafael Nadal
"He's so charismatic." - Marcos Baghdatis
Re: 's-Hertogenbosch
---
Buena por Philipoussis y su gran recuperanción llegando a SF
Esperemos siga así
Final
Mario Ancic / Michael Llodra
---
Gaudio º Gonzalez, F º Massu º Murray º Thiem º Nalbandian º Nishikori º Wawrinka
Re: 's-Hertogenbosch
---
Ganó Ancic 7-5 y 6-4
Muy bien!!
---
"La vida puede ser maravillosa" Andrés Montes