Tennis Elbow 2009 Released !
---
Hello,
I'm the author the Tennis Elbow games series, and I'd like to present you my last game, Tennis Elbow 2009.
Direct link to demo:
http://www.managames.com/download.ph...9_prlenMTF.exe
Screenshots available at:
http://www.managames.com/tennis/screenshot_en.html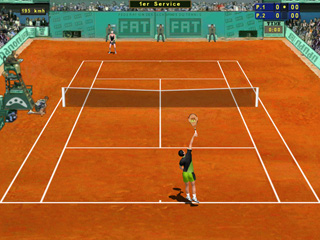 =============
Tennis Elbow 2009 released for Windows PC
A great tennis game for all tennis lovers
Created by the author of Tennis Elbow 2006 & Tennis Elbow Manager, Tennis Elbow 2009 is a tennis simulation with an easy and intuitive learning curve, but with exceptional gameplay depth.
This tennis game gives you the control of a professional tennis player with efficient technique, focusing on what is really possible to simulate in a tennis game. Therefore you'll have to show all your tactical skills, use an iron mind and quick reflexes, as well as a sharp eye to guess the ball trajectories, all of this to choose your next strike wisely !
To beat your opponent, you have the choice between all the possible strikes on a real court, from the safe strike to the acceleration, including the drop shot and the topspin lob.
In Tennis Elbow, you have to position yourself correctly to efficiently strike the ball. The earlier you prepare your shot, the more accurate it will be. The power depends on the kind of shot you choose, as well as your position from the ball and where you are on the court.
The ball's physics is faithfully reproduced, with serves faster than 200 km/h that will wind you, as well as the topspin and slice effects, without forgetting the topspin passing shot with a side effect that a well-know player with a big left arm likes to do so much when his opponents are at the net..!
TE2009 is destined to all tennis lovers, whether gamepad specialists or keyboard novices, because of its numerous difficulty levels. In addition, a visual help system will assist you aim the ball and position your player. You can turn this option on and off whenever it suits you.
Key Features:
• 8 different court surfaces, each with a specific rebound : clay, grass, hard, blue-green hard, classic synthetic, NewLine synthetic, indoor hard and indoor synthetic
• 300 tournaments, with 3000 players evolving over 35 years
• Singles & doubles competitions
• 6 difficulty levels, each split into 10 sublevels
• 3D fully customizable male & female players
• Network : LAN and online games
• 4 camera modes
• Supported languages : English, French, German, Italian, Spanish
• Controls : keyboard, mouse, joystick
For best experience, the game requires a 1.2 GHz CPU with 512 MB RAM, and a 64MB 3d card.
Download a free demo version of Tennis Elbow 2009 from:
www.managames.com/tennis
.
The full version of Tennis Elbow 2009 is priced at USD24.95 / EUR19.
# # #
Press Kit:
http://www.managames.com/download.ph...t_prlenMTF.zip
Re: Tennis Elbow 2009 Released !
---
I was a HUGE fan of the 2006 version and still have it on my PC. I rocked to #1 on that and loved playing it.

I'll download the demo and give it a check out.

Thanks.
---
Rafa = The King of Spain
Re: Tennis Elbow 2009 Released !
---
maybe im late but just discovered this game , and it's awesome and I hope you will release other games because they are very very good.
Re: Tennis Elbow 2009 Released !
---
Thanks..!
Re: Tennis Elbow 2009 Released !
---
Thanks man ,nice to find this game from author,again thanks for latest version of tennis .
Best of Luck to you in future.Hope it became more hit.
Regards Abrahim