News From www.Ivan-Ljubicic.com Posted here*Updated Jan23*
---
Rod Laver Arena and COC award (1/17/2006)

Blog in Chennai, chat at ESPN. After winning Davis Cup and entering top 10, a lot has changed.

- Everybody want piece of us, to hear how it felt. No we have less free time, less time to rest. But that's what we've been preparing for, waiting whole life. I don't mind it. I like the situation – said Ivan among other things at the press conference after beating Guccione.

New confirmation of Ivan's status came in Melbourne. His second round match against German Philipp Kohlschreiber, No. 79 will be played at the central court, the Rod Laver Arena. It will be first match of the day, at 1 a.m. CET.

- For the first time in Melbourne I'll play in Rod Laver Arena. I've played twice on the central court of a Grand Slam Tournament. Both time in New York, against Federer and Roddick. That was because of them. This will be the first time because of me – says Ivan.

Ivan received one more reward. In the great day of Croatian sport, Croatian Olympic Committee selected Ivan as the best sportsman for the year 2005. and Davis Cup team is the best team for the same year.
---
---
Last edited by El Legenda; 01-23-2006 at

08:44 PM

.
Re: News From www.Ivan-Ljubicic.com Posted here
---
Ivan (temporary) Davis Cup captain (1/16/2006)
Australian Open isn't the only Ivan's preoccupation the last couple of days. Hot subject was also the one about Davis Cup team and it's captain. Ivan saw only either Goran Ivanisevic or Nikola Pilic at that spot. Other possibilities didn't thrill him. In the end, Ivan became player-captain! Ivan will be the permanent solution unless Goran Ivanisevic on January 21 doesn't accept to be the captain.

- When I heard other possibilities about the captain, I have to honest that this is the best. I'm sorry that we found ourselves in a situation like this. To be player-captain is a great responsibility and I hope all goes well and successful. I'm glad that Mario Ancic gave me his support – says Ivan.
---
---
Last edited by El Legenda; 01-17-2006 at

07:09 PM

.
Re: News From www.Ivan-Ljubicic.com Posted here
---
Something clicked in Metz

Ivan finds himself on a new territory, in the fourth round of Grand Slam Tournament. After two tough sets, in the third Feliciano Lopez didn't win a single game.

- Third set was a rhapsody. In the first two it was relatively tough. But in the first set, I had break points virtually every time he served. In the end, he double faulted. I don't even know how many break points I had before that. In the second set I went 3:1 up, but then lost my serve. Still, I felt I had it under control, and in the tie break I went 4:0 up and that was it.

Finally in the fourth round. First time in his 25th Grand Slam Tournament.

- This really feels different. On some other tournament it would've been normal. Still, fourth round isn't great result. I need to win. What's changed? Everything changed after Metz. It's as though something clicked there, like it happened to Roger Federer and his first Wimbledon.

Ivan will next face Swede Thomas Johansson. This will be their 6th career meeting, with Swede leading 3:2.

- We're best friends. Unfortunately, one of us will have to loose. We played five times and won both our last year's encounters. I'm yet to loose a set here and I've not been serving too well. Once I start serving well…

He went to bed at 1.30 a.m. He was sure to have nice dreams.

In the meantime, Goran Ivanisevic cancelled the meeting that he was supposed to have with the President of Croatian Tennis Federation. That only confirmed Ivan as the new Croatian Davis Cup captain.
---
Re: News From www.Ivan-Ljubicic.com Posted here*Updated Jan20*
---
Thanks for the updates!
---
The King Roger Federer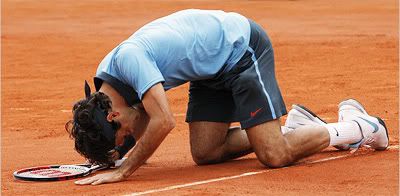 Pain is only temporary but victory is forever
Re: News From www.Ivan-Ljubicic.com Posted here*Updated Jan22*
---
Ivan had to wait 25 Grand Slam Tournaments to make it to the quarterfinals.



- There're worse than me. Santoro managed it in his 54th Grand Slam Tournament! – says Ivan who beat Thomas Johansson in evening match.



- He didn't start well, and I did all I could not to let him come back. Everything was great, the only thing is that I'm able to serve even better. At the end, he wished me all the best and he said that he hoped I win it. When they closed the roof it was like telling me – you'll win. It was definitely my advantage, outside was hot like hell. He would've liked the roof opened, but it didn't happen. Since the beginning of the tournament I've been telling that I feel different. They treat me differently, I have the status of a favorite. I like that roll, to others it might bring pressure. I can get to the semifinal, but then there will be two better players, Nalbandian and Federer.
---
Re: News From www.Ivan-Ljubicic.com Posted here*Updated Jan22*
---
Ivan will again play the elite evening match at the Rod Laver Arena! His quarterfinal match of the Australian Open against Cypriot Marcos Baghdatis will be the second evening match, after Lindsay Davenport take on Justine Henin-Hardenne at 9.30 CET.

- Baghdatis is a complete player without the holes in his game. When he's inspired, he's really good. We'll see if he's ready for the semifinal. But I belong here more than he, and that could be my advantage. At least at the beginning. Last year I didn't know him. It all looked incredible, he looked like an alien. After that he practically didn't play until Roland Garros due to the injury. He let his presence be known in Basel where he played in his first final, beating Nalbandian on the way, which is a great result. He showed that he's not afraid to win against Roddick. I need to start the match strong. He's different player today, but so am I. Some things changed for the better – said Ivan before he went to bed.
---