Re: Ivan: News and Articles
---
Cool pic!
---
The King Roger Federer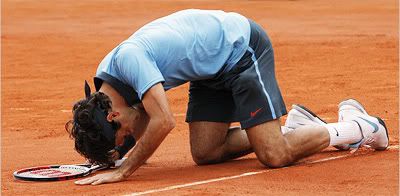 Pain is only temporary but victory is forever
Re: Ivan: News and Articles
---
Ljubicic Lends Support to Special Olympics Monaco

Monte-Carlo resident Ivan Ljubicic, currently No. 3 in the INDESIT ATP Rankings, joined mentally handicapped children and adults at the Stade Louis II stadium, home to AS Monaco football club, this week in aid of the Special Olympics.

Founded in 1968 by Eunice Kennedy Shriver, sister of former US President John F. Kennedy, the Special Olympics is an international organization that provides year-round training and athletic competition in a variety of Olympic-type sports for children and adults with intellectual disabilities.

When the movement spread to Europe in 1980, Monaco was one of the first nation's to participate.

Ljubicic first got involved in the Special Olympics Monaco program in 2002, and has since provided funds for equipment and travel to the 50 young sportsmen and women, who participate in training sessions each week in the Principality.

"It is very satisfying for me to see the happiness on their faces and for me to participate and help fund such a worthwhile cause," said Ljubicic, winner of the doubles bronze medal with Croatian compatriot Mario Ancic at the Olympic Games in Athens.

"As players we do not have much time at home, but I try to visit and support the Monaco program as best I can."

Today, the Special Olympics cater for 2.25 million children and adults with intellectual disabilities in more than 150 countries.
---
The King Roger Federer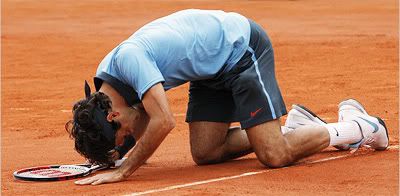 Pain is only temporary but victory is forever
Re: Ivan: News and Articles
---
---
Re: Ivan: News and Articles
---
Ljubicic Visits Great Wall of China

China Open top seed and World No.3, Ivan Ljubicic, travelled to the Simatai section of the Great Wall of China at Gubeikou, almost 130 kilometres (80 miles) from the Chinese capital, Beijing on Wednesday.

The Simatai section of the Great Wall was constructed in 1368 during the reign of Emperor Hongwu of the Ming Dynasty. The section is considered to be one of the best-preserved sections of the Great Wall of China, which is characterized by its delicate and unique design and diversified structures.

"The first thing I thought was, it's very hard to get here (from Beijing). It's a long drive and it's a long walk up here. It's not easy but it's definitely worth it. I have the most beautiful place where you can see the wall. You can see way up and way down. It's just fantastic and the weather is beautiful as well, so I think, we were very lucky today," said Ljubicic.

"It was a fantastic decision to come here and of course to win some matches is also good. But to have this opportunity to come here and see the Great Wall, it's just amazing. All through my life I have read so many things about it, then the pictures and everything. But to actually sit here and to see it with your own eyes, that's unbelievable."

Ljubicic was joined on the trip by rising Russian star Igor Kunitsyn, the Croatian's doubles partner in this year's China Open, as well as the new US doubles pairing of Eric Butorac and Travis Parrott.
---
The King Roger Federer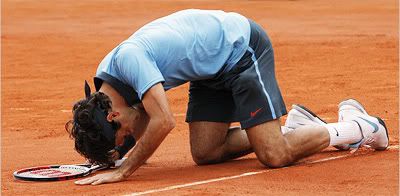 Pain is only temporary but victory is forever
Re: Ivan: News and Articles
---
Ljubicic Visits Shanghai, Meets Masters Cup Ballkids



The Tennis Masters Cup is eight weeks away but Ivan Ljubicic, who is battling for a spot in the elite eight-man field, could taste the excitement of the Chinese fans as the World No.3 visited Shanghai this week.
On Tuesday morning, Ljubicic – the top seed in next week's Thailand Open in Bangkok – practiced with China's No.2 junior player Yin Xiao Long.

In the afternoon, the Croat served as an honorary judge for the nationally-televised Tennis Masters Cup ball kid contest, from which the final six ballkids from 1,300 applicants were chosen to serve at the circuit-finale.

In a fierce contest reminiscent of American Idol, Tennis Masters Cup sponsor China Mobile conducted a SMS text message contest in which the public voted for their favorite ballkids. Twenty kids tried out for the final six spots in a contest televised live on Tennis Masters Cup broadcaster SGS.

The kids had to get up on stage and talk in English and Chinese about why they wanted to become a Tennis Masters Cup ballkid. Ljubicic was interviewed on stage and played some mini tennis, and the successful six Tennis Masters Cup ballkids were given a chance to practice their skills.


On Wednesday, Ljubicic met 10 of the top lifestyle media and later hosted a press conference. In the afternoon, Ljubicic, who is chasing his third ATP title of the season, headed to the courts for another practice session with Yin Xiao Long.

On Thursday, Ivan will host a tennis clinic with the Special Olympics athletes.
Re: Ivan: News and Articles
---
Nice Ivan!
---
The King Roger Federer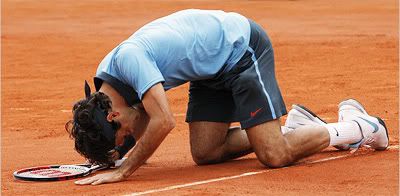 Pain is only temporary but victory is forever
Re: Ivan: News and Articles
---
ljubo doing even more work with the special olympics
---
my favorite was the worst number 3 player in the world
Re: Ivan: News and Articles
---
Ivan Ljubičić u Australiju je otputovao sjajnog raspoloženja. Po drugi put zaredom (Madras 2006.) nakon osvojenog turnira. Prepun samopouzdanja.
Nije loše naslovom otvoriti sezonu. Ovo mi je četvrta godina zaredom da odlično igram prvog tjedna godine. U Dohi se osvojilo malo casha za put (142.000 dolara nap. a.), no i 50 bodova za mirniji san uoči nastupa koji slijede, a na kojima branim velike rezultate. Mogu opuštenije ući u sljedeće turnire s osmijehom je rekao Ivan kojem se dio svijeta u kojem je boravio ovih dana posebno dopada.

Tu blizu, u Dubaiju, imao sam i određene investicije (navodno je riječ o apartmanu nap. a.). Neću sigurno nakon karijere tu živjeti, no područje mi je drago rekao je Ljubo i vratio se prošlotjednom nastupu. Posebno je zadovoljan činjenicom da je novi Headov reket potpuno položio ispit.

Izgleda da ću ga morati još jednom promijeniti, s ovim je prelagano igrati, ha, ha. Kada u sezonu ulaziš s novim reketom, najčešće gubiš mečeve. U prvom ili drugom kolu, najkasnije u četvrtfinalu. Pa onda ne napraviš neki rezultat u Australiji, i počneš sumnjati u izbor. Ovdje tome nema mjesta, sve je ispalo idealno. Bonusi od Heada? Nema ih za ovakve turnire, početni ugovor je ionako dobar. Bit će ih za Grand Slam turnire i one iz Masters serije uvjerava Ljubo.

Prvi je, barem ovog tjedna, na Utrci za prvaka. No, to mu nije toliko bitno. Brojke i statistike previše me ne zanimaju. Što, uostalom, znače? Da nisam ušao u četvrtfinale Dohe, bio bih sedmi na listi, a da nisam ušao u polufinale, šesti. Sada sam četvrti, što, istina, otvara neke dodatne mogućnosti na Australian Openu. Na primjer, ne mogu igrati protiv Federera sve do polufinala. Neću kriti, puno očekujem od nastupa u Melbourneu, lani sam tamo igrao prvi Grand Slam četvrtfinale.

No, u Australiji su uvjeti drukčiji nego u Dohi, treba se dobro pripremiti svjestan je Ivan. Formu za Australian Open glancat će na poznatom ekshibicijskom turniru u Kooyongu (predgađe Melbournea) koji se igra od srijede do subote. Osmorica velikih bit će tu i Federer, Roddick, Nalbandian, Safin, Haas, Štepanek, no i drugi finalist Dohe, Murray. Riječ je o klasičnoj ekshibiciji, koja prije svega služi za isprobavanje udaraca. Cilj je što spremniji dočekati ponedjeljak.

Re: Ivan: News and Articles
---
Ivan was training 4 times a day in the offseason. It definetely seems like its helped him. Ivan will AU Open,Zagreb,Davis Cup,Marseille, and Rotterdam. He said its a lot of tennis but it will only happen during this time. He will not play anywhere near that anymore this season. He also said anything but the finals in Melbourne would be a dissapointment.
---
Last edited by RickDaStick; 01-08-2007 at

03:40 PM

.
Can't be bothered anymore
Join Date: Aug 2006
Age: 41
Posts: 23,023
Re: Ivan: News and Articles
---
Quote:
IVAN LJUBICIC: We Have to Knock Down Federer and Nadal
The Masters Series tournament in Rome starts on Monday, and best Croatian tennis player Ivan Ljubicic is free in the first round.

Fourth Masters Series tournament will be played on clay in Rome on Monday. Croatia's best tennis player Ivan Ljubicic is free in the first round, and he will play the better of the Argentinean Jose Acasuso and Dutch Martin Verkerk encounter.

-The lot is OK, and it is up to me to show it. Last time I played against Acasuso I lost 6-2, 6-1. I can do better, I know this myself.

Ivan was of somewhat poorer quality in Rome and it goes his way that he is not defending points.

-This is a very good thing, every point matters to me. I do not feel bad in Rome, but I lost to better opponents each year. Everything is good here and I am satisfied with my game. But the result cannot come.

Tomas Berdych is the bearer in Ivan`s part of the lot, while he will meet in the possible quarter-finals with the first player in the world Roger Federer.

-Roger and Rafael dominate and it is up to the rest of the players to knock them down. This way, before the tournament, it is most likely that the two of them will meet again in the finals, because they were the ones to come to the final match on clay on past four occasions.

Ljubo looked back on their encounter in a historic match on a court with different surfaces.

-This is an excellent thing for the promotion of tennis. We have to start using such tricks to attract people and it will help us quite a great deal.

All tennis lovers will watch Rafael Nadal with special attention, who has 72 victories in a row on clay, and his opponent and world`s first player Federer is full of praise.

-Nadal has fantastic game on clay. Excellent physical predispositions and his spin give everyone great problems. He is hard to break through with serves because he returns greatly.

Danger for them in the lot, apart from Ivan, will surely be young Serbian player Novak Djokovic, a colony of Spaniards with Juan Carlos Ferrer and Tommy Robredo at the helm, while Guillermo Canas certainly must be looked out for.
Source:
http://www.javno.com/en/sports/clanak.php?id=41399
Re: Ivan: News and Articles
---
Thanks Eden!
This time I think he can beat Chucho as that player has faded.
---
Stan The Paris Man
Cheer for: Wawrinka Murray Ljubicic Gonzalez Mahut Nishikori Soderling Tipsarevic Mathieu Monfils Muller Tsonga Berdych Acasuso O.Rochus Kiefer...
Re: Ivan: News and Articles
---
From ESPN.com

Clear focus, judicious schedule part of Ljubicic's plan to resurrect career


Ivan Ljubicic finds himself in unfamiliar territory these days.

No stranger to the elite Masters Cup in recent seasons, Ljubicic -- who, like several of his younger peers, grew up in the former Yugoslavia and honed his tennis game elsewhere when war broke out -- sits at his lowest ranking in four years and may slide further if he doesn't go deep at this week's Zagreb Indoors, one of two top-tier events in the country he calls home, Croatia.

Less than 24 months after reaching a career-high ranking of No. 3, the bareheaded and huge-serving Ljubicic is down to 25th. He began the new season with a semifinal showing in Doha, was knocked out by improving Dutchman Robin Haase in the opening round of the Australian Open, claimed a challenger in South Africa, then lost in the first round at Rotterdam to Czech enigma Tomas Berdych.

"I'd like to come back to the top 10,'' said Ljubicic, who turns 29 in a few weeks. "Of course, when you're No. 3, 5, 6 in the world and you drop back to 20, it looks really weak. But I'm really looking forward to seeing how good I can be again. I'm full of motivation.''

Fit for most of his pro career, Ljubicic was hampered by health problems in the second half of 2007. A run-in with kidney stones meant he couldn't make his Davis Cup farewell against Great Britain on the hallowed turf at Wimbledon in September, with a knee problem also taking its toll.

Probably as a result, he went a mediocre 4-4 during the European indoor season, when he usually piles up wins -- and aces. Five of his eight career titles have come indoors, and no one registered more victories with the roof closed than Ljubicic in 2005 and 2006.

"I was also a bit tired at the end of the season because the last three or four seasons were all one after another without really any break, so I think it just came together at the end of last year,'' he said. "The last three or four seasons I was playing between 24-27 tournaments a year.''

He wasn't fatigued enough to take his usual extended vacation in the offseason, but he still plans to reduce his workload to between 19 and 21 tournaments in 2008.

"I'm trying to really focus on quality, not quantity,'' he said.




Ivan Ljubicic is at the juncture of his career where he needs to cut back on the number of events he plays in.
No longer representing Croatia in the Davis Cup -- he went a sizzling 11-1 three years ago to lead his young nation to a maiden title -- the emphasis is on the Olympics (he and Mario Ancic took bronze in doubles in Athens) and predictably, Grand Slams.

Despite some prolific years, Ljubicic has reached a solitary Slam semifinal (at the French Open, perhaps surprisingly, in 2006). He has advanced past the third round twice in 34 attempts. In Masters Series finals, he's 0-for-3.

Longtime coach Riccardo Piatti, always a picture of calm in the stands, says his pupil has some unfinished business. They teamed up in 1997.

"He's physically strong, and if he has good motivation, what I would expect is that he does well in one big tournament,'' said the Italian, adding that some subtle adjustments made to Ljubicic's Head racket would help matters. "We had some goals, to win a tournament, make the Masters, win the Davis Cup, and he won a medal at the Olympics. One goal was to play very well in a Grand Slam. He made one semi, but for me it's not enough.''

"I have some points to defend in [Masters Series tournaments] Indian Wells and Miami," Ljubicic said, "but after that, not really much -- so everything I'm going to do after that is a plus, no pressure at all."

Unsurprisingly, the serve numbers play a key role. He won 79 percent of points on his first delivery in both 2006 and 2007, putting him first and third on tour, respectively. Heading into Zagreb, the number stood at 75 percent, a small, perhaps significant difference. He was outside the top 100 in return games captured.

As Ljubicic pointed out when the stats were brought to his attention, the 2008 campaign is still in its infancy. However, Piatti acknowledged that Ljubicic needs to be more aggressive on return games. In a 6-4, 7-6 second-round win over 509th-ranked countryman Lovro Zovko on Wednesday, Ljubicic broke just once. He won 43 percent of points on Zovko's second serve, though he didn't drop a point on his own first serve in the entire second set.

"If you're talking about my serve, that's definitely the most important part of my game, and that has to work,'' said Ljubicic, who was beaten by Cypriot Marcos Baghdatis in last season's Zagreb final. "Many times it happened that when my serve was working, everything else just came together, and it was the other way around when I struggled with my serve.''

Despite the slight downturn, Ljubicic never thought of parting company with Piatti, who has worked with a slew of Italian players and newly crowned Australian Open champ Novak Djokovic. Piatti was Ljubicic's best man at his wedding four years ago and is noted for building strong relationships with his players. Russian pro Igor Kunitsyn even used to cook with Piatti's mom at her apartment.

"He knows me the best,'' Ljubicic said. "He knows a lot about my game. I feel it would be stupid to change the coach now and lose time to someone who has to learn about me and the way I like things, and the things I need on court. We have a real close relationship, not only tennis-wise.''
Can't be bothered anymore
Join Date: Aug 2006
Age: 41
Posts: 23,023
Re: Ivan: News and Articles
---
Life on tour with Ivan Ljubicic
Saturday, May 23, 2009
By Benjamin Adler
Joining the ATP or WTA circuit is something akin to embarking on an endless world tour. Rolandgarros.com asked some of tennis's major stars for an insight into their life as a perennial sporting backpacker. We begin our series of behind-the-scenes interviews with Croatian former world number 3 Ivan Ljubicic.
Which is the most relaxing city on tour?
Dubai. It's a great place to go on holiday. It has a very relaxed atmosphere so it's a real pleasure to play a tournament there. Another cool place is Umag in Croatia. The tournament is held in the summer, right next to the sea, and the matches start at 5pm, which gives you plenty of time to go to the beach and recharge your batteries.
Which cities have the worst traffic jams?
The big three: New York, London and Paris. If I had to pick one out of the three I'd say London because the streets are narrower.
In which city would you most like to buy a house?
New York and Paris. There's nowhere in the world like Manhattan, and Paris has a certain charm that is unlike any other.
Name an amazing place you have never visited.
The Great Wall of China, the Maldives and Notre Dame in Paris.
Where are the best beaches?
In the Maldives and the Croatian islands in summer. There are 1085 Croatian islands in total, but only 60 are inhabited, the rest are all wild. If you have the chance to go there by boat, you're totally alone: it's incredible. I highly recommend taking a cruise around Croatia. It's really wonderful.
Where is your favourite restaurant?
There's a great Indian restaurant in Dubai, but I can't remember the name. Otherwise I'd say Serafina in New York and the Nippon, again in New York. The owner loves tennis and always gives us special discounts so that loads of players go there [laughs]! He's a really great guy and always comes to support me in the US Open.
What is the worst thing about travelling?
Packing, but the worst thing is airport security. It takes you an hour from the moment you arrive to actually board the plane. The USA is the worst. I hate it, especially when you have to do it two or three times a week.
Which is the friendliest country to visit?
Australia, by far. Australians are fantastic.
Who are your travelling companions?
My son is only seven months old, so he can't really come with me. I try to take my family with me as much as possible, but my coach always travels with me and my fitness trainer comes 80% of the time too.
Tell us one thing you would change about the circuit.
The schedule, so that we waste less time flying. It would be better if we could play all the tournaments on each continent in one go.
Where can you find the most enthusiastic fans?
In Melbourne. There are lots of really enthusiastic supporters from many countries, including Croatia.
Where are the most knowledgeable spectators?
In Paris. Here, if you show negative feelings, like throwing your racquet down, the spectators whistle at you. I think they know more about tennis, so they can tell when something happens on the court.
Which country has the prettiest girls?
Croatia, Poland, Czech Republic and Serbia.
Which is the best organised tournament?
Melbourne. But it's easier for them because the city is a lot smaller than the other Grand Slam cities, so the stadium is right in the city centre, giving it a great atmosphere.
Who is your best friend on the circuit?
Thomas Johansson. We live in the same building in Monte Carlo so we're very close.
Who is the best umpire?
Mohamed Lahyani. You either love him or you hate him.
Source:
http://www.rolandgarros.com/en_FR/ne...082004031.html
Re: Ivan: News and Articles
---
Just saw Ivan watch Dinara Safina play in Cincinnati. He was chatting with her coach, and stayed the whole match.
Re: Ivan: News and Articles
---
Quote:
Just saw Ivan watch Dinara Safina play in Cincinnati. He was chatting with her coach, and stayed the whole match.
well, krajan is from CRO , so they probably know each other
---
LJUBO LEGENDO NOOOOOOOOOOOOOOOOOOOOOOOOOOO
https://twitter.com/#!/IvanLjubicic1