Registered User
Join Date: Oct 2005
Posts: 36
Nico Get Well Soon Greetings
---
Hi

If you would like to pass on your greetings to Nico, please post something under this thread. I am intending to send a Cheer Up/Get Well Soon package to him early next week (probably Tuesday 10th UK time) and I will print off the contents of this thread to send with it, so please add your greeting before then.

Regards

Sara V
Re: Nico Get Well Soon Greetings
---
Dear Nico

Sorry to hear you are not feeling well at the moment, but we're looking forward to you enjoying a really successful year once you have fully recovered.

Take it easy, keep smiling, and we hope to see you back on a tennis court soon.

Love Abi & Sally
UK
---
Mario Ancic
Nicolas Lapentti
Novak Djokovic
Fernando Gonzalez
Re: Nico Get Well Soon Greetings
---
Get well soon Nico, we will miss you
(
)
---
The King Roger Federer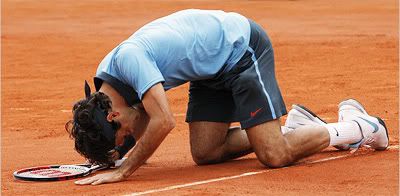 Pain is only temporary but victory is forever
Re: Nico Get Well Soon Greetings
---
I had tried to make something original... (is it ok to print that Sara?)
---
PROUD
Gaston Gaudio
fan
Marcelo Rios
- Hugo Armando
(my Hugo's blog)
- David Ferrer
all my support
to: X-man, Lleyton, Mario, Feli, Diego H, Willy Canas, Ruben, Nico L, Igor, Peter, J-P and Robert & Rameez
to my "pti potes" Diego Junqueira
, Gustavo Marcaccio
& "Régis" Guzman
and Vince
Le crado Zabaleta
"EveRRRybody"
Re: Nico Get Well Soon Greetings
---
Dear Nico,
I want to send you all my best wishes and prayers. We met twice before (once in Stuttgart 2003, where I gave you a New Testament and the second time in Braunschweig....do you remember "Ecuador and ecuatoriano?"
) . I will miss you on the courts, but be assured that I do pray for you. Also there is a passage in the Bible, that I want to send you as encouragement. (You can find it in your New Testament). It's Mateo 8,15-17 (especially vers 17)
"Cuando Jesús entró en casa de Pedro, vio a la suegra de éste en cama, con fiebre. Le tocó la mano y la fiebre se le quitó; luega ella se levantó y comenzó a sevirle. Al atardecer le llevaron muchos endemoniados, y con una sola palabra expulsó a los espíritus, y sanó a todos los enfermos. Esto sucedió para que se cumpliera lo dicho por le profeta Isaías: 'Él tomó sobre sí nuestras enfermedades y cargó con nuestras dolencias.'"
Get well soon! I'm waiting for good news
Jelena from Germany
---
Vamos Nando! Come on Andy! A portuguese Vamos to André Sá e Marcelo Melo! Vamos Gastão!Auf geht's Dustin! Vamos ChristianLindell!Vamos David! Pojd Tomáš! Davai Dolgo!

Bolo Zenden, Bobo Gille, Zlatan
Re: Nico Get Well Soon Greetings
---
Dear Nico,
first of all I wanna wish you a very happy new year 2006, even though it has started very badly for you...when I heard about your health problems, I was really upset and even a bit shocked. I really hope you´ll recover very soon so that we can see you back on tour, healthy and happy as usual. It would be great to see you back in Germany, it´s always a great pleasure to see you playing here!
Even though the season has begun quite bad for you, I wish you a very successful year in tennis!
Best wishes,
Jule
---
NICOLAS LAPENTTI
* SOARES * M. LOPEZ * VERDASCO * SIMON *
* ARMANDO * HARTFIELD * GAUDIO * ROBREDO *
Re: Nico Get Well Soon Greetings
---
This is the message from my friend Julie who's not registred here but wanted to add something for Nico:


Hi Nico I hope that you feel better.
My name is Julie, I'm 21 and I am French.
I love you very much, I follow you and your carreer for around 7 years. I had the chance to see you 5 times and I hope many others.

When I learnt about your disease, that made me like a shock. I was very sad for you. You must be sad too that's why I drope you a line. I want you to know that we're thinking of you and we hope that you'll come back full of life! All my wishes for a speedy recovery.

In spite of that, I wish you a very good year 2006 full of success.
I wish you all the best.

Love,

Julie (France)
---
PROUD
Gaston Gaudio
fan
Marcelo Rios
- Hugo Armando
(my Hugo's blog)
- David Ferrer
all my support
to: X-man, Lleyton, Mario, Feli, Diego H, Willy Canas, Ruben, Nico L, Igor, Peter, J-P and Robert & Rameez
to my "pti potes" Diego Junqueira
, Gustavo Marcaccio
& "Régis" Guzman
and Vince
Le crado Zabaleta
"EveRRRybody"
Re: Nico Get Well Soon Greetings
---
Dear Nico,
First of all: Best wishes for 2006, even though it didn't start very well.
I was really sad when I found out that you're ill. I can't believe that this has to happen to such a nice person. I've met you in Amersfoort last year for the first time and I think you're the sweetest and funniest player on tour. We didn't really talk, but the looks on your face in the doubles against the Belgiums were just hilarious sometimes.
I hope you get well very soon and that we'll see you healthy and happy (such a good description from Jule
) back on court in a few months. When I'm feeling ill, I'm always happy to receive a lot of hugs, kisses and kind words, so here's the same for you: *gives you a very BIG virtual hug* I hope it helps you too in your recovery
.
Love Eliane
(The Netherlands)
---
Re: Nico Get Well Soon Greetings
---
Dear Nico,
ooops...it's hard to write anything special,because the others have already told everything I want
But I feel sorrow for your illness, bad to hear that...my brother had the same one
So I realy hope you get well soon and know that we are all love ,and thinking of you!!!
Don't give up!!Because I never saw you playing live,but I'm looking forward that
A big virtual hug from me too
Good luck for 2006 and keep smiling!
Bamby(from Hungary)
---
Peace and Love
Re: Nico Get Well Soon Greetings
---
Nico, Dear,
If I were a "just be positive!" American, I could write you a lot of nice stuff on how to handle your illness well, and how to see its numerous advantages. Very unfortunatelly I am just an realistic European with a depressive and often bitter Hungarian flavour. (They say it's the inheritance of our history.)
I can imagine that it is not too pleasant to be ill, when you have different plans. It could be a bit depressing, and you have to wait a lot, which is usually a boring thing to do, and than all the questions of Why me?, and Why now? are comming.
Therefore I only wish you to get through with it as fast as possible, always have a nice South-American soap opera on tv to watch, or (if you you already know the end of the "being an orphan and poor, falling in love with a rich guy, who turns out to be the brother, but than it also turns out that her father is not her brothers father, only the hidden son of the mother and her lover, who is not her mother, and after all the hard times and suffering Happy End!" story) just the sun shining into your room, good books to read, nice people around, a lot of sleep, and a bag of "get better" cards and presents. Simply and shortly each day some things to smile about!

Best wishes,
Waiting you back! (So we can smile.)

Vera
Registered User
Join Date: Jul 2004
Posts: 4
Re: Nico Get Well Soon Greetings
---
Dear Nico,
I also hope you get well soon! I send you all best wishes and support!
We all hope to see you back on court soon! (Especially in Stuttgart so that Jule and me can support you
)
Have a good rest and good luck for this year!! We miss you!
Dani from germany
Registered User
Join Date: Oct 2005
Posts: 36
Package sent
---
Pls note that I have now sent the package with everyone's wishes in therefore any additions after this will not be included.

Sara V
Re: Nico Get Well Soon Greetings
---
Sara,
Big thanks for organising it!!