Re: ~ Kooyong Classic 2005 ~
---
Hola Alonso!

¡Yo visted los sitios web de vina que usted "posted" anoche! Gracias para darme.

Se parece a una ciudad muy hermosa. ¡Las playas se suponen ser agradable, y adoro casinos también! Y es la ciudad de Nico! El es mi favorito... :-)

Suerte usted :-) Tu obtienes para vivir en Chile y ver los partidos de Nico en la televisión todo el tiempo, y lo ve en otras exposiciones de televisión.
Re: ~ Kooyong Classic 2005 ~
---
Nico retired against Davis
---
Good luck to: Fernando Gonzalez
Nicolas Massu
Guillermo Cañas
David Nalbandian
Gustavo Kuerten
Tim Henman
Jiri Novak
Rainer Schuettler
GUILLERMO CORIA
Re: ~ Kooyong Classic 2005 ~
---
Poor Nico, he is injury again
---
The King Roger Federer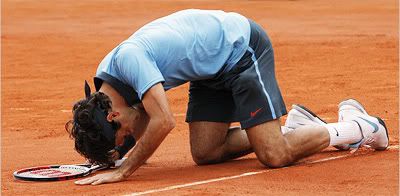 Pain is only temporary but victory is forever
---
Last edited by Fergie; 01-14-2005 at

02:06 AM

.
Re: ~ Kooyong Classic 2005 ~
---
This is an article from the Argentine newspaper Clarins Ole. For those of you who don't speak Spanish it says that Nico retired from the match with a left ankle injury - nothing to do with his recent surgery. I get the impression it is not too serious - more precautionary than anything else with the Open coming up. Sorry I don't have time to translate it properly for you now but I'm at work at the moment but here is the link to the article:-
http://www.clarin.com/diario/2005/01/14/um/m-904077.htm
Coincidentally - looking at the photo Fergie posted - I remember being at David's match against Nico at the Stoke Park Exhibition in England last year (just before Wimbledon), when David had to retire injured and consequently withdrew from Wimbledon. Nico was really sweet to him then and very concerned about his injury - and I think this photo shows David was the same yesterday.
Nalbandian derrotó al chileno Massú en el Kooyong Classic
El argentino se impuso por 6-4, 2-1 y abandono.
El argentino David Nalbandian se impuso hoy ante el chileno Nicolás Massú por 6-4, 2-1 y abandono, en un partido correspondiente al torneo de exhibición de tenis Kooyong Classic, que se disputa en la ciudad australiana de Melbourne.
Massú se retiró en el segundo parcial del encuentro. El medallista olímpico chileno, quien fue operado de una hernia en noviembre, dijo que se lesionó el tobillo izquierdo y no quería ponerlo en problemas antes del inicio del primer torneo importante de la temporada.
``Este fue uno de los primeros encuentros de la temporada, así que empecé a sentir un poco de dolor'', dijo.
En tanto, Nalbandian, noveno en el ranking mundial, había caído ante el británico Tim Henman en la primera jornada y en la segunda le ganó a su compatriota Gastón Gaudio.
De esta forma, el oriundo de Unquillo continuó con su preparación para el Abierto de Australia, que se disputará desde el próximo lunes y hasta el domingo 30, también en Melbourne.
En otro encuentro de la jornada, el número uno del mundo, el suizo Roger Federer, venció a Henman por 6-4 y 6-2 y jugará la final ante el estadounidense Andy Rodick.
---
AJDE SRBIJA
Supporting Djoković, Tipsarević, Soderling, Tursunov, Youzhny, Cilić and quite a few more
---
Last edited by *Ljubica*; 01-14-2005 at

10:38 AM

.
Join Date: Nov 2003
Posts: 124,507
Re: ~ Kooyong Classic 2005 ~
---
Massu was watching the match with Garcia today and then he was training so it wasn't serious and I doubt that he will miss the Open.
---
" On Nadal bumping him on the changeover, Rosol said: "It's ok, he wanted to take my concentration; I knew he would try something".
Wilander on Dimitrov - "He has mind set on imitating Federer and yes it looks good. But he has no idea what to do on the court".
Quote:
I definitely would have preferred Gaba winning as he needs the points much more, but Jan would have beaten him anyway. I expect Hajek to destroy Machado, like 6-1 6-2.
Machado wins 6-2 6-1
Re: ~ Kooyong Classic 2005 ~
---
Thanks Rosie and GWH!
GWH! thanks again for your reports. It sounds like you are really have a good time.
---
He's my bestest boyfriend!
Re: ~ Kooyong Classic 2005 ~
---
There's a nice interview with Nico on the Kooyong site - but it has been done in an Adobe format and it's impossible for me to copy here. It's worth reading though - just go to the main Kooyong site and follow the links.
---
AJDE SRBIJA
Supporting Djoković, Tipsarević, Soderling, Tursunov, Youzhny, Cilić and quite a few more
Registered User
Join Date: Aug 2003
Posts: 154
Re: ~ Kooyong Classic 2005 ~
---
Thanks for pictures and updates. And the interview at the Kooyong site is good.
Re: ~ Kooyong Classic 2005 ~
---
Thanks for the info Rosie, nice interview
---
The King Roger Federer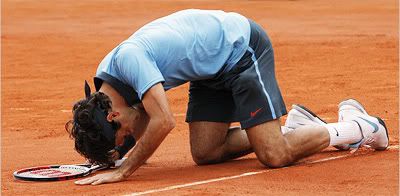 Pain is only temporary but victory is forever