Gonzo's schedule after Wimbly
---
In a Chilean website, they said that Fernando will come back to Chile to have a rest.

Do you think he'll skip some tournaments ?

Val
---
http://www.fernando-gonzalez.net
Fernando Gonzalez & Carlos Moya
Para siempre Gonzo
Still supporting you, vamos
Re: Gonzo's schedule after Wimbly
---
Yes he will go back to Chile and definitely withdraw from Gstaad next week and I'm not sure about Amersfoort and Kitzbühel anymore
as in another article he was quoted "De aquí me voy a mi casa, llevo más de nueve semanas fuera jugando. No voy a jugar en Gstaad, pero volveré para los torneos preparatorios al US Open en Estados Unidos" - and this sounds like skipping the entire European clay court season, but I guess we should get better information when he's back in Chile.
Re: Gonzo's schedule after Wimbly
---
Thanks Olimpo. I think he made a very good work, after 9 weeks. As he said, he won't play Gstaad, and play the tournaments before US Open. So, as you said, he may skip the clay season. Well, it won't be easy to organise the trip to Kitz !!! But, I totally understand him. He deserves to have a rest, he's not a machine.
Wait and see
Val
---
http://www.fernando-gonzalez.net
Fernando Gonzalez & Carlos Moya
Para siempre Gonzo
Still supporting you, vamos
Re: Gonzo's schedule after Wimbly
---
Also Feña said that he is very tired ... Take a good rest Feña, you deserve it!
---
The King Roger Federer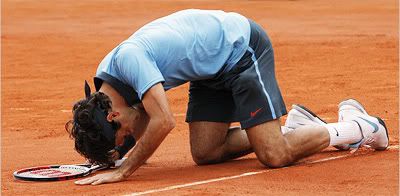 Pain is only temporary but victory is forever
Re: Gonzo's schedule after Wimbly
---
Yes he's understandably very tired and definitely deserves a good rest and I'm glad he decided to go back home and will then hopefully be back even stronger.
According to this article it seems he'll be back for Amersfoort and Kitzbühel and that's what I was originally expecting that he would be resting for the next 2 weeks and then back to Europe for the 2 clay tournaments.
The national player will not be the next week in the match of Gstaad, in which he was previously entered and he will have two weeks of rest before returning to the circuit the week of the 18 of July in Amersfoort (clay), according to Fernando González father. Later the Chilean will play in Kitzbühel, later to start off for North America, the season of hard fields.