MC quali list
---
Qualifying Monte Carlo
OUT Zabaleta, Mariano ARG 52 MD
OUT Costa, Albert ESP 56 MD
3 Martin, Alberto ESP 57
4 Karlovic, Ivo CRO 59
5 Puerta, Mariano ARG 60
6 Muller, Gilles LUX 61
7 Montanes, Albert ESP 62
8 Rochus, Christophe BEL 64
9 Starace, Potito ITA 65
10 Calleri, Agustin ARG 66
11 Kohlschreiber, Philipp GER 67
12 Hernych, Jan CZE 69
13 Acasuso, Jose ARG 71
14 Koubek, Stefan AUT 72
15 Arthurs, Wayne AUS 73 .
16 Ventura, Santiago ESP 74
17 Mathieu, Paul-Henri FRA 76
18 Calatrava, Alex ESP 78
19 Benneteau, Julien FRA 80
20 Schalken, Sjeng NED 81
21 Garcia-Lopez, Guillermo ESP 82
22 Almagro, Nicolas ESP 83
23 Haehnel, Jerome FRA 86
24 Burgsmuller, Lars GER 87
25 Mantilla, Felix ESP 88
26 Bjorkman, Jonas SWE 90
27 Monaco, Juan ARG 91
28 Hernandez, Oscar ESP 94
29 (WC)
30 (WC)
31 (WC)
32 (WC)

Alternates
1. Sanchez, David ESP 98
2. Lisnard, Jean-Rene FRA 100
3. Ulihrach, Bohdan CZE 103
4. Hanescu, Victor ROM 104
5. Mutis, Olivier FRA 107
6. Luczak, Peter AUS 110
7. Wawrinka, Stanislas SUI 117
8. Ascione, Thierry FRA 118
9. Simon, Gilles FRA 120
10. Popp, Alexander GER 121
11. Mahut, Nicolas FRA 122
12. Clement, Arnaud FRA 124
13. Monfils, Gael FRA 128
14. Corretja, Alex ESP 131
15. Arazi, Hicham MAR 132
---
EISERN
UNION

Bryans || Djokovic || Paire || Rojer || Tecau || Pospisil || Chiudinelli || Verdasco || Simon || Seppi || Leo Mayer

Björkman || Arthurs || Edberg || Nalbandian || Hanley || Rafter
T.Johansson || M.Norman || Aspelin || O. Rochus || Söderling


---
Last edited by Björki; 04-04-2005 at

03:03 PM

.
Re: MC quali list
---
Goooo:
Albert Montañes
Christophe Rochus
Potito Starace
Jan Hernych
Alex Calatrava
Guillermo Garcia-Lopez
---
♥ BEMELMANS | CHARDY | CHIUDINELLI ♥
♥ CIPOLLA| ROGER-VASSELIN | MCGEE ♥



Bachinger|Basilashvili|Brands|Broady|Clezar|Cuevas |Eysseric|Giannessi|Gombos
Granollers|Grigelis|Huta Galung|Ilhan|Kudla|Al. Kuznetsov|Mannarino
Menendez|Mitchell|Naso|Paire|Peliwo|Polansky|Rober t|Rubin|Smyczek|J. Sousa|Weintraub

Re: MC quali list
---
Quote:
10. Popp, Alexander GER 121
I am
FREAKING OUT
right now.
---
♥ Oliver Marach ~ Jarkko Nieminen ~ Jürgen Melzer ~ Evgeny Korolev ♥
°Koubek_Kubot_Berdych_Söderling_Fyrstenberg_Murray °
°Kunitsyn_Vinciguerra_Klec_Djokovic_Istomin_Paukku _Golubev°


♥Jonas Björkman ≈ Jim Thomas♥
Larsson ~ Legner ~ Scheffers ~ Kruszelnicki ~ Cattaneo ~ Jonsson ~ Andersson
Re: MC quali list
---
Good luck to these guys:
1 Zabaleta, Mariano ARG 52 (Probably be pushed into the main draw anyway)
2 Costa, Albert ESP 56
9 Starace, Potito ITA 65
10 Calleri, Agustin ARG 66
13 Acasuso, Jose ARG 71
21 Garcia-Lopez, Guillermo ESP 82
22 Almagro, Nicolas ESP 83
25 Mantilla, Felix ESP 88
Join Date: Nov 2003
Posts: 124,507
Re: MC quali list
---
Costa will get into the main draw as well.
---
" On Nadal bumping him on the changeover, Rosol said: "It's ok, he wanted to take my concentration; I knew he would try something".
Wilander on Dimitrov - "He has mind set on imitating Federer and yes it looks good. But he has no idea what to do on the court".
Quote:
I definitely would have preferred Gaba winning as he needs the points much more, but Jan would have beaten him anyway. I expect Hajek to destroy Machado, like 6-1 6-2.
Machado wins 6-2 6-1
Re: MC quali list
---
Yeah thought that would happen! NICE to see places wont be wasted on players like roddick! much nicer to see costa getting into the maindraw
Re: MC quali list
---
Vamos Agustin y Chucho!!!
---
The King Roger Federer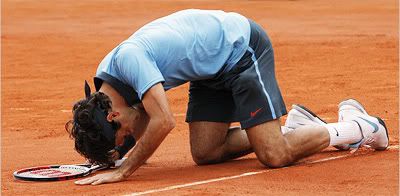 Pain is only temporary but victory is forever
Re: MC quali list
---
Monfils get a WC
---
______________________________
~♠ Gasquetaires ♠~
un pour tous, tous pour un
‾‾‾‾‾‾‾‾‾‾‾‾‾‾‾‾‾‾‾‾‾‾‾‾‾‾‾‾‾‾
Re: MC quali list
---
As of 4/2/05
Monte Carlo Q
To main draw: Zabaleta
OUT: none
IN: Sanchez
Re: MC quali list
---
Go the Argies!!!
---
Gato Gaudio
Re: MC quali list
---
Could DiP get a WC for the qualifying draw?
---
Quote:
Originally Posted by MissFairy
Hiii alex!
My exams aren't done yet, i finish on the 26th
Aw hun, at least now your college work is done you have less distractions from the task at hand
Try and stay calm, be strong and have confidence in the wonderful person you are! x
Quote:
Originally Posted by Avid Merrion
lol Alex, you're so goddamn demanding
Re: MC quali list
---
hope richard will get a WC here
---
Come Back Tournament: HAMBURG.

Allez!
Re: MC quali list
---
PHM got a WC to the main draw so that frees a spot.

Richard will almost certainly get a qualifying WC.