Mats Wilander
---
I didn't find a thread for Mats, so here are some pics I took in Roland-Garros last saturday, it was for the Benny Berthet day, he played the doubles with Leconte, Pioline and Bahrami. It was very funny to watch and I was happy to see my idol play. It's thanks to Mats that I decided to watch tennis. So, a bit thanks to him
---
http://www.fernando-gonzalez.net
Fernando Gonzalez & Carlos Moya
Para siempre Gonzo
Still supporting you, vamos
Re: Mats Wilander
---
good pics
he's the eurosport expert no?
Re: Mats Wilander
---
Quote:
Originally Posted by misyou25
good pics
he's the eurosport expert no?
Yes and he writes everyday for the French newspaper "l'équipe". He's going to player the tournament of the legends I think.
---
http://www.fernando-gonzalez.net
Fernando Gonzalez & Carlos Moya
Para siempre Gonzo
Still supporting you, vamos
Re: Mats Wilander
---
aww cool
i love his commentary on eurosport
---
Dmitry Tursunov
*mmm sweaty hugs from dima
*
[♥Faithful Mitya Slave♥]
Mardy Fish
[Big
right back at ya dude]
Thomas Johansson
Jonas Bjorkman - Joachim Johansson - Simon Aspelin - Jiri Novak - Richard Gasquet
Andy Murray - Fernando Gonzalez - Max Mirnyi - Jan Michael Gambill
James Blake - Greg Rusedski - Alex Bogdanovic
♥ Andrew Kennaugh & Michael Ryderstedt ♥
Re: Mats Wilander
---
it's cool that you got to see such a legend play in person! lucky you!
---
THOMAS ENQVIST
Paul-Henri Mathieu
Jan Hernych
Jan-Michael Gambill<>Flavio Saretta<>Andre Sa<>Amer Delic

SVERIGE
Soderling xx Pim Pim xx Jonas xx Ryderstedt xx Magnus
Re: Mats Wilander
---
Thanks Val for sharing your pics !
Re: Mats Wilander
---
Here are some pics of Mats taken during DC Belarus-Sweden in Minsk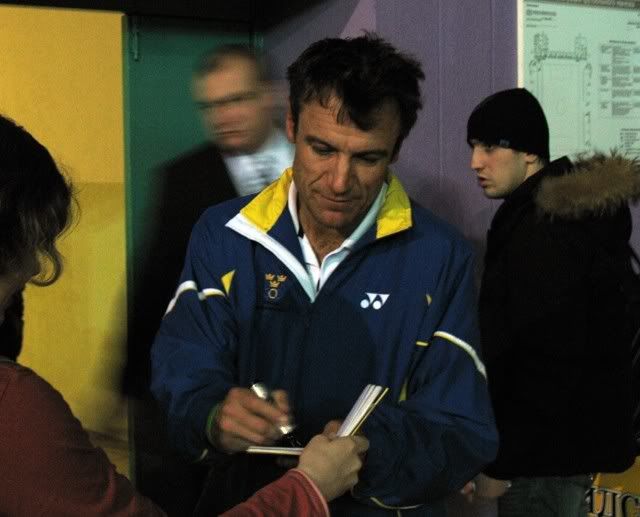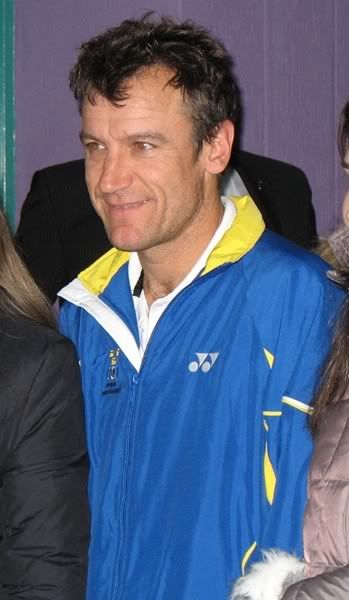 Re: Mats Wilander
---
One 'Swede' day with Wilander


LONDON


24-Jun-07

Q: Hi there Mats, how are you keeping?

A: Very well, thanks.

Q: What are you up to these days?

A: I'm quite busy. I travel for about five to six months of the year, playing the senior tour in America and a couple of games in Europe, being the captain of the Swedish Davis Cup team and doing a little bit of commentating for Eurosport.

Q: Are there any good young Swedes coming through we should watch out for?

A: No, we have absolutely nothing.

Q: So you, Stefan Edberg, etc, were just part of an exceptional generation?

A: Yep. But we were also quite lucky because basically all we had to compete against were Australians, Americans and French guys. Now a lot more countries have come up. There weren't even any Argentinian or Spanish guys around when we were playing.

Q: Roger Federer, he's going to win Wimbeldon again, isn't he?

A: It's certainly hard to pick someone other than him. But he has to start watching out because he's lost five times this year that won't affect his confidence but it will boost that of others, because they all know now that he's beatable. On the other hand, a few defeats mean he's had to play less matches.

Q: You said in some rag or other recently that the current generation of players lack the competitive instinct you were famed for?

A: No, that's a misquote. They are unbelievable competitors. Where they're different to us is that they're physically stronger and they have more power in their rackets so they don't need to think as much as we had to. That means they have less chance of changing their game if they're playing badly. You see, the thing for us was that it was never about playing well, it was about playing smart.

Q: So how would you fare if you were at your peak now?

A: I don't know. I always feel that if you were the best in any generation, you most likely would have been close to the best in any other generation too. Let's say that if you were No 1 at any time, then you'd be in the top three any other time. Similarly, I think Tiger Woods could have been a great tennis player and Michael Jordan could have been a great golfer and so on: they have enough hand-eye coordination and enough heart basically, if you're a good athlete you're a good athlete.

Q: What other sports do you play?

A: I play a lot of golf and I'm in a little ice hockey league at home in Idaho.

Q: You live in Idaho? Why?

A: It's got beautiful mountains. We live in the ski resort there and we think it's a good place for our four kids to grow up.

Q: So it wasn't for the potatoes?

A: (Chortles) No, but it's true that they have very good potatoes there, the best in the world.

Q: What's your favourite drink?

A: Dark ales, such as Smithwicks.

Q: Can you get Smithwicks in Idaho?

A: No, but you can get it in Ireland. It's worth the effort!

Q: You can also get great potatoes in Ireland, possibly even better than those found in Idaho.

A: I seriously doubt that! I'd be surprised if Irish potatoes were bigger than Idaho ones.

Q: Ah, but is that the issue? Size isn't everything when it comes to spuds.

A: Actually you're right, because the tastiest potatoes are the little red ones. Put a bit of salt and butter on them and ... mmmmn!

Q: So then, potatoes: the king of vegetables?

A: Actually no, I'd have to give that award to carrots. Uncooked carrots, run under a bit of cold water wonderful.

Q: You're not wrong. Now, what's the last CD you bought?

(Racks his brains for an eternity)

... or the last gig you went to?

A: (Immediately) Bob Dylan in Gothenburg, about a month and a half ago.

Q: Was he at his best or did he just sit in the corner croaking like a grumpy old man, as he often does?

A: (Chuckles mischievously) Is Bob Dylan ever at his best? I don't think he even tries to be "at his best" ...

Q: So why pay to watch him?

A: Because I'm a big Bob Dylan fan and I just wanna see him, I don't need to hear him. I've seen him about 10 times now. He was more predictable in Gothenberg so some people might say that's better, but to me, it's not. I prefer when he screws up. You know, when he picks up the wrong harmonica and starts blowing randomly and then tosses it away in the middle of a song. I love that!

Q: Could it be said that he has realised what we all aspire to, i.e to be good enough to be allowed to be a grumpy old man whenever, wherever?

A: (Muses on that for a moment) Well, he's an artist. To me the difference between the Stones and Dylan these days is that the Stones aren't artists any more. They're just musicians, or performers like me.

Q: So you're the Mick Jagger of tennis?

A: I'm not doing the same thing Roger Federer is, am I? He's a true competitor, whereas I'm more of an entertainer than anything else now. I nearly couldn't care less if I win or lose any more it doesn't make me a better or worse player, it doesn't do anything for my confidence, there's rarely even any prize money at stake.

Q: Do you play any instrument?

A: I play the guitar.

Q: Do you write your own songs?

A: (Timidly) Sort of.

Q: Any plans to release any?

A: We already have! We released a five-song CD in Sweden about 15 years ago.

Q: What was the name of your band: Mats Wilander and the unholy racket? Or something ..

A: Wilander and Seldon, he's a friend of mine. The album was called Ghost of Margareth and it was put out by Virgin Records.

Q: Who's Margareth?

A: Margareth was a vocal coach who died in the house we recorded the album in and her spirit lives on there at least, that's what the engineers told us. But of course, I'm not sure what they were on! (Sinister chuckle)

Q: Is it Dylanesque?

A: No, it's rock. Let's just say we were closer to the Stones than Dylan.

Q: Fair enough. What's your favourite TV show?

A: I hardly ever watch TV and when I do it's sports. I'll occasionally stick on some old episodes of Fawlty Towers or something.

Q: What's the wackiest request you've had had from a fan?

A: (Racks his brains before admitting) I've no idea.

Q: Who would win a fight between a lion and tiger?

A: If they're both full-grown, then the tiger. Easily. They're twice the size of lions. Then again, it would also depend on who's hungrier.

Q: If we went on holiday in Sweden but only had enough time to do or see one thing, what should we do?

A: That's easy, man. Grab a nice blonde girl!

Q: Shouldn't be too hard to find, from what we hear ...

A: Right! They're everywhere and they're all pretty.

The Observer
Re: Mats Wilander
---
Nice interview!
---
Robin Bo Carl Söderling
Re: Mats Wilander
---
A French sport channel "l'équipe tv" said that Mats Wilander will coach the french player Tatiana Golovin
I can't believe it ! Well they'll try during the hard court season I think and if it works, they'll continue.
---
http://www.fernando-gonzalez.net
Fernando Gonzalez & Carlos Moya
Para siempre Gonzo
Still supporting you, vamos
Re: Mats Wilander
---
Working Paul-Henri Mathieu hard... other end of the court we had Magnus Norman and Thomas Johansson. It was a good court
Re: Mats Wilander
---
Ahhhhh, that was such a great day
Here's a couple of mine that have Mats and Magnus together...
---
Grigor Dimitrov | Jarkko Nieminen | Stan Wawrinka
Simon Aspelin | Jonas Bjorkman | Thomas Enqvist | Thomas Johansson | Magnus Norman | Robin Soderling