Registered User
Join Date: Feb 2011
Posts: 17,258
Re: Week 44 : Traralgon (Entry List)
---
DOUBLES FINAL

Agar/Feeney d. (2)Propoggia/Statham 6-3 6-4
---
Last edited by SKozak; 11-03-2013 at

12:23 PM

. Reason: new info
Re: Week 44 : Traralgon (Entry List)
---
amazing comeback from klein, was *4-1 down third set. vamosssss
---
Henri KONTINEN
Jaume Pla Malfeito/Bernard the aTomic
/Thanasi Kokkinakis/Attila Balazs
John Millman
/Marcus Willis/Taro Daniel-Alex de Miñaur-Josh Milton
Henkka Kontinen
-Nick Kyrgios-Pierre Hugues Herbert-Lucas Pouille-Javier Martí-Evan Hoyt-Brydan Klein-Chris Rungkat-Andres Artuñedo-Hugo Nys-Pol Toledo
www.tennisalternative.com
Registered User
Join Date: Feb 2011
Posts: 17,258
Re: Week 44 : Traralgon (Entry List)
---
SFs

[1] Bradley KLAHN (USA) d. Brydan KLEIN (GBR) 6-1 6-4
[8] Yuki BHAMBRI (IND) d. [2] James DUCKWORTH (AUS) 6-2 6-4
---
Last edited by SKozak; 11-03-2013 at

12:24 PM

.
Re: Week 44 : Traralgon (Entry List)
---
brydan
still a huge week for him
---
Henri KONTINEN
Jaume Pla Malfeito/Bernard the aTomic
/Thanasi Kokkinakis/Attila Balazs
John Millman
/Marcus Willis/Taro Daniel-Alex de Miñaur-Josh Milton
Henkka Kontinen
-Nick Kyrgios-Pierre Hugues Herbert-Lucas Pouille-Javier Martí-Evan Hoyt-Brydan Klein-Chris Rungkat-Andres Artuñedo-Hugo Nys-Pol Toledo
www.tennisalternative.com
Re: Week 44 : Traralgon (Entry List)
---
Bradley
GL in the final!
---
Tennis Tipping
[Singles - 3]: 2015 (Eckental CH); 2013 (Rimouski CH, Johannesburg CH)
[Doubles - 9 (all with tealeaves)]: 2017 (Panama City CH); 2016 (Chennai ATP250); 2015 (Kaohsiung CH, Genova CH); 2014 (Szczecin CH, Guadalajara CH); 2013 (Cherbourg CH, Bergamo CH, Poznan FUT)
Registered User
Join Date: Feb 2011
Posts: 17,258
Re: Week 44 : Traralgon (Entry List)
---
FINAL

[8] Yuki BHAMBRI (IND) d. [1] Bradley KLAHN (USA) 6-7(13) 6-3 6-4
---
Last edited by SKozak; 11-04-2013 at

11:03 AM

. Reason: new info
Registered User
Join Date: Feb 2011
Posts: 17,258
Re: Week 44 : Traralgon (Entry List)
---
http://www.rediff.com/sports/report/...medium=twitter
Yuki claims Traralgon Challenger title in rain-hit final
November 04, 2013 15:32 IST
Yuki Bhambri won his first ATP Challenger level singles title of the season and second of his career on Monday after humbling top seed American Bradely Klahn (ranked 123) in the rain-hit summit clash of the Traralgon event in Australia.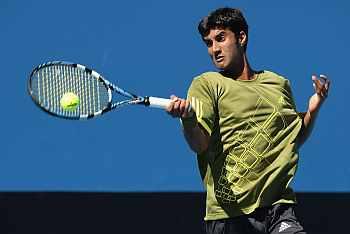 The 21-year-old Indian pipped his higher-ranked rival 6-7 (13), 6-3, 6-4 in the final.
Yuki, ranked 277, was leading 4-2 in the final set on Sunday when skies opened up and forced suspension of play.
Playing his second Challenger final of the season, the Indian youngster took the court on Monday and held his nerves to emerge winner against a player, ranked 149 places above him.
It was Yuki's third straight win over a higher-ranked opponent in this tournament. He had beaten Japanese Tatsuma (191) Ito and James Duckworth (147) of Australia en route the final.
The victory was sweet revenge for Yuki as he had lost to Bradley in July this year in Binghamton.
Yuki had won his first singles title on the Challenger tour last year in Fergana, Uzbekistan.
In September, Yuki ended runners-up to Chinese Taipei's Yen-Hsun Lu in the Kaohsiung event in Taiwan.
Yuki earned 80 ranking points and pocketed $7,200 as prize money for the victory.
Registered User
Join Date: Feb 2011
Posts: 17,258
Re: Week 44 : Traralgon (Entry List)
---
http://acelandtennis.com.au/news/225...atp-title.html
Bhambri beats Klahn, weather to win Traralgon ATP title
By Marc McGowan
article with Yuki's comments
---
Last edited by SKozak; 11-04-2013 at

01:14 PM

. Reason: new info