View Poll Results

: Which players will attend the ChTF?

Pablo Carreño Busta
12
60.00%
Jesse Huta Galung
11
55.00%
Filippo Volandri
10
50.00%
Adrian Ungur
11
55.00%
Alejandro Gonzalez
13
65.00%
Dudi Sela
9
45.00%
Mikhaeil Kukushkin
7
35.00%
Oleksandr Nedovyesov
8
40.00%
Teymuraz Gabashvili
9
45.00%
Andrej Martin
5
25.00%
Pere Riba (obviously spanish)
7
35.00%
Other, please specify.
6
30.00%
Multiple Choice Poll. Voters: 20. You may not vote on this poll
Re: ATP Challenger Tour finals
---
Quote:
TOP 100 for Alejandro Gonzalez
Quite surprising for me too. Haven't see him playing a lot, but I rate him as a grinder without major weapon...
Re: ATP Challenger Tour finals
---
Pathetic from Huta Galung in the second set tie-break against Volandri, served 3 double faults.
And then in the third double faulted to give a 5-3 lead to Volandri.
Really really disappointed, that was just annoying to watch.
---
Last edited by dencod16; 11-15-2013 at

05:26 PM

.
Registered User
Join Date: Feb 2011
Posts: 17,292
Re: ATP Challenger Tour finals
---
Standings after 3rd day: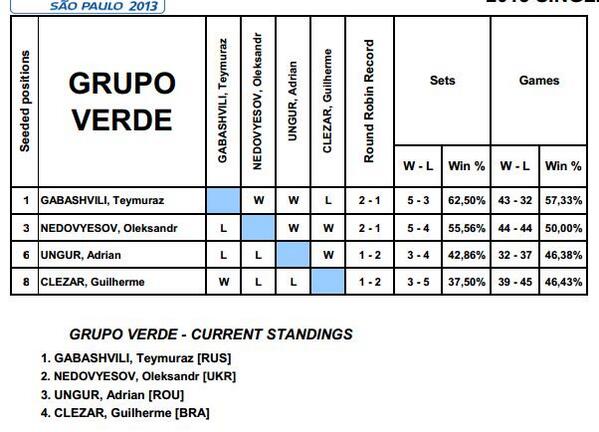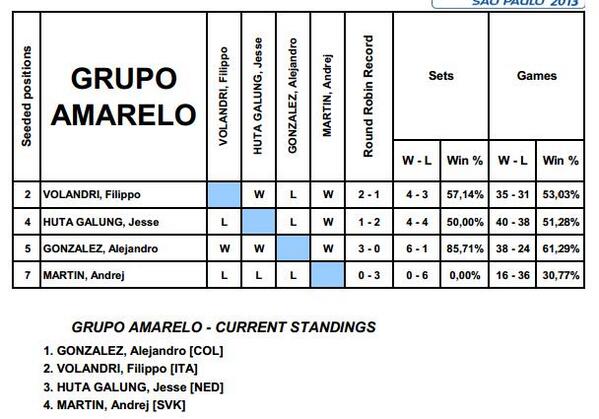 SFs
[1] Teymuraz GABASHVILI (RUS)
vs
[2] Filippo VOLANDRI (ITA)
[5] Alejandro GONZALEZ (COL)
vs
[3] Oleksandr NEDOVYESOV (UKR)
Registered User
Join Date: Nov 2013
Posts: 27
Re: ATP Challenger Tour finals
---
Guilherme CLEZAR - Teymuraz GABASHVILI 5-7 6-4 6-4
4th time this year Guilherme CLEZAR comes back to win the match after loosing 1st set
Teymuraz GABASHVILI 29th 3 set match of the year.
Highest ranked player Guilherme CLEZAR has beaten this year (#92)
Registered User
Join Date: Feb 2011
Posts: 17,292
Re: ATP Challenger Tour finals
---
SFs

[2] Filippo VOLANDRI (ITA) d. [1] Teymuraz GABASHVILI (RUS) 7-5 2-6 6-4
[5] Alejandro GONZALEZ (COL) d. [3] Oleksandr NEDOVYESOV (UKR) 6-3 6-7(4) 6-0


FINAL

[2] Filippo VOLANDRI (ITA) vs [5] Alejandro GONZALEZ (COL)
Registered User
Join Date: Jul 2013
Posts: 472
Re: ATP Challenger Tour finals
---
great fight from volandri , stayed calm in the final set whilst gaba just exploded mentally after going 4-2 up
Registered User
Join Date: Feb 2011
Posts: 17,292
Re: ATP Challenger Tour finals
---
FINAL

[2] Filippo VOLANDRI (ITA) d. [5] Alejandro GONZALEZ (COL) 4-6 6-4 6-2