Re: HAPPY BIRTHDAY ELEA !!!!!
---
Happy Birthday.
Re: HAPPY BIRTHDAY ELEA !!!!!
---
Happy birthday to youuuuuuuuuuuuuuuuuuuuuuuuuuuuuuu don't laugh at my present
.......ok you can laugh
---
-4 RG, what else?-A WIMBLEDON
"It doesn't matter if you don't look as cool as the Ramones — you're never going to, anyway."Chris Martin.
+The White Stripes+The Strokes+The Libertines+
+MARAT SAFIN
+rameez junaid
+andy murray
+vince spadea
+diego hartfield
+pti pote gustavo
+willy cañas
+Simone Bolelli
+Jérémy Chardy
OTHER ADDICTIONS:Liverpool F.C+Atletico Madrid+Arsenal F.C+Olympique Lyonnais+La Roja+
Re: HAPPY BIRTHDAY ELEA !!!!!
---
Great present my friend!
thank you a lot
---
PROUD
Gaston Gaudio
fan
Marcelo Rios
- Hugo Armando
(my Hugo's blog)
- David Ferrer
all my support
to: X-man, Lleyton, Mario, Feli, Diego H, Willy Canas, Ruben, Nico L, Igor, Peter, J-P and Robert & Rameez
to my "pti potes" Diego Junqueira
, Gustavo Marcaccio
& "Régis" Guzman
and Vince
Le crado Zabaleta
"EveRRRybody"
Re: HAPPY BIRTHDAY ELEA !!!!!
---
I don't know you but as a true GG fan u deserve a great and happy birthday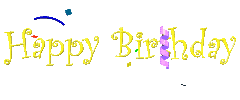 ---
http://tennisgraphics.blogspot.com
http://tennisticious.blogspot.com
&
http://quote4ever.blogspot.com
Quote:
Por ti lucharé por todo el cariño que has puesto conmigo
Por todo tu tiempo por haber querido tenerme contigo
Y por tu calor y por tanta magia me quedo contigo
Y por tu calor y por tu carisma te llevo conmigo [...] ECDL
Re: HAPPY BIRTHDAY ELEA !!!!!
---
Happy Birthday (a little late now) Elea!!!!
I hope you had a fun day! (with delicious cake!
)
---
NICOLAS MASSU
FERNANDO GONZALEZ
Best Wishes to: Marcos~Janko~Ivan~Marat~Lucho~Rafa~Tommy H
Gaston-best of luck in whatever you decide to do.
"Its hard to argue against cynics-they always sound smarter than optimists because they have so much evidence on their side." Molly Ivins, 1944-2007
Join Date: Nov 2003
Posts: 124,507
Re: HAPPY BIRTHDAY ELEA !!!!!
---
Late, but Happy Birthday Elea.
---
" On Nadal bumping him on the changeover, Rosol said: "It's ok, he wanted to take my concentration; I knew he would try something".
Wilander on Dimitrov - "He has mind set on imitating Federer and yes it looks good. But he has no idea what to do on the court".
Quote:
I definitely would have preferred Gaba winning as he needs the points much more, but Jan would have beaten him anyway. I expect Hajek to destroy Machado, like 6-1 6-2.
Machado wins 6-2 6-1