Friday schedule
---
Order of Play Friday 20 August - Play Starts at 17:00

Centre Court
Taylor Dent (USA) v (10) Nicolas Massu (CHI)
(1) Justine Henin-Hardenne (BEL) v (3) Anastasia Myskina
Alicia Molik (AUS) v (2) Amelie Mauresmo (FRA)

Court 1
Mardy Fish (USA) v (16) Fernando Gonzalez (CHI)
(5) Shinobu Asagoe/Ai Sugiyama (JPN) v (2) Conchita Martinez/Virginia Ruano Pascual (ESP)
MD Bronze Medal Match: Fernando Gonzalez/Nicolas Massu (CHI) or (WC) Mario Ancic/Ivan Ljubicic (CRO) v (5) Mahesh Bhupathi/Leander Paes (IND)

Court 2
(7) Paola Suarez/Patricia Tarabini (ARG) v (8) Ting Li/Tian Tian Sun (CHN)
Re: Friday schedule
---
Quote:
Originally Posted by joeb_uk
Order of Play Friday 20 August - Play Starts at 17:00


MD Bronze Medal Match: Fernando Gonzalez/Nicolas Massu (CHI) or (WC) Mario Ancic/Ivan Ljubicic (CRO) v (5) Mahesh Bhupathi/Leander Paes (IND)

__
MD Bronze Medal Match: (WC) Mario Ancic/Ivan Ljubicic (CRO) v (5) Mahesh Bhupathi/Leander Paes (IND)
Quote:
"Daily Preview:
Men's Doubles Bronze Medal to be Decided on Friday
The first medals of the Athens 2004 Olympic Tennis Event will be decided on Friday, as the men's doubles tournament reaches the bronze medal play-off round.

No. 5 seeds Mahesh Bhupathi/Leander Paes (IND) will play wild cards Mario Ancic/Ivan Ljubicic (CRO) in the last match on Show Court 1. Both pairs lost their semifinal matches on Thursday.

The teams have never previously met. Victory for Ancic/Ljubicic would give Croatia its third Olympic medal: Goran Ivanisevic (CRO) shared the singles bronze with Andrei Cherkasov (EUN) at Barcelona in 1992, and won the doubles bronze with countryman Goran Prpic (CRO) at the same Games.

Paes owns India's only previous tennis medal, having won a bronze in singles at 1996 Atlanta. He defeated Fernando Meligeni (BRA) 36 62 64 in the bronze medal play-off.

The first matches on Centre Court and Show Court 1 are the men's semifinals.

In a line-up nobody would have predicted before the event began, both semis are a USA v Chile clash. On Centre Court, Taylor Dent (USA) has a first-time meeting with No. 10 seed Nicolas Massu (CHI), while Mardy Fish (USA) plays No. 16 seed Fernando Gonzalez (CHI) on Show Court 1. That is also a first-time match-up.

Of the four men's semifinalists, only MASSU has played at the Olympics before, reaching the second round in Sydney four years ago.

Chile has never won a tennis medal before and is guaranteed two in Athens, with the possibility for three, across both singles and doubles. USA, on the other hand, has 31 previous medals in the history of the Olympic Tennis Event, going back to 1896. Since tennis returned to the Olympics as a full medal sport in 1988, there has been a U.S. gold or silver medallist each time.

The women's singles semifinals are the second and third matches on Centre Court on Friday. The women's tournament has run truer to form than the men's, with the world's top three players through to the final four.

Three-time Grand Slam champion Justine Henin-Hardenne (BEL) and 2004 Roland Garros champion Anastasia Myskina (BEL) meet for the eighth time in their careers. Henin-Hardenne leads their series 5-2, and 4-1 on hard court.

In the second semifinal world No. 2 Amelie Mauresmo (FRA) plays unseeded Alicia Molik (AUS), Molik having beaten the Frenchwoman just over two weeks ago at San Diego. Overall they are tied 1-1 in previous encounters.

All four nations represented in the women's semis – Australia, Belgium, France and Russia – won tennis medals at the last Olympics in Sydney.

The women's doubles semifinals feature teams from three continents, and there are two pairs from Asia.

No. 2 seeds Conchita Martinez/Virginia Ruano Pascual (ESP) play No. 5 seeds Shinobu Asagoe/Ai Sugiyama (JPN), and No. 7 seeds Paola Suarez/Patricia Tarabini (ARG) meet No. 8 seeds Ting Li/Tian Tian Sun (CHN).

Although China are at the top of the medal table in all sports at the 2004 Olympics, Li/Sun are playing for their country's first ever tennis medal. For Japan, further success in the women's doubles event would give the nation its first Olympic tennis medal of the modern era (since Seoul 1988).
"
Friday Head to Heads:
Men:
http://www.itftennis.com/olympics/me...eads/index.asp
Women:
http://www.itftennis.com/olympics/me...s/wsingles.asp
Quote:
Men's Singles Semifinals - No Previous meetings for either match-up
---
Banned!
Join Date: Jul 2004
Location: vxvc
Posts: 445
Re: Friday schedule
---
thanks for the info!
Re: Friday schedule
---
Good luck to Alicia! One win away from a medal certainty. Should be a great match - they played eachother for the first time at the Aus open this year, and it was pretty close with Mauresmo winning 7-5 7-5, and the only other time they played (a few weeks ago), Alicia won 7-5 3-6 6-3. Too bad I wont get the chance to see any of it....even though she's done so well and the olympics is running nearly non-stop on 2/5 of our main free to air channels, we've gotten absolutely no tennis it all.


guess I'll be going for Gonzalez now.....enjoyed watching him play against Mark at Wimbledon....really went for his shots but made too many unforced errors, so he must be making more of them now.
Re: Friday schedule
---
Go Nico, Go Feña
---
The King Roger Federer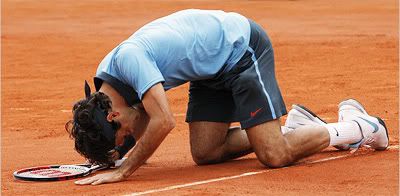 Pain is only temporary but victory is forever
Re: Friday schedule
---
Quote:
Originally Posted by breakdancingfish
Yep, they are wrong ... The men's doubles final will be the Saturday
Go Chile
---
The King Roger Federer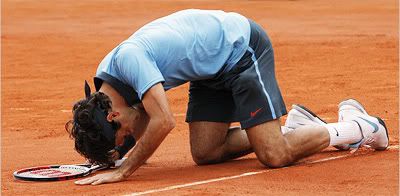 Pain is only temporary but victory is forever
Re: Friday schedule
---
LETS GO MARDY LETS GO TAYLOR LETS GO
---
Dmitry Tursunov
*mmm sweaty hugs from dima
*
[♥Faithful Mitya Slave♥]
Mardy Fish
[Big
right back at ya dude]
Thomas Johansson
Jonas Bjorkman - Joachim Johansson - Simon Aspelin - Jiri Novak - Richard Gasquet
Andy Murray - Fernando Gonzalez - Max Mirnyi - Jan Michael Gambill
James Blake - Greg Rusedski - Alex Bogdanovic
♥ Andrew Kennaugh & Michael Ryderstedt ♥