Registered User
Join Date: May 2006
Posts: 3,459
Misha d. Haase 6-2 6-4
---
Misha
God surely played cruel games with him today.. but he managed to prevail. Haase didn't seem to be in the mood for playing - except on Misha's BPs. Saved a gazillion of those... I feared Misha would just crack and self-destruct again. Sooo frustrating... esp the game at 4-2* in second set
Re: Misha d. Haase 6-2 6-4
---
Haase played the most beautiful tennis on those bp's but for now youzhny is to strong and haase serve wasn't at his best , good luck to joezhny, for my part he wins the tournament
---
Nalbandian
Escude-Kuerten
Dutch players
Gasquet-Ferrero-Lopez-Mathieu
Nadal-Acasuso-Haas-Youzhny-Berdych-Gonzalez-Tursunov
Söderling-Del Potro-Bellucci-Lapentti-Roddick-Verdasco
Re: Misha d. Haase 6-2 6-4
---
This is the best shot for Youzhny to win a tournament.
---
"This is not about class, colour or races,
let's get around and see different places,
put a smile on those distant faces,
wipe away your sorrow with no traces."
All the best to the members of the
FedererExpress
Re: Misha d. Haase 6-2 6-4
---
Youzhny is my favourite to win the tournament now. Would be great for him!
---
"It's getting colder, I'm getting colder, older, it's getting colder...
Am I still here? As one, with The Fear?
Am I still alive? I'm still f*cking ... Here...!"
"The Storm Before The Calm"
Anathema
Into music of the PROG-Dorky-kind? visit
my blog
or MTF's
Prog Rock Thread.
Re: Misha d. Haase 6-2 6-4
---
I think not only Dutch tennis is in crisis but also this tournament. You know what I mean. In the past many attractive players entered the draw. Nowdays Davydenko & Robredo are Top seeds
Last year's final between Stepanek and C.Rochus telling the truth about condition of this event.
---
stroke <- point <- game <- set <- MATCH -> round -> tournament -> season -> career
__My awesome thread__
My favorite stats
Longest matches
Match points
Tie-breaks
Aces
Chiquita bananas
ECC Antwerp
Re: Misha d. Haase 6-2 6-4
---
Misha
Re: Misha d. Haase 6-2 6-4
---
Good win Misha!
---
The King Roger Federer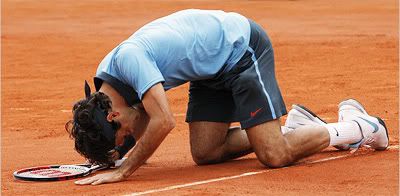 Pain is only temporary but victory is forever
Re: Misha d. Haase 6-2 6-4
---
youzhny is on form recently