View Poll Results: WWW
Alex
9
69.23%
Mischa
0
0%
Dzumhur
0
0%
Dolgopolov
0
0%
Sousa
0
0%
Lorenzi!!
0
0%
Young
0
0%
Goffin
4
30.77%
Other players (who?)
0
0%
Voters: 13. You may not vote on this poll
WWW ATP 250 Shenzhen
---
I don't think there's a thread about this tournament. Not as many top players (?) as in Chengdu but a potential interesting final match between Alex and Goffin.

If I'm not mistaken, 17 year old Nicola Kuhn will be making his first main draw ATP appearance, so good luck to him.

Two times champion Tomas Berdych skipping Shenzhen this time around. So I guess the real question is this, can anyone stand up to Alex here?
---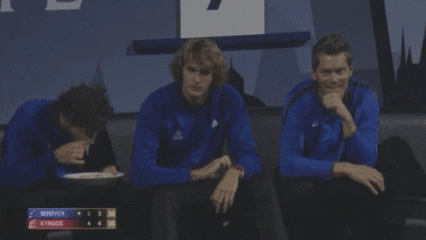 - Got any questions, thoughts or just want to know what Dominic is eating? Send me a message -
Seems like it should be good in v.s alex in the final. Alex's draw is way more dangerous though. If David doesnt at least make the final with his draw this tournament will be nothing short of a failure
Re: WWW ATP 250 Shenzhen
---
I am not sure how fast the court is. The faster the more suitable for Alexander.
But his draw is not so easy. He plays Darcis who he lost against in Davis Cup this
year. And his brother in Semis would not be an easy match for him as well.

Besides Goffin and A Zverev it should be a wide open tournament. Many players
that could make a run here. I expect several surprise players in QF or SF
---
Hummel Hummel

Alexander Zverev supporter since 2014


CMS TMH ALZ PHK MSZ RDM DNA
Re: WWW ATP 250 Shenzhen
---
Zverev is the clear favorite of course. He'll face Darcis in his opening match which should be interesting considering that he lost to Darcis in their Davis Cup match this year. If he can get past Darcis then he shouldn't have any trouble getting to the finals. We could get a A. Zverev-M. Zverev match in the SFs which could be interesting. Dzumhur is floating around in this half as well so if he's not tired from his maiden title run then he could make a run here.
Goffin really should make the final here. There's no one in his half of the draw that looks particularly threatening. Now that I've said this, he'll no doubt get taken out by Donskoy.
---
Goffin - Nishikori - Dimitrov - Schwartzman

FITD Titles: Gold Medal at the 2016 Rio Olympic Games - 2017 Chennai Open
---
Last edited by Sidion; 09-25-2017 at

06:25 PM

.
Re: WWW ATP 250 Shenzhen
---
I think we can all agree that Goffin reaching the final is both what we expect from him and what we want for him.

I'll add one name to the list and predict the Dog will do some damage as well. Maybe even prevent an all Zverev SF.
---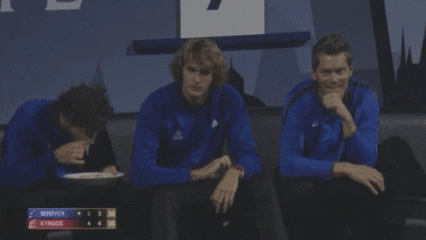 - Got any questions, thoughts or just want to know what Dominic is eating? Send me a message -
Re: WWW ATP 250 Shenzhen
---
Hopefully Muffin takes it. Zverev doesn't need MMs at this point.
---
Quote:
Seeing this gif is the greatest moment of my life.
Nadal is a billion times better than god.
Re: WWW ATP 250 Shenzhen
---
I want to see Zverev's brothers playing the SF, but almost for sure won't happen. Mischa is a mug and can lose to anyone. But if he plays well and reaches the SF, Sascha for sure will tank to avoid playing his big brother.
Goffin's half is as easy as he can gets, he should easily reach this F, but Metz looked pretty much like a lock for him too.
---
a.k.a.
Doktor Carpet -- The Fogmeister -- Ragnar Lothbrok -- Sicario -- Senua
Re: WWW ATP 250 Shenzhen
---
I found an interesting pick on this match at bettingresource's free picks google group and their social media. Its a long shot gutsy call but i am going to throw in few bucks considering they hit with Zhang as a big dog yesterday against Lorenzi.

ATP Tennis: Shenzhen Open R16: Darcis ML (6.00) vs A. Zverev. Also smaller amount on Darcis -1.5 Sets (10.44)
Darcis has been in Shenzhen for a few days now he already played the 1st round 2 days ago. Zverev on the other hand just arrived in Shenzhen. He played in the Laver cup in Prague on 24th and took the long trip to Shenzen, China the following day. This is only a 250 tournament and he is most likely there for appearance fee. His ranking already clinched for the ATP finals in November and therefore his motivation here is questionable. Even if he is motivated, the long travel and jet lag will play a big role. Zverev has been in the western time zone for the past couple of months playing in North America and Europe and now flying to China and playing on short rest can leave a toll on even the top athletes. Darcis is no chump--he beat Zverev in Davis Cup this year and can repeat. If Darcis wins, it will most likely be in straight sets because if Zverev gets in the groove and wins a set, it will be hard to stop him after. At these big odds, both ml and straight set victory on Darcis holds good value.