'Tinder for tennis' app launches
---
http://www.dailymail.co.uk/sciencete...-partners.html
Wasn't sure if this should go in the amateur tennis forum or not. Move if you want mods.
Anyway what do people think about this? I think it's a great idea. As someone whose best friends don't play tennis & who has been reluctant to pay the expensive asking prices for local tennis club memberships I'm highly in favour of it. Thoughts?
Re: 'Tinder for tennis' app launches
---
One of the comments lmao:

Sounds like a racquet to me with most guys expecting to be serving their own balls later...

But yea I think it's a decent idea. It's not easy to find people to hit with if ur not involved in clubs or things like that.
---
The BIGGEST (borderline delusional) fan of players on General Message Board according to Forehander:
Grigor Dimitrov: FedererBulgaria
Borna Coric: Crowdmaker
Nick Krygios: Dan.
Tommy Haas: Leng Jai
Sebastien Grosjean: Myself
Novak Djokovic: Chiico (Leader of the No1e Cult)
---
Last edited by Forehander; 08-20-2017 at

01:33 AM

.
Re: 'Tinder for tennis' app launches
---
Man, that sounds awesome. It's such a bummer when you just can't find people to play with.

Really, the Tinder-like system is great at bringing people together for any kind of activity.
---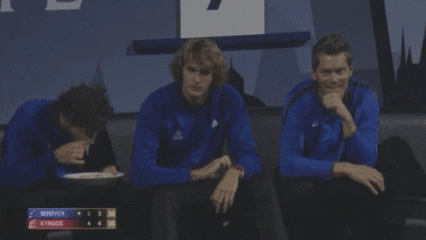 - Got any questions, doubts, thoughts? Send me a message -
Re: 'Tinder for tennis' app launches
---
Excellent. I've been looking for players with similar skill.
---
January 8th 2017:
Quote:
Exhorer Semiretirer is back
Tea of truth:
Quote:
It is Fabio's world and we are all just living in it
Quote:
We should be appreciative of Federer though, because we will never see anything like him again. The fact he can still compete for slams ever after the erosion of his physical skills is really a greater testament to the natural talent he has than the period of time when he was dominating the tour.