ACES for UNICEF
---
http://www.atptennis.com/en/newsands...f_shanghai.asp
Quote:
World's Elite Serve for UNICEF in Shanghai

© ATP
Aces fired at this week's Tennis Masters Cup in Shanghai will not only assist players' bids to finish the 2006 ATP circuit by hoisting the trophy, but also will serve a greater charity cause.

The tournament's premier sponsors, led by Mercedes-Benz, will donate $10 for each ace served throughout the duration of the eight-day circuit finale with the funds benefitting the ACE vs. AIDS program.

Through the first three days of tournament play, the top eight singles players have fired a total of 121 aces. Croat Ivan Ljubicic, who tops the circuit in aces served this season, tallied a total of 53 aces in his first two singles matches in Shanghai, including 30 in his three-set win over defending Tennis Masters Cup champion David Nalbandian Tuesday.

At the BNP Paribas Masters two weeks ago in Paris, ATP stars combined for a total of 920 aces, raising €9200 (donated by BNP Paribas) for UNICEF.


FEDER-BEAR DEBUTS AT QI ZHONG STADIUM




Feder-bear Beanie Baby® made his public debut at the UNICEF booth in Qi Zhong Stadium. The take-home version of UNICEF Goodwill Ambassador Roger Federer, the top seed at the Tennis Masters Cup, is being sold exclusively on-site and will be available for purchase worldwide this holiday season.

The Feder-bear is an official Ty Beanie Baby® produced exclusively for ATP by Ty. Proceeds from the sale of each $8 bear will benefit the ACE program.

--

UNICEF and the ATP joined forces at the beginning of 2005 with an aim of creating a better world for every child. Through ACE -- Assisting Children Everywhere -- the two organizations work to use tennis' popularity to help secure access to education, protection and health for the most vulnerable children.
way to go Ljubo today
---
_._._._._._
Join Date: Aug 2005
Age: 33
Posts: 72,524
Re: ACES for UNICEF
---
Probably the biggest achievement of Ljubicic's career so far
Re: ACES for UNICEF
---
Ivan!
---
The King Roger Federer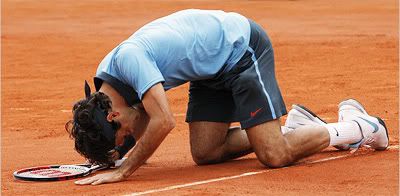 Pain is only temporary but victory is forever