Registered User
Join Date: Nov 2003
Location: TV Box on Banhofstrasse (Zurich)
Posts: 1,107
Agassi pulls out of Stockholm Open with back injury
---
Agassi pulls out of Stockholm Open with back injury

Friday September 30, 2005
STOCKHOLM, Sweden (AP) Andre Agassi has pulled out of next month's Stockholm Open because of a lingering back injury.

Agassi, ranked sixth in the world, is still affected by the aggravated nerve he suffered at the French Open in May. It forced him to sit out two months earlier this season, although he recovered and reached the final of the U.S. Open.

Agassi was expected to be seeded first at the Oct. 10-16 tournament at the Royal Tennis Hall. He lost in the final last year.




(Copyright 2005 by The Associated Press. All Rights Reserved.)
Re: Agassi pulls out of Stockholm Open with back injury
---
No surprises
---
The King Roger Federer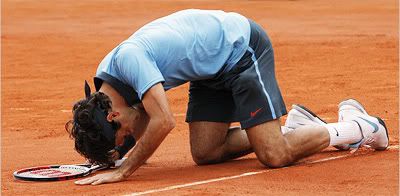 Pain is only temporary but victory is forever
Re: Agassi pulls out of Stockholm Open with back injury
---
Quote:
Originally Posted by Fergie
No surprises
---
AJDE SRBIJA
Supporting Djoković, Tipsarević, Soderling, Tursunov, Youzhny, Cilić and quite a few more
Re: Agassi pulls out of Stockholm Open with back injury
---
Andre
Hopefully he can play Paris or the TMC. I'll have the channels to watch these hopefully by then.
---
I am BUOH, warrior of heart and soul.
Re: Agassi pulls out of Stockholm Open with back injury
---
If he withdraws from Madrid, probably he'll play only the Masters .. probably
---
"Poor is the man whose pleasures depend on the permission of another" .. Madonna
Drooling after Schuettler, Bolelli, Volandri, Starace (short haired version), ToJo, Tursunov, Alves, Petzschner, Simon, Qureshi, Steve Johnson
Registered User
Join Date: Aug 2005
Age: 30
Posts: 440
Re: Agassi pulls out of Stockholm Open with back injury
---
nice news for me