Federer looks for love affair in Paris
---
(
http://www.timesonline.co.uk/article...620821,00.html
)
May 21, 2005
French Open
Federer looks for love affair in Paris
By Ashling O'Connor
ROGER FEDERER goes into the French Open next week admitting that he does not know what the tournament means to him. Historically a struggler on the clay at Roland Garros, the world No 1 believes that this is the year he can progress beyond the quarterfinals for the first time and even win the only grand-slam title to have eluded him.
Then, perhaps, the Swiss can profess as much love for the French Open as he is barely able to contain for Wimbledon. "You don't want to have to win the tournament to like it, but at least if you can get beyond the first week you start to get a relationship going with the fans and the tournament itself," he said.
In the past, Federer, 23, has barely warmed up before beginning his preparations for grass. Six visits to Paris have yielded three first-round exits. Last year, a tough third-round draw against Gustavo Kuerten, the Brazilian and a darling of the French crowd, hardly helped.
"The last three years didn't work for me, so I need a statement of results," Federer said. "I like the French (Open), but I'm a little bit caught in between.
"Where does the French Open stand for me? I think that has been holding me back from playing well. Once maybe it was a physical problem, once mental, but I feel like this year could be a good year. I want to go further, which is a big challenge because I feel there I have the most opponents."
These will no doubt include Richard Gasquet, who beat him in Monte Carlo last month. Federer avenged the defeat — only his second this year — by dispensing with the 18-year-old Frenchman in the final of the Hamburg Masters this month, a clay tournament of which he is now fond.
"I arrived there the first few times and I said what a horrible place to play tennis. Too cold, too wet, too this, too that. The year I won my first time, I didn't even want to go. Then I was in the final. Can you believe it?" Federer said, before being named Laureus world sportsman of the year this week. "I've won three times, which shows I really like the place."
Developing a similar affection for the French Open could mean the difference. As will Tony Roche, his part-time coach, who guided Stefan Edberg, one of Federer's idols. "Nobody can teach me how to play a forehand any more, it's too late. A coach is about strategy. We are almost like two coaches helping myself," Federer said. "He can't make me a different player from today to tomorrow. I didn't take him to win the French this year or in five years, but I hope he is going to make me a better player and by this I hope to win all four grand-slam tournaments."
---
A fair and objective voice amidst the chaos of MTF.
Re: Federer looks for love affair in Paris
---
:Roger
---
~~~Roger Federer (18 GS): Wimbledon 2003, AO 2004, Wimbledon 2004, US Open 2004, Wimbledon 2005, US Open 2005, AO 2006, Wimbledon 2006, US Open 2006, AO 2007, Wimbledon 2007, US Open 2007, US Open 2008, Roland Garros 2009, Wimbledon 2009, AO 2010, Wimbledon 2012, AO 2017
~~~

Re: Federer looks for love affair in Paris
---
Great article....thanks for posting!!
VAMOS ROGER IN RG!!!!
cheers
Re: Federer looks for love affair in Paris
---
Great article, thanks ... And good luck Rogi!
---
The King Roger Federer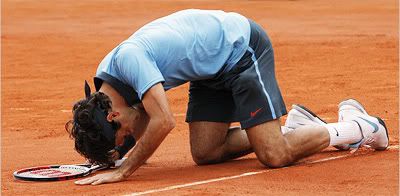 Pain is only temporary but victory is forever