Marat got jilted
---
I have already posted this in the Masters Cup thread but I can't help it but post here for everyone easy viewing... LOL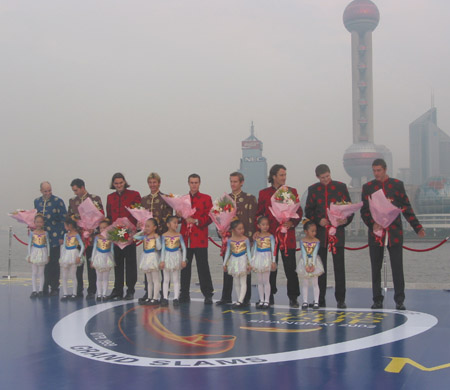 LoL... I'm laughing while typing this...
From a local shanghainese news website, it is reported that while the players are assembled at the bund for the official photo taking session. 9 flower girls came on stage to present the flowers to the players, the players in turn gave a kiss to the girls and the drama came when after marat gave his kiss to his girl, his little girl was so shy that she ran away from the stage , Marat was quite embarressed as he was the only one without a girl so he said in his low voice to persuade the girl to come back and take photo, but the girl kept shaking her head....
That is how this photo came about ...
LMAO!!!
I wonder if she will look back on this in 5-10 years and realize the opportunity she missed
---
~*~*~*~*~*~*~*~*~*~*~*~*~*~*~
The Tennis Refuge
You will be missed, Michel Kratochvil!
Poor Marat.......
I guess the girl heard about his "other women"
Awww they are so cute
*the little girls I mean*
---
I lack direction.

Chocking makes me sad.

LMAO!
I would give some money to talk to Marat when his wearing this outfit..
---
Tennis, Ergo Sum.
Marat has terrifying effect on little girls!
aww, thats such a cute story, and those girls are so cute too *wishes she was one of them*
Je je, that's very cute and funny at the same time.
LOL for Marat!!!
OMG......I'm already imagining Marat trying to persuade the little girl to come back to him to take the pic....je je.
---
Aren't all love stories destined to fail?
so she doesn't want to grow up to be a Safinette...
---
Q. When you've played as few matches as you have over the last two, three months, did you ever lack motivation to go out and practice?

ANDY RODDICK: Motivation? No. I enjoy what I do. I enjoy what I do. You know, I've never been one to, you know, blow off practice or, you know, do anything like that.

You know, I'd be lying if I said I'm looking forward to practicing the next two days as opposed to playing here. That part is gonna suck...(2010 Aegon Championships)
These things always happen to Marat, eh?
---
GoOD luCk iN 2004:
{{{Alex Corretja}}}
{{{Roger Federer}}}
{{{Janko Tipsarevic}}}
{{{Andreas Vinciguerra}}}
{{{Mikhail Youzhny}}}
(Agustin Calleri)(Hicham Arazi)(Nicolas Kiefer)(Sebastien Grosjean)(Rafael Nadal)
(Tommy Robredo)(Xavier Malisse)(Gustavo Kuerten)(Rainer Schuettler)(Fernando Gonzalez)
(Mark Philippoussis)(Gaston Gaudio)(Albert Montanes)(Ivan Ljubicic)(Mariano Zabaleta) & Many More...


FoRevEr:

{{{STEFAN EDBERG}}}