View Poll Results

: Who will win

Gaudio
22
81.48%
Puerta
5
18.52%
Voters: 27. You may not vote on this poll
ATP Buenos Aires Finals
---
Who will win, Gaudio or Puerta
Re: ATP Buenos Aires Finals
---
Vamos Gaston
---
The King Roger Federer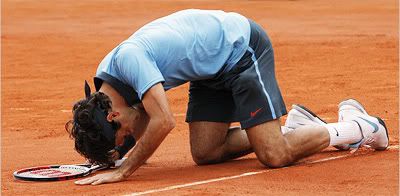 Pain is only temporary but victory is forever
Re: ATP Buenos Aires Finals
---
Come on Gaston! Make that home title yours!
---
Best of LUCK to ALL my Faves in 2015
Join Date: Nov 2003
Posts: 124,507
Re: ATP Buenos Aires Finals
---
I am a bit worried that Puerta could play an absolute blinder and cause the upset, but of course I don't want that happening.
---
" On Nadal bumping him on the changeover, Rosol said: "It's ok, he wanted to take my concentration; I knew he would try something".
Wilander on Dimitrov - "He has mind set on imitating Federer and yes it looks good. But he has no idea what to do on the court".
Quote:
I definitely would have preferred Gaba winning as he needs the points much more, but Jan would have beaten him anyway. I expect Hajek to destroy Machado, like 6-1 6-2.
Machado wins 6-2 6-1
Re: ATP Buenos Aires Finals
---
Whoever win is OK.
Vamos you 2.
---
Stan The Paris Man
Cheer for: Wawrinka Murray Ljubicic Gonzalez Mahut Nishikori Soderling Tipsarevic Mathieu Monfils Muller Tsonga Berdych Acasuso O.Rochus Kiefer...
Re: ATP Buenos Aires Finals
---
PUERRRTAAAAAA
---
Nicolas Almagro ~ Igor Andreev ~ Fernando Verdasco ~ Jo-Wilfred Tsonga ~ Mario Ancic ~ Marat Safin

Gaël Monfils ~ Thierry Ascione ~ Alejandro Falla ~ Paul-Henri Mathieu ~ Robby Ginepri ~ Simone Bolleli ~ Cecil Mamiit ~ Ivan Miranda ~ Thiago Alves ~ Bjorn Phau ~ Ivan Ljubicic ~ Frank Dancevic ~ Mariano Zabaleta ~ Mariano Puerta ~ Gilles Simon ~ Richard Gasquet ~ Janko Tipsarevic ~ Andreas Seppi ~ Gilles Mueller ~ Thomas Bellucci

LIST UPDATED
Re: ATP Buenos Aires Finals
---
Of course I voted for the one and only Gaston Gaudio
Vamos Gaston!
---
Tommy Robredo
David Ferrer
Pere Riba
Fernando Verdasco
Pico Monaco ~ Edu Schwank ~ Stan Wawrinka ~ Dani Gimeno ~ David Marrero ~ Marc Lopez ~ Marco Chiudinelli ~ Marcel Granollers
I miss you on tour, Nors, Bjösse, Simon & Pim Pim
Re: ATP Buenos Aires Finals
---
GO Gaston
!!!
---
Guga Kuerten
Roger Federer & Novak Djokovic
Registered User
Join Date: Jan 2005
Posts: 38
Re: ATP Buenos Aires Finals
---
i hope gaston will do it. it will give him more confidence. that wouldn't hurt
Re: ATP Buenos Aires Finals
---
it's good to see Puerta back. even if he loses he's still a winner IMO
---
Q. When you've played as few matches as you have over the last two, three months, did you ever lack motivation to go out and practice?

ANDY RODDICK: Motivation? No. I enjoy what I do. I enjoy what I do. You know, I've never been one to, you know, blow off practice or, you know, do anything like that.

You know, I'd be lying if I said I'm looking forward to practicing the next two days as opposed to playing here. That part is gonna suck...(2010 Aegon Championships)