View Poll Results

: Who will be the New Don?

Ivan Lendl
0
0%
Paul Annacone
0
0%
Marián Vajda
3
42.86%
Don Tio Toni will return
4
57.14%
Other
0
0%
None - let all be random
0
0%
Voters: 7. You may not vote on this poll
Registered User
Join Date: Dec 2011
Posts: 9,092
Don of Draw Arrangement and Tournament Conditions
---
It has been generally rumored that the Don of draw arrangement and tournament conditions in Men's Tennis in the past few years was none other than this gentleman, affectionately known as:
Tio Toni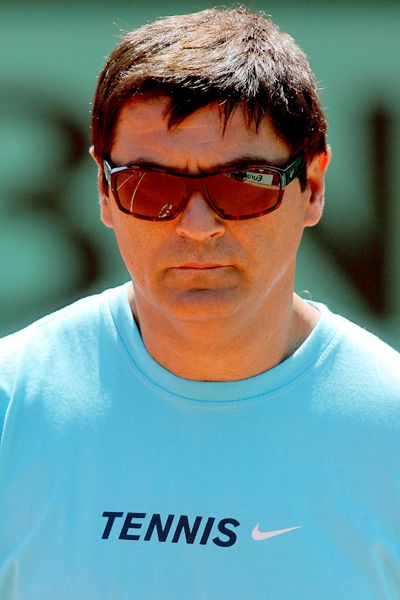 His masterful manipulation has been generally recognized as second to none in most knowledgeable circles, skillfully engineering championships for his nephew, Rafael "King of Clay" Nadal, where his opposition was mostly made up of local soldiers well known for their subservient role in the family.
However, the Don was forced into, shall we say, semi-retirement, due to some notable sufferings incurred by his protege in 2012 at the hands of this suddenly appearing, highly motivated soldier from one of the leading Central European families:

Lukas "The Caiman" Rosol
As a result, the vacuum left by the former Don's absence has been huge. Without his steady hand, draws would be in danger of becoming more or less random. There is no doubt someone is set to take over to make things more predictable.
The question is, who is the heir apparent? And could there be a power struggle when nephew Rafa comes out of his exile, or has Don Toni had his time at the top?
-------------------------------------

Here are some of the contenders for this role:
Is it any accident that this gentleman is from the same country as "The Caiman" Rosol? He was known as having a lethal forehand during his tenure and was undisputed leader of the sport for 3 years. His protege is the Scotsman, Andy Murray. Ivan's influence over things has said to already have been felt at the 2012 US Open where it has been whispered by some that Murray took advantage of various conditions, such as scheduling and the weather, to take his first major.
Ivan "The Terrible" Lendl
Of course, someone else with vast experience is none other than the gentleman who has been associated with mentoring two of the greatest champions in recent years, "Pistol Pete" Sampras, and Roger Federer, or "Maestro".
His name, experience, and associations makes him a natural contender and here he is surrounded by his chief lieutenant, Severin, and "Mother" Mirka. Some pundits have even hinted that the Sampras and Federer teams arranged the makeup of the entire tour to be weaker so that they could flourish. But recently, one wonders if Annacone is past his prime period of influence in the upper circles.
Paul "Anaconda" Annacone
Perhaps the strongest candidate is this last gentleman. He also originates from the land of Rosol, and he has surrounded himself with a team that keeps his protege Novak Djokovic or "Djoker" in prime condition and fine form. Of late, it has been rumored by many that he has indeed begun seizing some measure of control, perhaps even in the Australian Open. Could it be true?
Marián "Maros" Vajda
Take your pick, or suggest someone else.
Respectfully,
masterclass
Re: Don of Draw Arrangement and Tournament Conditions
---
Registered User
Join Date: Dec 2011
Posts: 9,092
Re: Don of Draw Arrangement and Tournament Conditions
---
Quote:
Seems legit Mr. Trollicki...
Respectfully,
masterclass
Re: Don of Draw Arrangement and Tournament Conditions
---
Haha, good thread Mr Masterclass
As always
---
Welcome to MTF...


Quote:
I'm gonna be checked again. Guess where i am going
?
The guy started massaging my balls harder and faster. I was so relaxed and disconnected i didn't notice, but my body did
i had a massive boner and apologized, then he told me "are u excited, uh?" and it was obvious where he wanted to go .. inside my a**