This Is How The Men's Final Will Play Out
---
Please enjoy. I put a tiny bit of effort to it and thought it was fun. I did all this about 30 minutes ago. If you don't like it that's cool, if you do cooler. Hopefully I'm not breaking any rules here just something I might want to do in near future. I know my ideal career would be writing of some sort. Tennis would be perfect.
Let's get right in to it, both men feeling out the other's game in the early going when at 3-3, 30-30 on serve Djokovic hits a forehand long and almost slams his raquet. Murray doesn't waste the break opportunity and takes it with a well crafted point, looks to his box with belief and confidence as he runs over to his chair. Murray holds on for a 6-4 first set lead fairly easily the rest of the way and the Scot looks very poised in the early going of this one.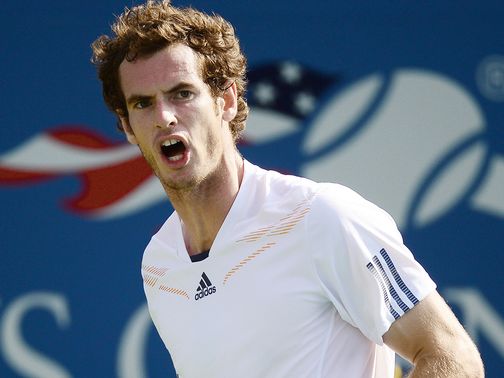 Of course being the caliber of player he is Novak quickly jumps out to a 2-0 lead holding his serve easily and breaking Murray's the very next game. Now up 3-0 after consolidating the break the momentum Murray had built in the 1st set is demolished and he is broken once again. Murray fans roll their eyes in disgust envisioning a beat down over these next few sets. Disgusted with himself he somehow finds a way to break back to give the crowd and his fans false hope and then holds his own serve to make it 4-2. The rest of it goes Novak's way as both of them hold serves. Murray not able to put up much of a fight due to Novak's solid play. 6-3 Novak. 1 set a piece.
Both men start the set as they did the first getting it to 3-3 on serve dazzling the crowd with a point here and there. The grunts from the players and their efforts are heard loud and clear at this point. This isn't the decisive set but it sure does feel like it could be a back breaker. Pushed to 5-5 now each man fighting off a break point here or there, Novak sees an opportunity at 0-30 after a Murray brain fart on a drop shot. It this the moment? 15-30, 30-30, 30-40 third chance, wasted, DEUCE, advantage Djokovic. He couldn't possible waste a 4th BP chance? Ace! As Murray turns and gives that grimace you either love or hate. Another ACE! An ode to Andy Roddick's retirement he couldn't possibly pull a turkey to climb from the brink where there is no return. Thomp! Off the top of the net and out. Novak tries to attack a 2nd serve and misses badly bouncing his raquet off the ground.6-5 Murray! The Scot all the whil fighting off 4 BP's. Nole's frustrated clearly talking to himself. 6-5 Murray on serve the crowd is into it big time now and why shouldn't they be? This is where you start counting the number of bounces before Djokovic serves. Quickly the roles are reversed after two quick points 0-30. The wave of momentum has now shifted back to the Murray camp with a tip of the cap to the New York wind, ANOTHER miss from Djokovic! What an absolutely emotional let down these last few games could be if he doesn't pull something special off here. Murray has 3 BP's at 0-40. With good first serves Novak saves 2. Novak cracks on the 3rd BP in a grueling rally giving the set 7-5 and lead in the match to Murray 2 sets to 1. He can taste his first Grand Slam but there is still work to be done.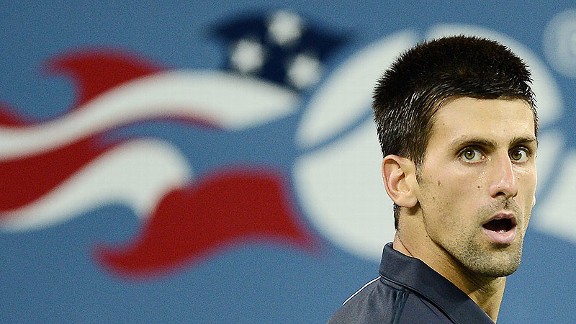 Looking for answers just to stay alive Novak digs deep as a champion does and makes sure to make this kid earn his first GS title, and let's not forget he too is going to fight for it tooth and nail. Murray seems nervous in the early going maybe realizing he's the closest he's ever been to winning a Grand Slam. And once again like the 2nd set Novak hops out to a 2-0 lead. Seems this match is starting to develop a story like pattern. But alas no story is good without a few twists and turns and with Murray serving at 2-0 he holds without much cause but in the process breaks back Novak in a game that went to DEUCE. What a grind by these two. The story line for this match is shaping up if Murray can win it, he was bigger and better in the more magnified important points in the match. Not to mention that serve showed up at that perfect moments. It's 2-2 now Murray serving and the nerves seem to have been shaken and he's settled in. He holds. Novak settles down and holds 3-3. Murray and Novak once again exchange holds. 4-4. Uh oh a break point Novak had been picking at in the last Murray service game and he gets one here. Can he cash in? Nope. Murray once again coming up with a big serve. Murray wins another nice point off a 1st serve and manages to hold out from there 5-4. Djokovic less pressed easily holds and the next two service games go to form as well. 6-6. TIEBREAK! If Murray wins it's his first Grand Slam Title right after winning Gold at the Olympics. If Novak wins we go to a decisive 5th set and Murray would face a man already a winner of this year's Australian Open, who would really like to cement his great year with another Grand Slam. It would ease the pain on missing out on a Medal in London.
The trend of 3-3 follows suit in this tiebreak as each player exchanges a mini break along the way. Some in the crowd rooting for Novak purely for another set of tennis. The quality isn't all time but the entertainment and magnitude of the moment if fulfilling enough. The cat and mouse points are a pleasure to watch and the way a player like Novak flexes his limbs in ways no man should and Murray moves to retrieves balls I feel like I'm watcing Gumby vs Speedy Gonzalez. As I almost digress Murray take a 5-3 lead in the tiebreak with mere aggressive tennis that seems to catch Novak off gaurd as he slams his raquet to the ground. Standard tennis etiquette at this point. I wonder if women will start grunting when they slam their raquets in anger. It should be enforced.
Now only 2 points away from the US Championship Murray nets a simple backhand showing the nerves once again but he still has a tiny cushion. He's never been this close before never able to get over the hump. A lot felt his first would be here. If he never wins one now when will he win one? The sage would go on. Novak has a backhand lined up down the line... OUT! Challenge to no avail but it was closer enough go have the crowd on pins and needles. Murray once against with a tight clenched first pump has reached match point. Djokovic stares up to his box, the sky, all around looking for answers, for something. He knows on most days he is better than Murray be maybe today just isn't his day. He steps to the line but the crowd forces him to step back, he re toes the lines, bounces the ball about a dozen times, rears back and pops a great serve but Murray being the great returner is gets it back but with little on it, easy killings for Novak. Instead he hits an inside outout forehand with too much margin for error giving Murray a passing play on the run, he pops it over and all Djokovic can do is watch as it clips the line giving Murray, the game, the set, the match, and most importantly the Championship!
6-3, 3-6, 7-5, 7-6
ANDY MURRAY YOUR 2012 US OPEN CHAMPION!!!
Re: This Is How The Men's Final Will Play Out
---
Ok, I can sleep now
---
RAFAEL NADAL

'Rafael Nadal is the best ever' - John McEnroe

1 AO - 10 RG - 2 W - 2 USO
Re: This Is How The Men's Final Will Play Out
---
lol. I won't even see the match now. I liked the set Murray won 7-5 and the tie break because it's the way Nole always loose. I don't think that'll happen today.
Re: This Is How The Men's Final Will Play Out
---
For the effort alone, that was great work! Loved how the pics complemented it.
Well done
---
"Love is nothing in tennis, but in life it's everything"
Re: This Is How The Men's Final Will Play Out
---
Well done andy

Suk it haters
---
Welcome to MTF...


Quote:
I'm gonna be checked again. Guess where i am going
?
The guy started massaging my balls harder and faster. I was so relaxed and disconnected i didn't notice, but my body did
i had a massive boner and apologized, then he told me "are u excited, uh?" and it was obvious where he wanted to go .. inside my a**
Re: This Is How The Men's Final Will Play Out
---
Please make it beforehand for next year, would be easier to wait.
---
Gasquet is next №1
Re: This Is How The Men's Final Will Play Out
---
So, was the first set 6-4 or 6-3? I need to know!
---
"a kad me opet gore vrati zahvalit' ću Mu prvo
što nam je dao komad zemlje što je za sebe sačuv'o"
Re: This Is How The Men's Final Will Play Out
---
Djoker 6-2 4-6 6-3 7-6[14]
---
Bjorn Borg:

French Open W (1974, 1975, 1978, 1979, 1980, 1981)

Wimbledon W (1976, 1977, 1978, 1979, 1980)

3 Channel Slams; 4 Consecutive RG; 5 Consecutive SW19

GOAT
Re: This Is How The Men's Final Will Play Out
---
Great effort but is this the final on Andy's playstation?
Re: This Is How The Men's Final Will Play Out
---
Good effort but just no.
---
Quote:
To the well-organized mind, death is but the next great adventure.
BigJohn
Re: This Is How The Men's Final Will Play Out
---
6-4 lol
Re: This Is How The Men's Final Will Play Out
---
I hope you are right!
---
CLAYRAY
#1
Re: This Is How The Men's Final Will Play Out
---
---
RAFAEL NADAL

'Rafael Nadal is the best ever' - John McEnroe

1 AO - 10 RG - 2 W - 2 USO
Re: This Is How The Men's Final Will Play Out
---
probably 7-6 7-5 2-6 3-6 6-2 for Andy or somthing
---
3-6 6-4 7-6(4)
Denis

↑
Welcome Your Newest Top 100 Member
↑

Shapovalov

Proud Canadian
3-6 6-4 7-6(4)